Dead To Me Season 2 - What We Know So Far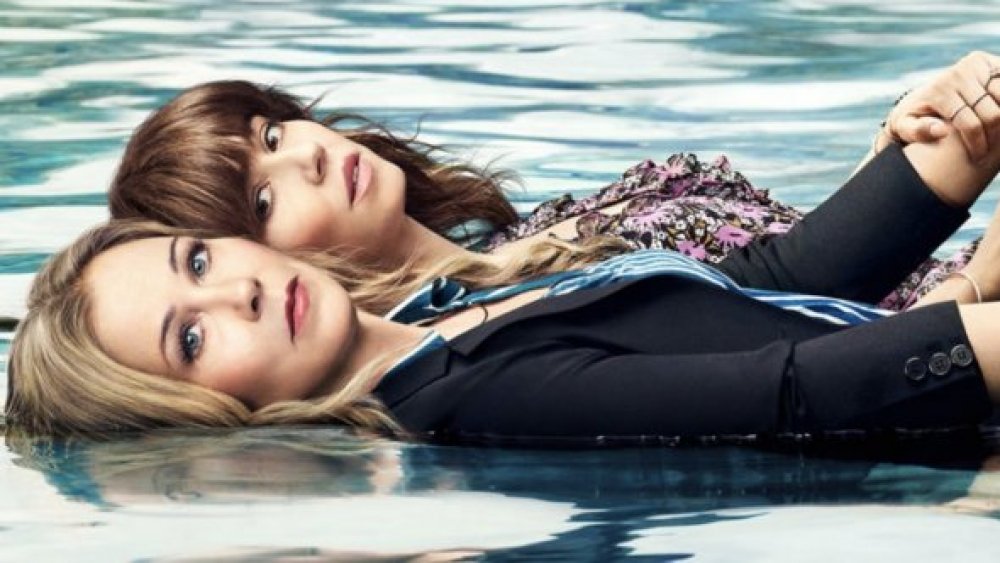 Netflix
One of 2019's buzziest new Netflix originals was unquestionably Dead to Me, an extraordinarily dark comedy packed with plenty of laughs, pathos, secrets, and even murder. With experienced comedic actresses Christina Applegate and Linda Cardellini heading up the cast — and producers Will Ferrell and Adam McKay working behind the scenes alongside creator and showrunner Liz Feldman — the show tells the story of two women, Jen (Applegate) and Judy (Cardellini) who meet at a support group for bereaved widows. As it turns out, though, there's more to Judy's story than meets the eye. After a rocky start, the two women's relationship deepens and they become inseparable as they work through their shared grief, despite the fact that Judy and her handsome ex-fiancé Steve (James Marsden) are hiding something huge from Jen.
The first season hit Netflix in the spring of 2019 and was an instant success, earning an Emmy nomination for Applegate for Outstanding Lead Actress in a Comedy Series and nearly universal acclaim. Ever since then, fans have been waiting anxiously for news on the second season, which was officially confirmed in June 2019. Here's everything we know so far about the second season of Dead to Me, including possible release dates, the cast, the plot, potential theories, and more. Spoilers for season one to follow!
When will season 2 of Dead to Me come out?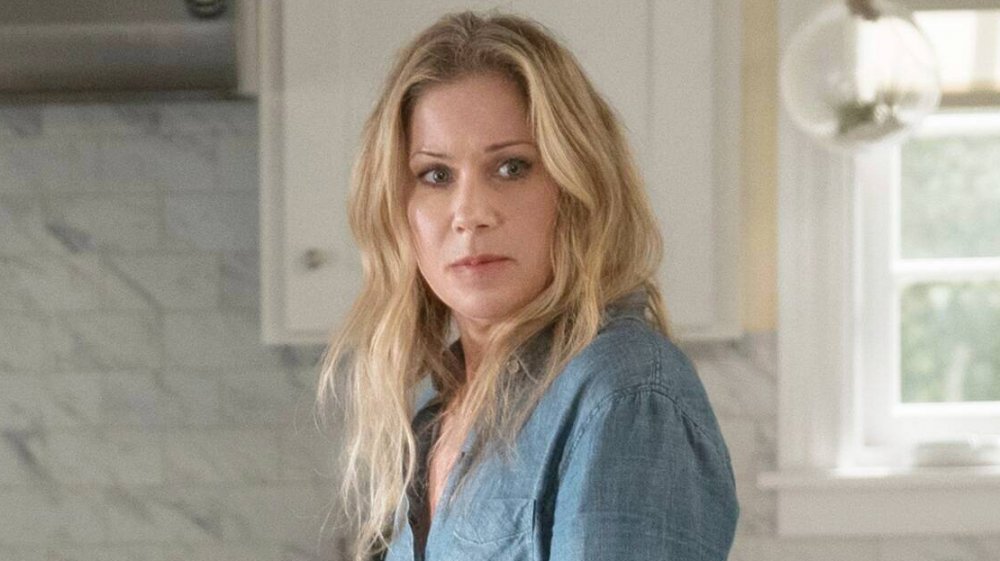 Netflix
There's no release date yet for season 2 of Dead to Me, but based on when the previous season came out and Netflix's typical release schedules, eager fans and television sleuths might be able to make some educated guesses as to when the new season will drop, thanks to some hints from the show's main cast.
In December of 2019, Cardellini took to Instagram to post a picture of herself, Feldman, and Applegate, announcing that season 2's shoot had wrapped and drumming up excitement for the show's sophomore effort. Shortly after that, in February of 2020, she posted a second photo featuring an exclusive look at post-production work on Dead to Me's second season, indicating that, much like the first season, Dead to Me could drop on Netflix sometime this spring. Considering that season one was released in May of 2019, we might not have to wait terribly long to see just what happens to Judy and Jen after the tumultuous events of the first season.
Who will be in season two of Dead to Me?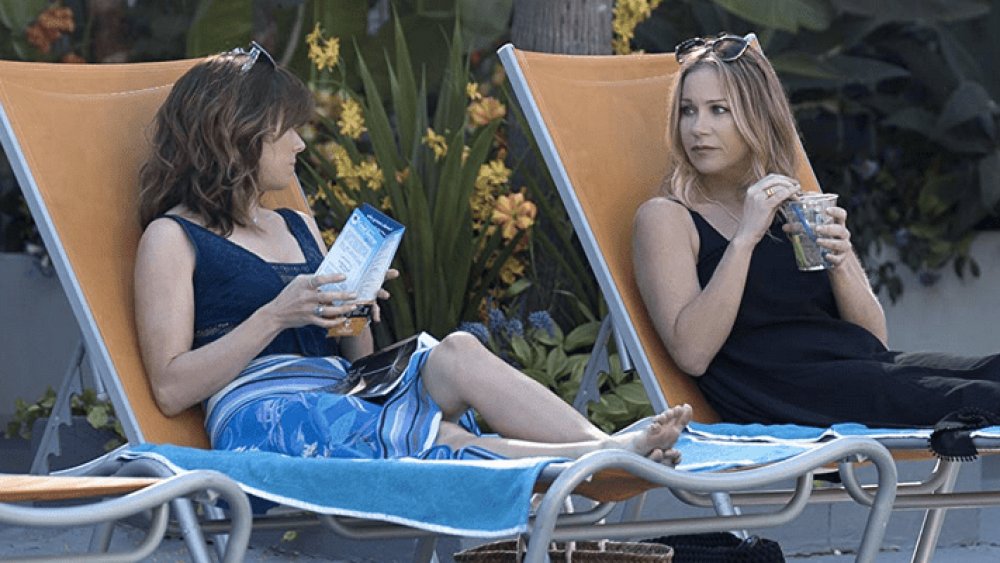 Netflix
Though there aren't many concrete details about the second season of Dead to Me, one thing is certain — Cardellini and Applegate will definitely be back, alongside most of the first season's supporting players.
Besides Judy and Jen, characters like police detective and Judy's erstwhile lover Nick (Brandon Scott), Jen's business partner Christopher (Max Jenkins), and her sons Charlie (Sam McCarthy) and Henry (Luke Roessler), Detective Ana Perez (Diana-Maria Riva), Jen's timid neighbor Karen (Suzy Nakamura), and more will return the show, with one glaring omission. Unless he appears in flashbacks, James Marsden's Steve likely won't be reprising his role, considering that the first season's finale ended with him dead in a swimming pool.
However, there is one confirmed addition to the cast; Natalie Morales, known for everything from Parks & Recreation to The Newsroom to her own show, Abby's. She has joined the cast of Dead to Me, and her role has already been confirmed. Morales will play Michelle, a woman who meets and befriends Judy at the assisted living center where Judy works and where Michelle's mother resides.
What might happen in season 2 of Dead to Me?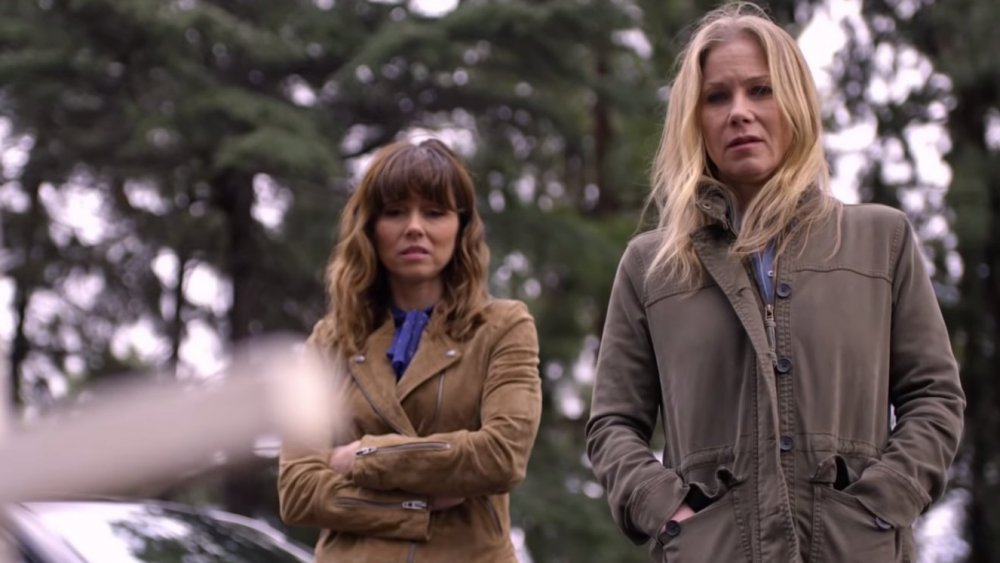 Netflix
As to what might happen in the second season of Dead to Me, that's currently anyone's guess, especially after the rollercoaster ride that was season one.
When Jen first met Judy in a support group for people grieving the loss of a loved one, she thought she'd met a true friend, until she found out that Judy's "dead" fiancé, Steve, was very much alive. Though she forgave Judy for that transgression, it turned out that Judy — and by extension, Steve — were keeping yet another secret from Jen, which is that they're the ones who killed her husband in a hit-and-run car accident.
Jen's late husband Ted was certainly no angel — Jen later found out he was cheating on her before his death — but considering that she spent most of the first season attacking random cars to try to figure out who killed her husband, the bombshell that it was Judy and Steve all along left Jen in a tailspin. However, just when Judy thought her friendship with Jen was lost, she got a call asking for immediate help, only to go to Jen's massive mansion and find Steve floating, shot, in Jen's swimming pool. With all of that in mind, it feels impossible to guess what could happen in season two, but it does seem that Judy and Jen's friendship will be forced back on track.
What are some theories about season 2 of Dead to Me?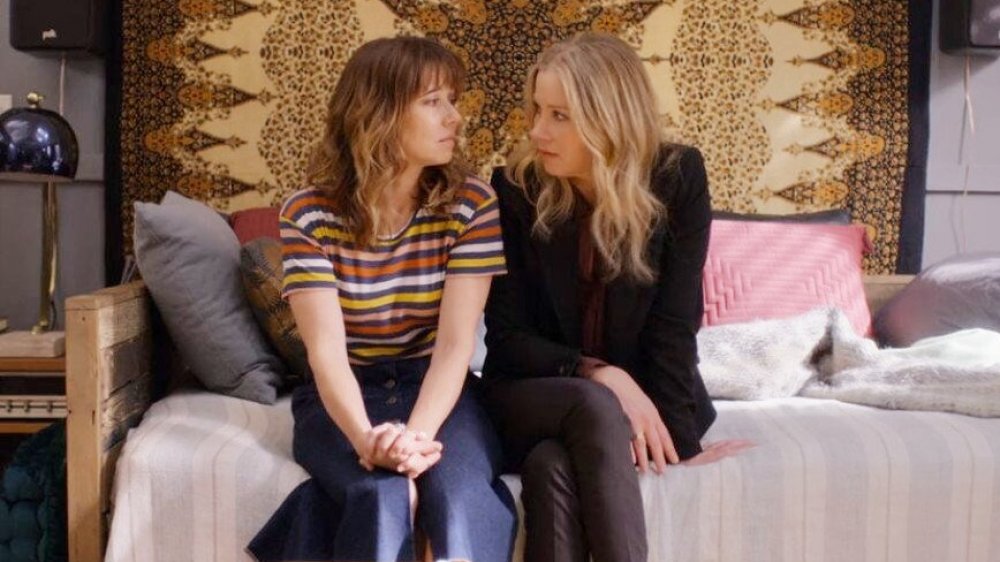 After that cliffhanger of an ending and a twisting, turning first season, it's hard to say what fans might be able to expect from the show's second season. However, if you're trying to cook up some theories about Judy and Jen's next steps, showrunner Liz Feldman has dropped some major hints.
In an interview with The Hollywood Reporter after the show's first season, Feldman revealed that, though viewers might have immediately assumed that Jen shot Steve — bringing her relationship with Judy weirdly full circle — there's more to the scene than meets the eye. "I'll just say that you don't know that she shot him," Feldman teased, before saying Netflix would need to pick the show up for a second season so that audiences could get answers (the interview was conducted shortly before Netflix confirmed a second season order).
When asked what lies ahead for Judy and Jen, Feldman replied, "There's an evening of the score and there's a rebalancing that will take place and almost, in some ways, a role reversal." With that said, this is an extremely dark show, so there's a lot more of that to come: "This show will always be a show that explores the dark sides and the light sides of grief, loss, forgiveness, and friendship," Feldman said. "So suffice to say, there will be more darkness."
Keep an eye on this space for updates about Dead to Me's second season — and in the meantime, keep cooking up theories about what Judy and Jen might do next.