Tough News Could Be Dropping For Black Widow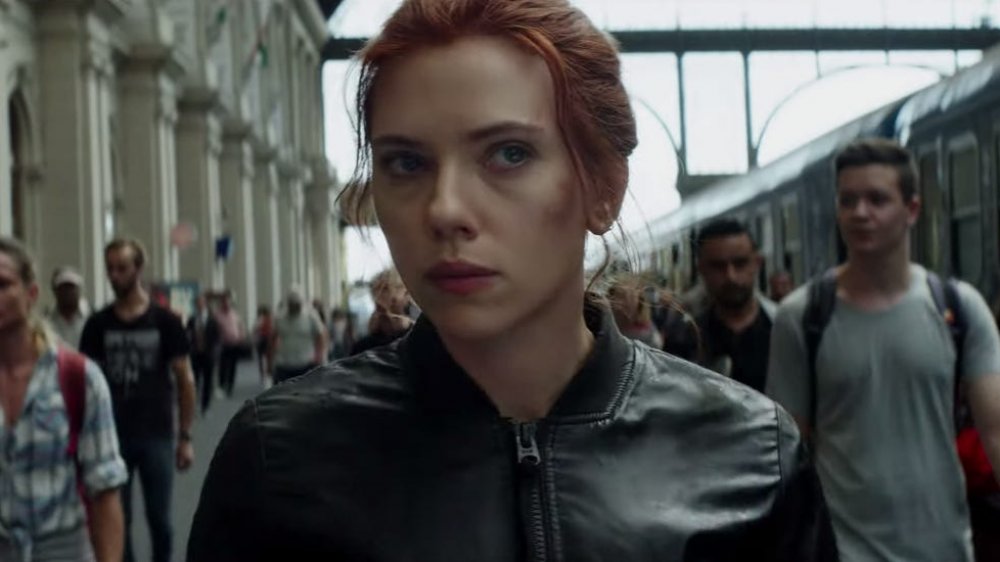 Disney/Marvel Studios
Tough times sometimes might call for tough measures. 
Since MGM announced that No Time to Die was pushing its April 2020 release date back to November due to concerns vis-à-vis the coronavirus outbreak, film exhibitors everywhere have grown nervous about when and where the other shoe will drop. It's rather a lose-lose situation as it stands right now, no matter what route is chosen, as U.S. theater patronage could possibly fall precipitously by the time the next major blockbuster release, Black Widow, is slated to arrive in theaters.
The current conversation regarding potential release date delays concerns Black Widow, with some speculating that Disney and Marvel Studios will push the film from its scheduled May 1 debut, according to Deadline. The outlet notes that "it wouldn't be jawdropping if Disney decides to move Black Widow" eventually, but there are some tricky logistics to discuss.
Asian market box office revenue is important to the franchise's success, and the coronavirus situation in China and Korea in particular is especially concerning for turnout. However, moving the release of Black Widow in hopes of deferring interruption by the coronavirus is an expensive and potentially confusing effort for the consumer base that may not be paying attention to shifts in the film release schedule and not show up when the new release date comes around. There's also no guarantee in deferment — the coronavirus has the potential to be a seasonal, cyclical event like influenza, even though time will certainly provide more treatment options while global efforts work hard to find them. One anonymous exhibitor was quoted by Deadline as saying "we are in uncharted territory" — and that we are, indeed. 
Will Black Widow be next to fall under the shadow of postponement, and what exactly are the logistics of doing so?
Black Widow is on track for now, and that's a smart move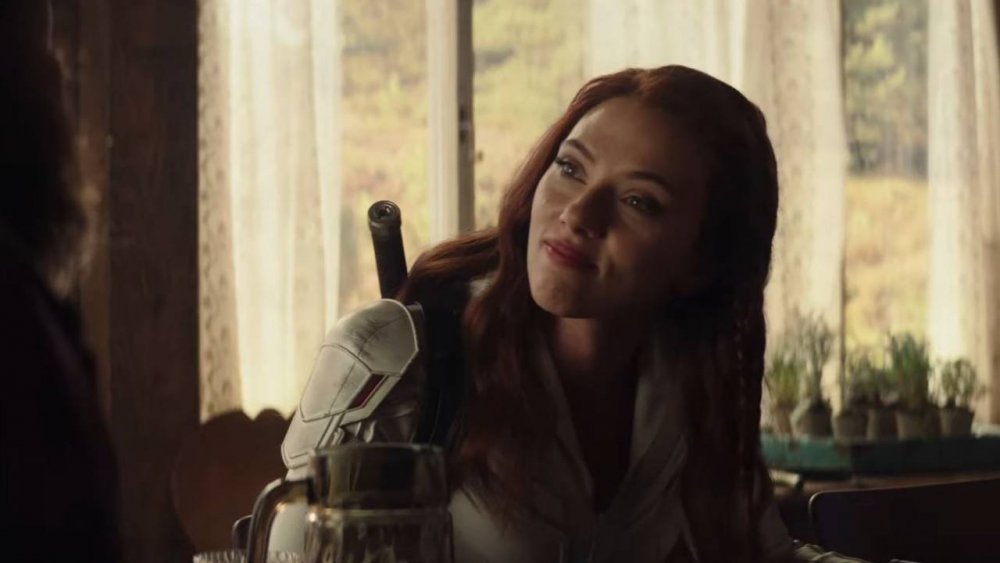 Disney/Marvel Studios
As of this writing, Disney has decided to stay its course for Black Widow's May 1 release date. A Bond movie changing release date is a big deal, what with the guaranteed glitz and glamor of a red carpet party attached to every continental premiere, but No Time to Die isn't the marketing behemoth that any Marvel Cinematic Universe movie is. 
Yes, Black Widow was a surprise inclusion to the expanding post-Avengers: Endgame universe, given that the character died during Endgame after throwing herself off the cliff in Vormir in order for her fellow Avenger Hawkeye (Jeremy Renner) to obtain the Soul Stone and undo the events of Avengers: Infinity War. But no MCU film is just the MCU film. It's brand tie-ins, like putting Black Widow actress Scarlett Johansson on soda cans and Dorito chip bags. It's toys. It's the rest of the Phase 4 schedule inching towards post-production behind it. Black Widow isn't a single installment — it's the engine of a newly-minted train staring down an economic hazard that has potential to cause a whole derailment. It's probably safer in the wider perspective to screen it in a potentially empty theater and hope to recoup via Disney+ later. (It helps when you have your own direct-to-consumer secondary content pipeline.)
Disney and Marvel's advantage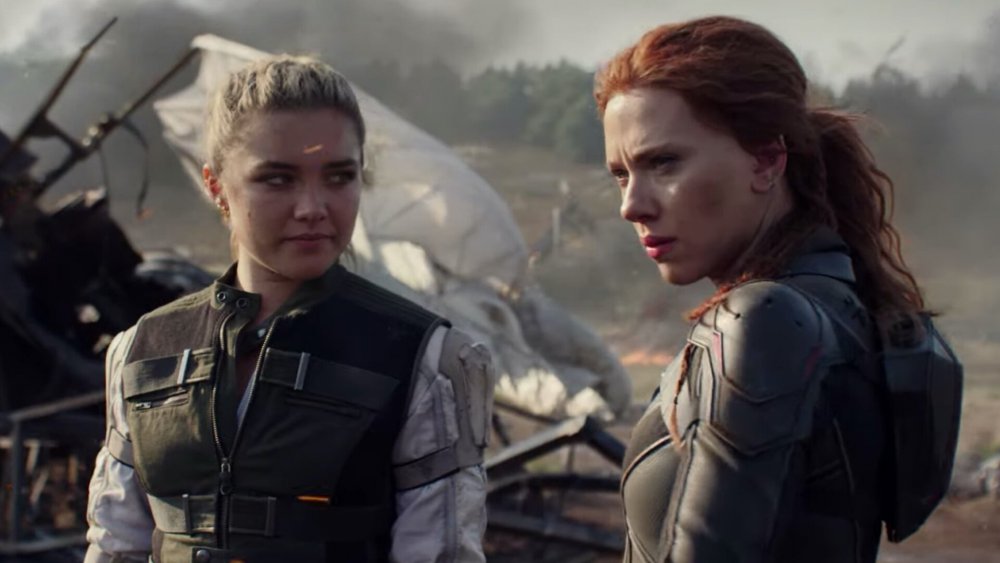 The other double-edged fact in Black Widow's favor to stick to its planned debut is that, frankly, Disney and Marvel Studios can take a hit in a way MGM just can't. No Time to Die will probably be MGM's biggest box office draw of the year, and the possibility of releasing it China specifically when quarantines and mandatory self-isolation orders are in effect means guaranteed major financial loss. Disney faces similar difficulty in releasing internationally, but it's also a vastly larger corporation than MGM and has seven other films of varying profile coming out over the rest of the year — including, of course, the other major MCU release, The Eternals.
A recent news break that initially works against the idea of Disney remaining headstrong in times of crisis, however, is that the company's subsidiary Marvel Studios just halted production on its Disney+ series The Falcon and the Winter Soldier due to coronavirus concerns. The show, which stars Anthony Mackie and Sebastian Stan in the title roles, was filming in Prague at the time of the production shutdown. According to Deadline, The Falcon and the Winter Soldier had moved production from Atlanta to the European country for a "short shoot" that began on Friday, March 6 and was "to be completed in about a week." On Wednesday, March 11, Marvel executives sent everyone out of Prague and back to Atlanta, with the chances of returning to Prague to finish the shoot seeming "unlikely."
Upon first glance, it would seem that the coronavirus as plagued The Falcon and the Winter Soldier and that this production shutdown will delay the show, but there's been no indication that Disney and Marvel intend to push back its scheduled August 2020 debut on Disney+. Even if the companies did end up delaying The Falcon and the Winter Soldier as a byproduct of the coronavirus-related production halt, this is a totally different beast than Black Widow. The series is a yet-to-be-completed streaming exclusive, while Black Widow is done and dusted and ready to be released. Disney and Marvel have the freedom to put off their unfinished products without too much concern for major consequences; in the case of Black Widow, it's understandable that the studios would want to stick to the plan. 
All studios are likely going to wince and preemptively tighten the projected earning belt buckle this year due to the coronavirus outbreak, but at this point in time, there's no real reason to worry about Black Widow's fate.