How To Get Octane's Heirloom Item In Apex Legends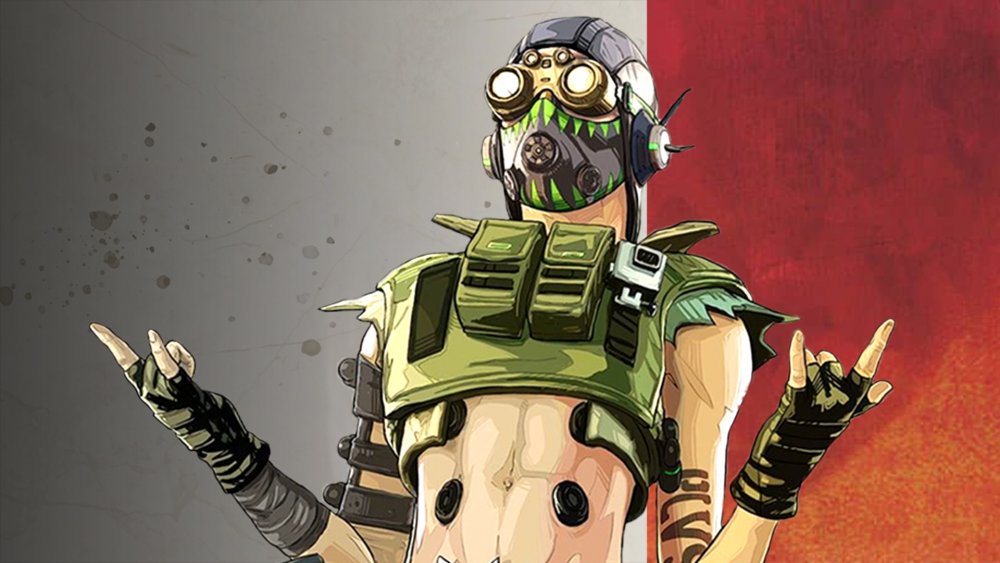 It's here! It's here! At first, it was only a rumor and a legend, but now it's here. Apex Legends has at last let slip that yes, Octane has an Heirloom set you can call your own. 
In the reveal, Octane showed off his considerable skills flipping around his butterfly knife. Those skills seriously sharpened the moment he stabbed himself with it; turns out he's outfitted the weapon with a hidden needle chock full of his favorite stimulant, because of course he did. Fans can't get enough of his sick tricks, and the surprisingly elegant design of Apex Legends' latest Heirloom set.
This intense (because everything associated with Octane is intense) reveal was part of the announcement for the System Override event kicking off Season 4 of the game. During this event, which lasts from March 3 to March 17, there will be 24 limited-time cosmetics. Purchase them all and you'll unlock that nifty Octane Heirloom set. That means you'll have to spend IRL cash for Apex Coins to buy all the System Override Collection Pack items.
You can also get the butterfly knife through Heirloom Shards. Apex Legends has replaced direct Heirloom drops with these shards, allowing players to choose which Heirloom set they want the most. Players are guaranteed enough shards to trade in for an Heirloom set after opening a whopping 500 packs, which are sold in sets of ten for 7,000 Apex Coins. If you've been hoarding packs, this new system will also apply to those bought under the old set of rules. You can unlock Octane's Heirloom item with this shard-trading system before, during, or even after the System Override Event. You have plenty of time to start collecting.
Hunting down this Heirloom set, the newest of just four other such items, might be an expensive and time consuming venture. Respawn Entertainment's new Heirloom Shard system has certainly been a welcome change, making the whole process of Heirloom hunting considerably less expensive, with one fan tweeting, "I love that they did this for the community because they could've easily wiped our progress and made packs we start to open from March 3rd and on count for the 500 but they're counting all our opened packs thus far ... very cool."
There are still those who feel the cost of these items — or, rather, the random chance to unlock them — is still too high. Some players have done the math, coming to the sad realization that unless they gather all 24 limited-time cosmetics, they won't be able to afford the 500 packs needed for a guaranteed unlock of Octane's Heirloom. One player pointed out that even if they put in $60 into this free-to-play game, the would still fall short of the Apex Coins needed to get 500 packs. If a single pack costs approximately $1... then you can see how ridiculously expensive it could be to unlock an Heirloom.
And yet ... it might just be worth it. Seriously, fans are collectively drooling over this item. Some are even salty that they can't trade their current Heirlooms for the Octane Heirloom set. That's just how appealing this juiced-up butterfly knife is. "Please give my love to the animation team and everyone involved with creating and animating oc's heirloom," read one tweet from a big Octane fan. "From lighting, to textures, to skin and more. I have never been so happy. my heart is singing."
For die-hard Octane fans, the effort and money is genuinely worth it. But what if Respawn's promise of an Heirloom set after 500 packs turns out false? 
Drama and the usual amount of EA-directed ire started up after a player posted on the Apex Legends subreddit claiming that, even after opening 500 packs, they were unable to obtain an Heirloom set. The player alleged that an EA representative told them to just buy and open more packs, posting a questionable chat screenshot that said as much. 
Respawn has clarified that players are protected against "bad luck" and that they cannot open more than 500 packs without receiving an Heirloom set. Many commenters were also quick to point out the holes in the Redditor's claims. Still, the situation stirred up feelings of discontent for the whole loot box system utilized in games like Apex Legends. While the game is totally free, EA, and, by extension, Respawn, have heaped on microtransactions to make the game profitable. While players can get by without buying anything, there's a clear cosmetic advantage to throwing in a few bucks.
Will players have to shell out large sums of money to get the Octane Heirloom set? Maybe. Will some be lucky enough to get it before hitting 500 packs? Possibly. It's all about the luck of the draw when it comes to obtaining this seriously sick butterfly knife.