The Truth Behind The Parks And Rec Cameo On The Good Place Finale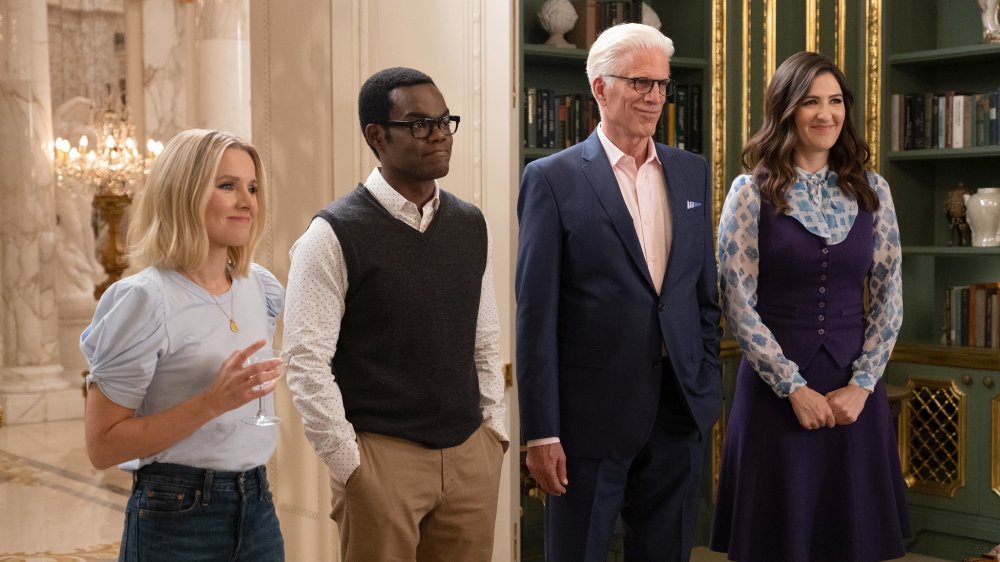 Colleen Hayes/NBC
Contains major spoilers for the series finale of The Good Place
A little bit of Pawnee finally made it to heaven... kind of.
Nick Offerman, who played the gruff yet good-hearted Ron Swanson for the entire run of NBC's Parks and Recreation, appeared on the series finale of The Good Place, the twisty, philosophy-tinged sitcom that aired on NBC and was also created by showrunner Mike Schur.
The two-part episode didn't feature very many cameos, though Offerman was in good company. Entitled "Whenever You're Ready," the Good Place series finale included 
glimpses of familiar characters like the demon Vicky (Tiya Sircar); the frog-loving gatekeeper of the afterlife, Jeff the Doorman (Mike O'Malley); the awful Brent (Ben Koldyke); and the all-powerful Judge (Maya Rudolph). Aside from some of The Good Place's most recognizable faces, two other famous friends of the show popped up just as it ended. Beyond Offerman, Ted Danson's real-life wife Mary Steenburgen was on hand as his demon character, Michael, finally became a human and learned guitar down on Earth. (Two of the show's philosophical advisors, Professor Pamela Hieronymi of UCLA and Professor Todd May of Clemons University, also appeared on the finale.)
Despite the fact that he appeared on Schur's first big network hit and created one of television's most beloved characters, Offerman didn't appear as Ron Swanson but instead performed as himself on the finale of The Good Place. As it turns out, Offerman's Good Place cameo was actually done as a favor to Schur — and even though he's only on screen for a short amount of time, there's actually a lot behind his particularly delightful cameo.
Here's exactly how Nick Offerman ended up in Mike Schur's vision of Heaven.
Nick Offerman's time in The Good Place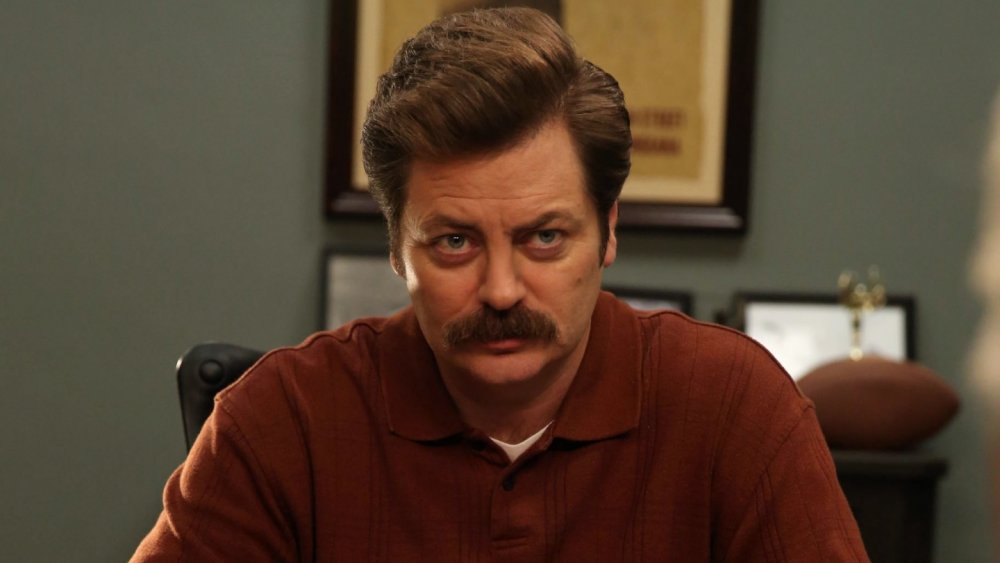 As Tahani (Jameela Jamil), one of the original members of the "Soul Squad," used her time in the Good Place to master every skill she could imagine, she turned to woodworking, which is where Offerman comes in. When Tahani finally crafts a chair, Offerman, a real-life woodworker, shows up as her teacher before declaring that he has taught her everything that he can.
The Good Place and Parks and Recreation fans may know that Offerman was originally offered but ultimately turned down the role of Shawn, The Good Place's resident deadpan demon who went on to be played by Schur regular Marc Evan Jackson. After Offerman declined the role, Schur knew he'd have to basically trick the stoic actor into appearing on the show at all — at least in person, since Offerman did agree to voice a demon named Lance in an uncredited gig. Schur, Jackson, and series executive producer Drew Goddard detailed the process of getting Offerman on the show during an episode of The Good Place: The Podcast after the series finale aired. 
As Schur tells the story, he simply emailed Offerman and asked how he would judge a chair on a reality show — much like Making It!, the actual reality show Offerman hosts alongside his former Parks co-star Amy Poehler. Eventually, Offerman agreed to play Tahani's teacher himself.
Nick Offerman made a special request for his Good Place cameo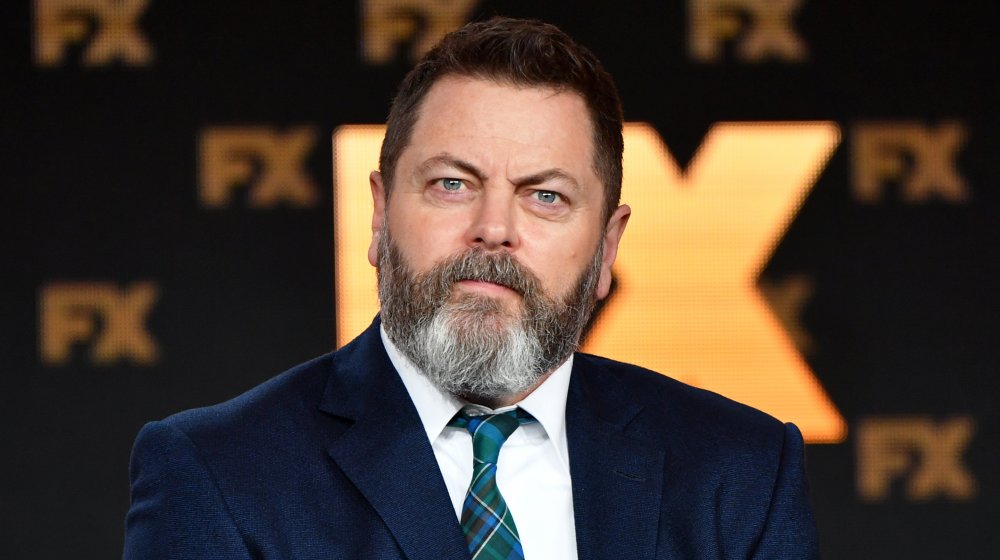 Amy Sussman/Getty Images
However, the actual scene did hit a snag. According to Schur's podcast interview, Offerman requested a top-of-the-line chair to display during his cameo on The Good Place. When production couldn't get that exact chair in time — because, as Schur hyperbolically put it, it had to be shipped from "the moon" — Schur and his team found a stand-in chair that they thought would work just fine. 
Unfortunately, being a real-life expert in the field, Offer declared the chair useless and said his woodworking friends would "make fun" of him for complimenting it on the show. But, as he eventually said, he's an actor, so he could pretend to like the chair for the sake of his other craft. Now that's what we call an American hero.
The final episode of The Good Place is currently streaming on Hulu and NBC.