The Truth About Jojo Rabbit's Most Important Prop - Exclusive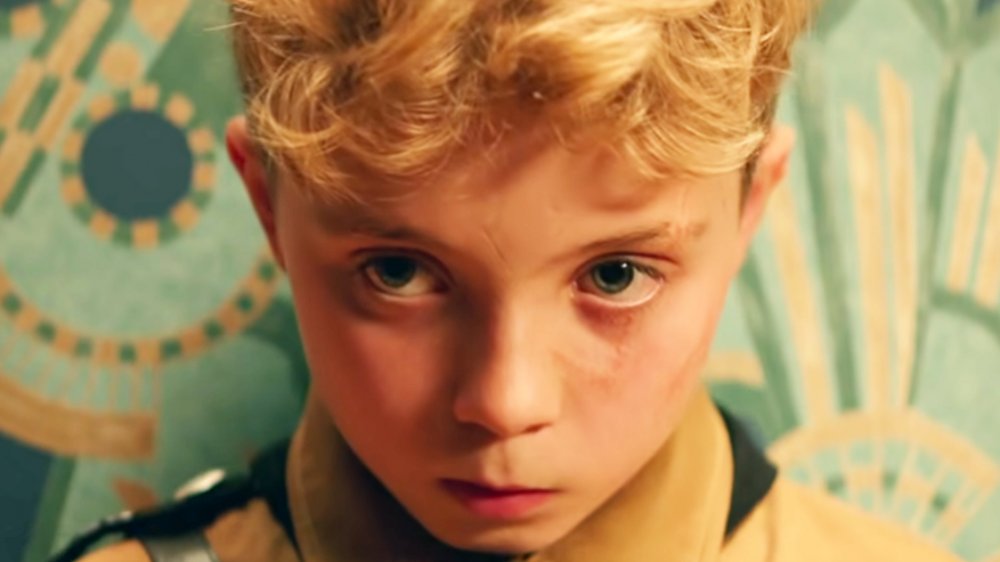 Taika Waititi's Jojo Rabbit doesn't look like a normal Holocaust film. While most movies about WWII Germany are drenched in dark and somber tones, Jojo Rabbit has whimsical sets that burst with color; it's Nazi Germany from a child's perspective. Jojo, played by newcomer Roman Griffin Davis, is too young to realize how bad things really are — at least at first.
Jojo's point-of-view comes through loud and clear in one of Jojo Rabbit's most important props. After an injury at a Hitler Youth training camp sidelines Jojo, the boy learns that his mother, Elsa (Scarlett Johansson), is hiding a Jewish teenager named Elsa in the crawl space upstairs. Jojo can't turn the girl in without risking his mother's safety, so he decides to help the Nazi cause the next-best way: by interrogating Elsa and compiling a book full of her "Jew secrets."
The book is a hilarious and charming collection of childish nonsense, spurred on by Elsa's goofy lies and Jojo's over-the-top interpretations of Nazi propaganda. Without going too far into spoiler territory, the book ends up being instrumental to Jojo Rabbit's plot, and according to production designer Ra Vincent, it had a big influence on the production, too.
While speaking to Looper about Jojo Rabbit, which earned the artist and designer his second Oscar nomination for Best Achievement in Production Design, Vincent perked up when asked who brought Jojo's journal to life. "The artist responsible was a woman called Chen Liang," Vincent says. "She was an art department assistant working with me, and... she brought a really beautiful naivete of line to the artwork."
Some of the drawings that Liang made for Jojo Rabbit were dictated by the script, while others came from Waititi or Vincent, but Lang had freedom to come up with her own designs, too. All in all, Chiang says, the book ended up being about 42 pages long — much more than the 12 pages the production originally planned. "She put her mind in the mind of a 10-year-old child," Vincent says. "It was absolutely perfect."
Jojo's book didn't just give Liang an opportunity to flex her creative muscles — it also provided material for Jojo Rabbit's talented cast to riff on during the production. "Our actors played off of it as well. They took pages and talked about various things within," Vincent explains. "There's an element of spontaneity in that dialogue as well."
On a Taika Waititi film, everyone has a say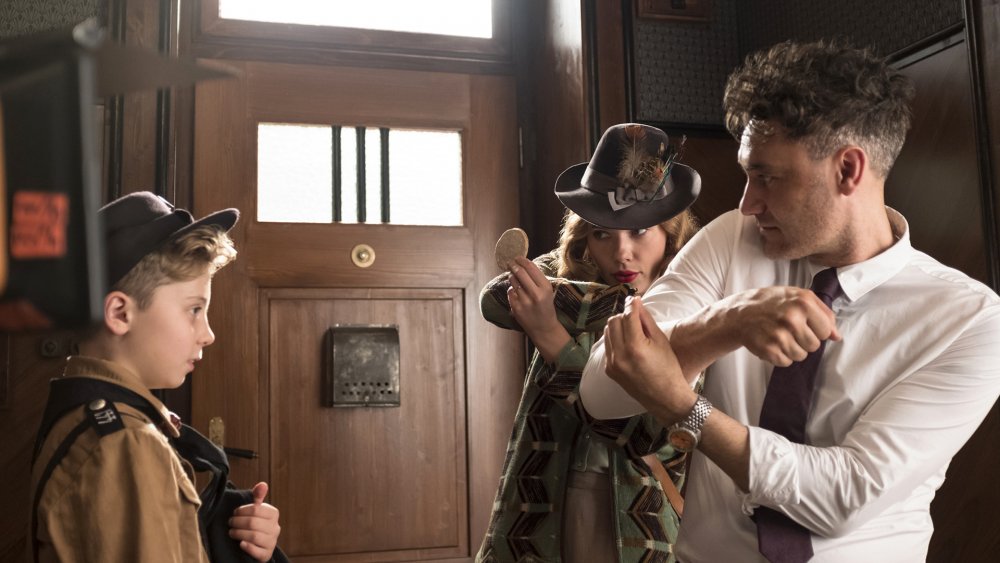 Vincent and Lang's experience on Jojo Rabbit wasn't unusual. As Vincent describes, director Taika Waititi encourages all members of the cast and crew to give their creative input.
"The greatest thing about working with Taika is he allows his technicians to first present their idea," Vincent says, "and he's open to the chance that it could be an exceptional idea." That extends to the actors, too. On set, Waititi encouraged his actors — including The Office co-creator Stephen Merchant, who's part of Jojo's journal's biggest scene — to improvise if they felt comfortable (via Deadline).
That being said, Waititi does have a strong vision, and he won't hesitate to take charge if concepts don't deliver. Vincent says, "At the end of the day, if it's not working for him, he has his own really confident backup plan."
According to Vincent, having that safety net can be freeing. "He's very good at letting you know how to execute [the plan], if you're not feeling confident yourself," Vincent says. "I've always felt it's great being in films with Taika because you best represent your work."
That doesn't just go for the big names on the crew, either. Vincent says that Waititi's collaborative approach towards filmmaking trickles all the way down, which is good, because there are some very talented people who worked on Jojo Rabbit at every level. In the film, the Czech Republic stood in for Nazi Germany, and Vincent has nothing but praise for his central European collaborators.
"The Czech Republic and Prague are a hub for some really important storytellers and craftsmen who have an amazing energy and heaps to offer," Vincent says. "We might think that we're a tiny little island in Los Angeles, but actually the world has these pockets of genius that we really should be tapping into to enrich our experiences."
Jojo Rabbit arrives on digital distribution platforms on February 4, 2020, and DVD and Blu-Ray on February 20, 2020.