What It's Really Like To Play A Borg On Star Trek - Exclusive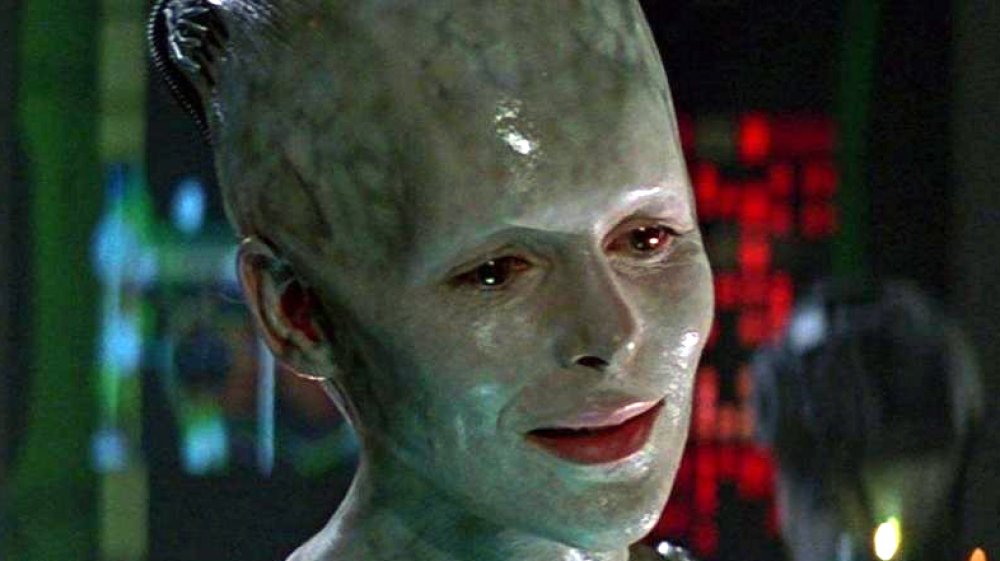 Paramount
Alice Krige might be playing the Witch in Gretel & Hansel, but the horror-tinged reimagining of the classic fairy tale isn't the first time that the veteran actress has played an iconic baddie. In 1996, Krige appeared in Star Trek: First Contact as the villainous Borg Queen, a role she reprised in Star Trek: Voyager and a couple of spin-off projects.
With Jean-Luc Picard back on the small screen in the CBS All Access series Star Trek: Picard, and with various Borg characters playing small roles in his latest adventures, we thought it'd be interesting to ask Krige about her time as Picard's arch-nemesis. While talking with Looper about Gretel & Hansel, Krige shared some insights into what it was like to play the Borg Queen, and what it takes to bring a memorable villain to life.
"I'm interested in what it is to be human and to be alive," she said, adding that "your job as an actor is to try to bring the humanness, the frailty, the bit that we all recognize" to the character and the story. However, for the Borg Queen, that presented some difficulties. As Krige revealed, "I don't think she is human."
She elaborated, "No one has told me this, this is what I have come to myself, [but] I think she was an entity that happened at the moment of creation. And she's always been that and she always will be, and it is entirely abnormal."
In addition, characters like the Borg Queen or Gretel & Hansel's Witch are very, very big. With roles like those, Krige noted that "you are allowed to live life through those characters as large as it is possible to write it." That can make grounding the characters challenging. "They're archetypes," she explained. "Somehow they crystallize or distill the human condition... It's about catharsis, about the insoluble problem of being human."
On the other hand, villainous parts do provide Krige with a sense of freedom. "With other roles, you need to try and be just like someone you'd meet in the street. You're not going to meet [the Witch or the Borg Queen] in the street," the actress said. "So every now and then, to be given the chance to live in the magic forest is wonderful because it crystallizes on certain levels what we all face as human beings in a very, very bold, in-your-face kind of way."
The high price of going dark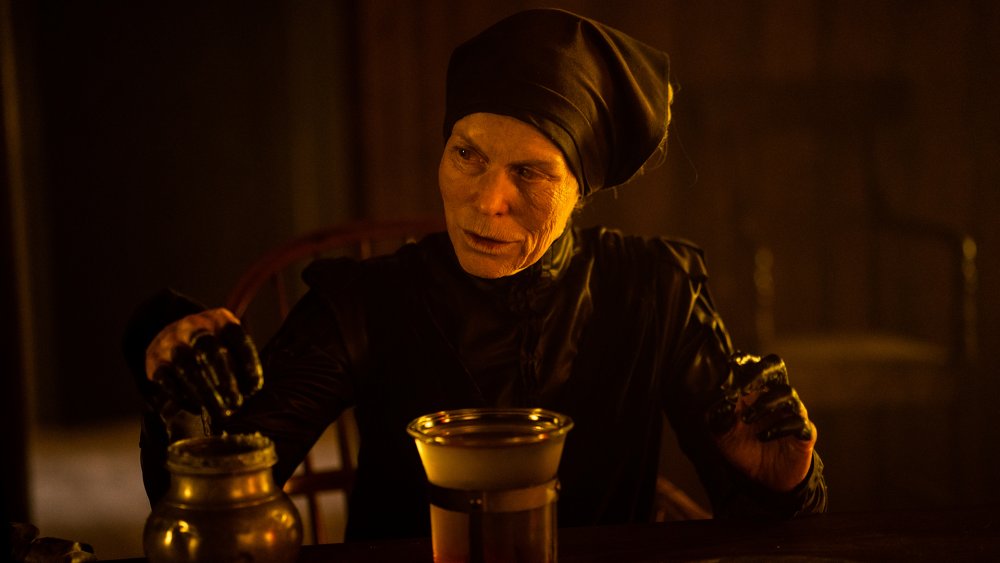 Orion Pictures
All of that being said, playing villains can take a severe mental toll. As an actress, Krige has to live inside her characters' heads for weeks — sometimes even months. When she's playing characters like the Witch and the Borg Queen, that's not necessarily a nice place to be.
In fact, Krige almost didn't accept the role of the Witch in Gretel & Hansel because she was wary of spending so much time in the dark. In 2006, Krige played a cult leader named Christabella in Silent Hill, an adaptation of the popular video game, and it left quite a mark on her psyche.
"I didn't anticipate with Christabella how dark she would be," Krige said. "You take something on, and you can't do half-measures. You have to go inside that space, right? And the last few weeks it was just Christabella mad and burning people. It was a dark space to go to."
Thankfully for her own well-being, the actress has emerged from the dark place she once was, and it was thanks to Gretel & Hansel director Osgood Perkins' gentle touch that Krige felt totally comfortable portraying the Witch. 
"I knew that he would come to the Witch without judgment, and that he would illuminate who she was and what she became with understanding and compassion," Krige said. "Osgood was always looking at her point of view, with her pain, with her compulsion, her grief, her shame, her exhaustion."
Ultimately, that human perspective separates the Witch from the Borg Queen. As Krige noted, "By the end [of Gretel & Hansel] you had a human being who didn't start off in this place, but who wound up in this place. Sometimes we make decisions all alone, and we live with them for the rest of our lives. And that's what happened to the Witch."
Still, it's the type of role where a little goes a long way. "I wouldn't like to spend my life inside the Borg Queen," Krige said, "but it was a great adventure to live inside her."
Gretel & Hansel is set to hit theaters on January 31.