How Filming The Witcher Could Have Blinded Henry Cavill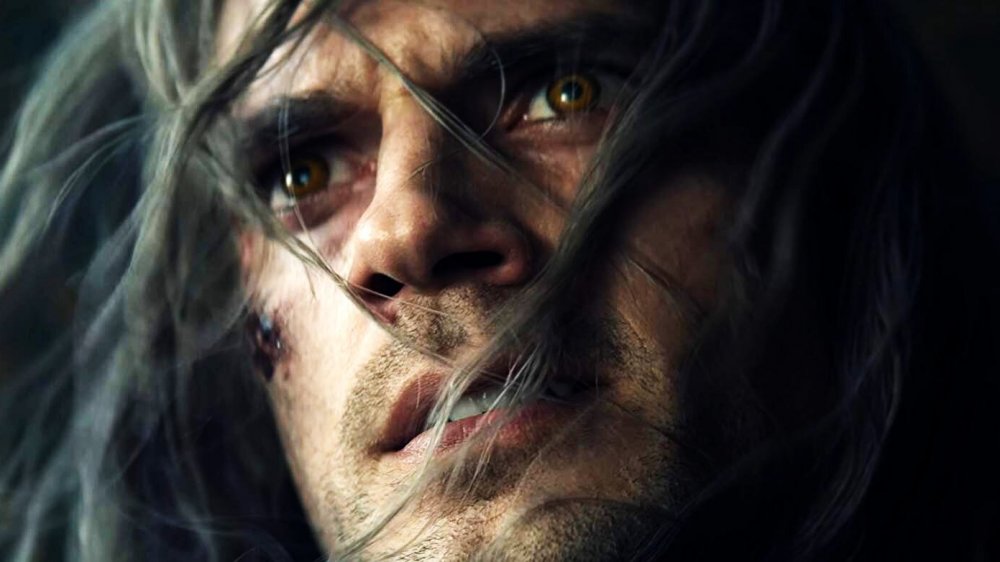 Netflix
Some eye-popping news has surfaced about how actor Henry Cavill tackled the intensive role of mutated monster hunter Geralt of Rivia for Netflix's highly anticipated The Witcher adaptation. 
Fans of the '90s fantasy saga of novels and short stories written by Polish author Andrzej Sapkowski — or its half-dozen other adaptations as a graphic novels and the popular Witcher video game trilogy – know the white wolf for his towering stature, scarred skin, milk-white hair, and, of course, his striking eyes. In the short "Something More," Sapkowski describes Geralt's eyes as "narrowed, piercing... as sharp as a spear tip." While direct written references to a specific color are scant, the author has described another witcher's as "bright yellow" — the hue that the Witcher video games made Geralt's eyes and the type of colored contacts that Cavill had to wear while filming the first season of the Netflix series.
But bringing that look to life wasn't a walk in the park, and it took a serious toll on Cavill's own vision.
How Henry Cavill could have gone blind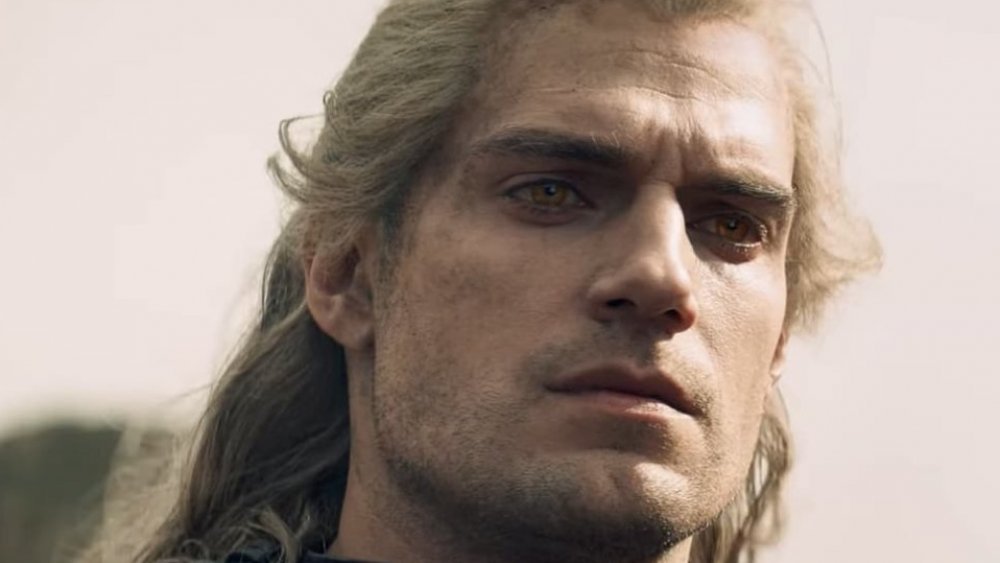 Netflix
Speaking exclusively to Metro UK, the Geralt actor shared that he was only supposed to wear his colored Witcher contacts for three hours at a time due to the discomfort and potential damage the eyewear could cause.
"Drying out isn't the problem, it's that part of your eye, it's the only part of your body that receives oxygen from the air rather than blood," Cavill said. "And so if you're covering it up, you're not getting any oxygen to it, and over a long period of time, you will do damage to your eyes."
While on set, an eye technician monitored and supervised Cavill and his tricky contacts. The actor noted that she was incredibly strict about the use of the contacts, and regularly hounded him about removing the contacts when he was supposed to, regardless of the production's shooting needs "because you will start to go blind after a while." Despite knowing the potential permanent consequences, the actor admitted that he basically brushed off her regular warnings and was quite stubborn about removing them.
"I was sure she was probably selling a slightly more dramatic version of the truth because I do tend to be a bit stubborn like that," said Cavill with a laugh. "And I'll say, no, it's alright we can shoot, [a] couple more hours will be fine. And she said we won't be fine. You've got to take them out now."
Unsurprisingly, the actor's eye technician was right, but the Witcher star had to learn the hard way while filming on and around the volcanic rock of the Canary Islands.
"[Dust] got in behind the contacts, so my eyes ended up being scratched," he revealed. "I didn't realize it was scratching ... but it got to the point where I couldn't really keep my eyes open, [and] my eyes were watering." His eye-watcher eventually forced shooting to halt until he removed his contacts. While dedication to a role is admirable, Henry Cavill was quite lucky to have someone with the foresight to protect his eyes when he wouldn't.
Henry Cavill went to other extremes to play the Witcher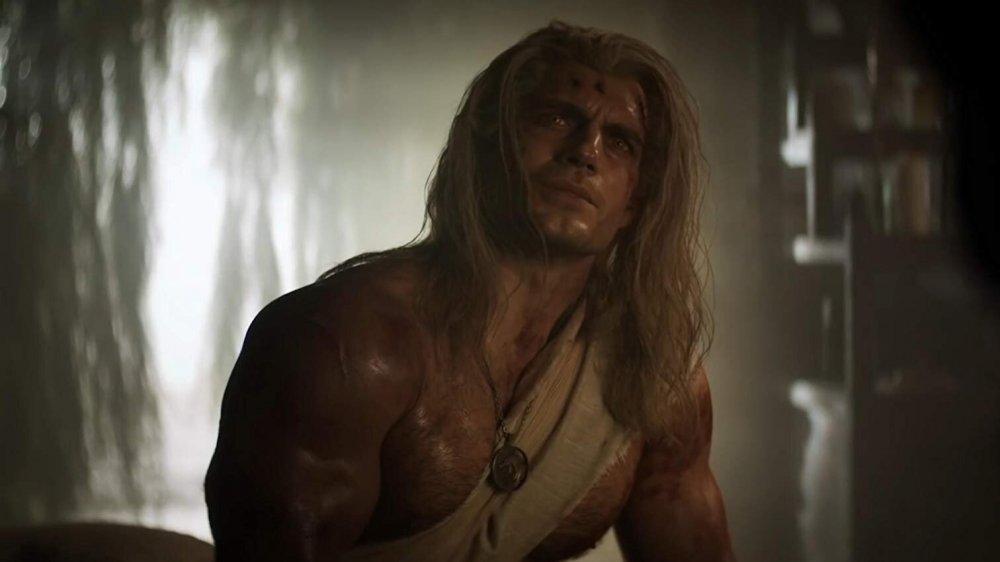 Netflix
Henry Cavill's handling of his contacts is a pretty illuminating look into how dedicated he was in his approach to bringing the white wolf to life for the Netflix series. 
While the Mission: Impossible – Fallout and Justice League actor is famously known for his buff build, he reportedly went another extra — and also extreme — mile while embodying his latest role. During a stop by The Graham Norton Show, Cavill revealed that he intentionally dehydrated himself for his shirtless scenes on The Witcher. Precisely four days before filming his bare chest commenced, the actor allowed himself to drink a liter and a half of water. He then reduced that to half a liter of water on the second day before going entirely without water until the end of shooting on the fourth day.  
"When you're dehydrated for three days, you get to the point on the last day where you can smell water nearby," Cavill told Norton during his couch visit. 
The Witcher star claimed the forced dehydration regime wasn't for aesthetic reasons, but also admitted that it "makes your skin really thin, so it sits on the muscle." Surely they could have just added some lines in post-production, right? But whatever works.
If there are any fans who don't like Netflix and Hissrich's take on the famous Witcher, it's clearly not for a lack of trying by Cavill and the rest of the production.