The Real Reason Canada Cut The Donald Trump Scene Out Of Home Alone 2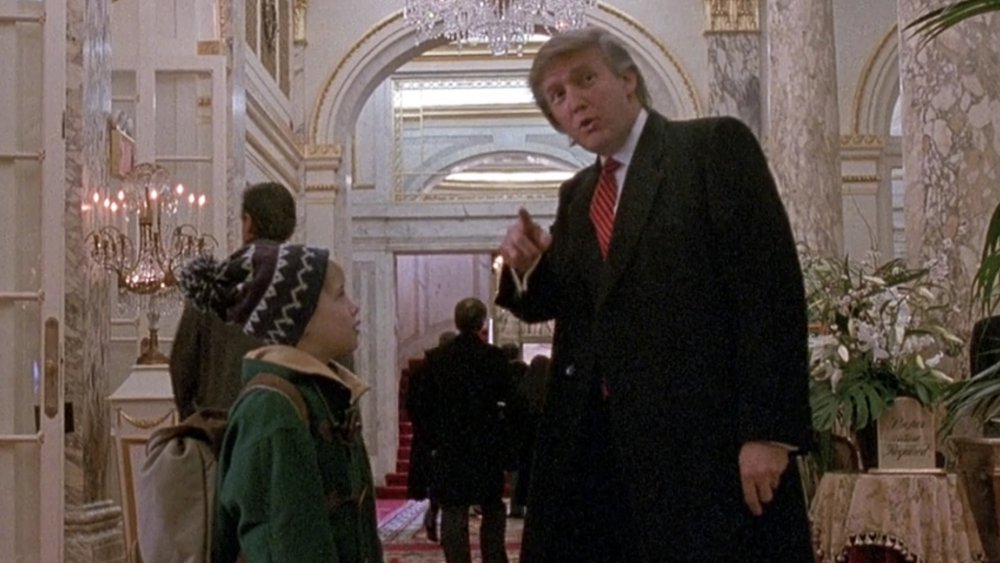 Well, isn't this ironic?
Just days after U.S. President Donald Trump not-so-humbly bragged about his appearance in a much-loved Christmas classic, it was reported that the Canadian Broadcasting Corporation removed the disgraced politician's cameo from Home Alone 2: Lost in New York. 
This news comes to us courtesy of Variety, which notes that the CBC actually cut the Trump cameo from the 1992 holiday flick starring Macaulay Culkin "long before the 2016 U.S. presidential election" — five years ago to be exact. It's only now gaining attention given the fact that Trump was officially impeached on December 18, that Trump recently talked about his involvement in Home Alone 2, and that many TV networks were airing Home Alone 2 throughout the week of Christmas. 
The scene in question sees Culkin's character Kevin McCallister, who accidentally boards a flight to New York City while his family heads off to Miami for Christmas vacation, asking Trump for directions to the lobby of the luxurious Plaza Hotel. According to the outlet, the CBC clipped the moment out of the film due to time constraints; it was apparently "one of several" that were removed for this reason. Chuck Thompson, the head of public affairs at the CBC, explained to Variety, "As is often the case with feature films adapted for television, Home Alone 2 was edited for time. The scene with Donald Trump was one of several that were cut from the movie as none of them were integral to the plot. These edits were done in 2014 when we first acquired the film and before Mr. Trump was elected President."
Many Trump supporters were angry to find that his cameo appearance had been trimmed out of Home Alone 2: Lost in New York. Trump's son, Donald Trump Jr., took to Twitter to call the edited version of the film "pathetic," while Fox & Friends hosts denounced the CBC's decision as "censorship."
Trump himself is proud of his six seconds in the spotlight in Home Alone 2, and continues to make a show of it 27 years after the film's release. In a recent video conference call with U.S. military members serving overseas, Trump got to talking about the Home Alone sequel after a sergeant asked him whether it was his favorite holiday movie.
"Well, I'm in Home Alone 2. A lot of people mention it every year, especially around Christmas. They say — especially young kids — they say, 'I just saw you on the movie.' They don't see me on television as they do in the movie," he said (via Deadline). "But it's been a good movie, and I was a little bit younger, to put it mildly. And it was an honor to do it. And it turned out to be a very big hit, obviously. It's a big Christmas hit — one of the biggest. So it's an honor to be involved in something like that. You always like to see success."
Trump, who is infamous for his Twitter tirades, took a seemingly level-headed approach to the news that the Canadian Broadcasting Corporation cut him from Home Alone 2: Lost in New York, which aired in the country on Christmas day. In one tweet, Trump said that Canadian Prime Minister Justin Trudeau "doesn't much like my making him pay up on NATO or Trade!" He later joked that Home Alone 2 would "never be the same" without him in it, then clarified that he was "just kidding."
Donald Trump didn't even make it into a movie he insisted on being a part of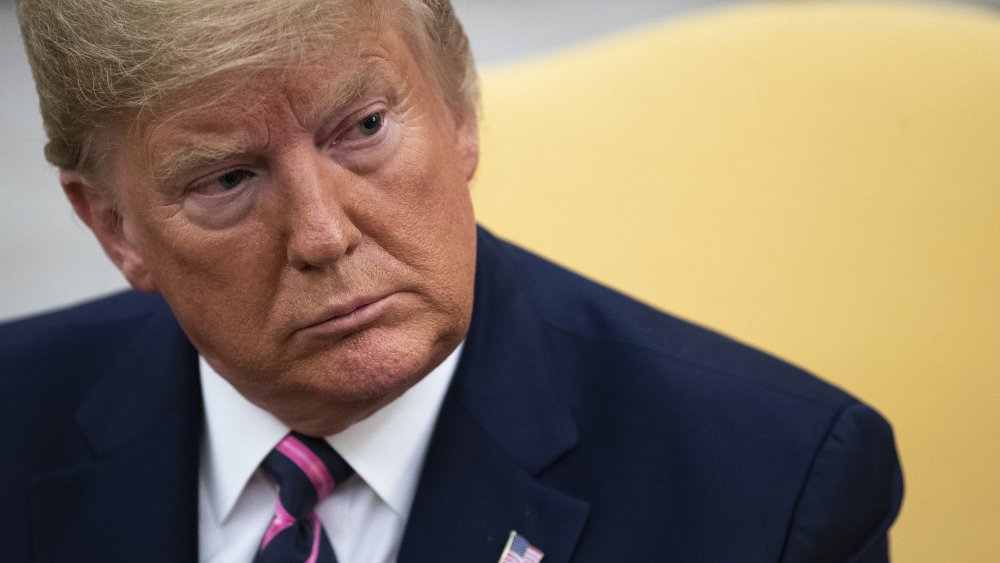 Drew Angerer/Getty Images
Trump doesn't seem all that upset over being removed from the Canadian broadcast of Home Alone 2: Lost in New York, and that might be because he has the satisfaction of knowing he was in the film and still appears in other versions of it. (For example, Trump's cameo remains intact in the Disney+ version of Home Alone 2.) Unfortunately for Trump, there's been one instance in which he reportedly insisted on having a part in a film... only for his cameo to get left on the editing room floor, never to be included in the theatrical cut. 
That movie is 1992's Scent of a Woman, the American remake of the Italian film of the same name. Speaking to The Hollywood Reporter in September 2017, Matt Damon, who didn't have a part in the film but apparently knew behind-the-scenes secrets of the production, claimed that Trump had a deal in place with directors: "If you wanted to shoot in one of his buildings, you had to write him in a part." According to Damon, Scent of a Woman director Martin Brest "had to write something in" for Trump because the team was filming at the Plaza Hotel, which Trump bought in 1988. (Katara Hospitality now owns the building.) 
"The whole crew was in on it. You have to waste an hour of your day with a bulls*** shot: Donald Trump walks in and Al Pacino's like, 'Hello, Mr. Trump!' — you had to call him by name — and then he exits," said Damon. "You waste a little time so that you can get the permit, and then you can cut the scene out. But I guess in Home Alone 2 they left it in." Well, only in certain cuts, of course.