The Failed TV Shows Of Comedy Legends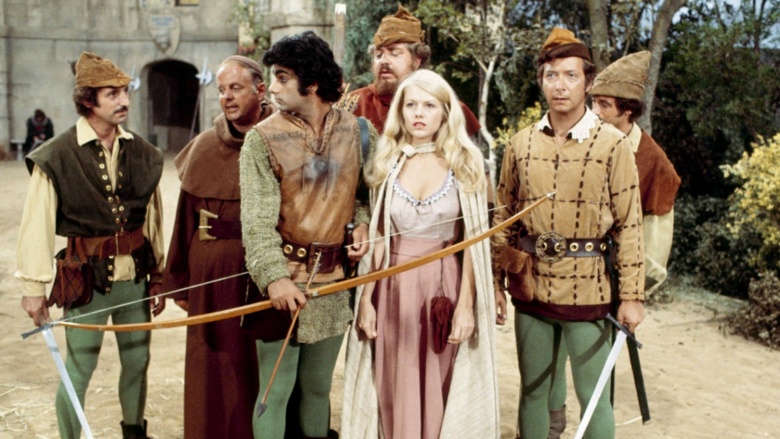 No one's perfect, and everyone fails sometimes—even the all-time greats. This includes the many comedy legends who've tried their hand at making rule-breaking TV shows...and missed the mark miserably. Thankfully, those failures didn't stop them; in fact, they often led to even greater creative breakthroughs. Still, it's good to remember that not every idea that leaps from the mind of a hilarious creative genius is comedy gold. Take these short-lived series, for example.
Mel Brooks, When Things Were Rotten
Eighteen years before Mel Brooks released Robin Hood: Men In Tights, he made a TV show that parodied the same classic tale, called When Things Were Rotten. The comedy legend stole the idea for one of his movies from himself. It's a weird case of a brilliant mind refusing to give up on a failed idea.
All of Brooks' trademarks are apparent in the short-lived series—maybe too many for its own good. Each episode was stuffed with sight gags, one-liners, extremely literal jokes, and that unmistakable rapid-fire Borscht Belt wit. Since the sitcom was only about a quarter the length of one of Brooks' movies, When Things Were Rotten can sometimes leaving the viewer feeling like too much of his hyper-silly wit was crammed into each episode. For example, in the opening minutes of the pilot episode, the Sherriff of Nottingham attempts to silence a raucous crowd. "Hold your tongues!" he shouts. The crowd goes silent as they all solemnly lower their heads and pinch their tongues. A slightly modified version of that joke appeared in Men in Tights almost two decades later, when Robin Hood asked a murmuring crowd for their attention by shouting "Lend me your ears!"—only to be pelted with the audience members' ears, which have been pulled off with audible pops.
Bill Hicks, Bulba
Bill Hicks was a caustic iconoclast whose stand-up seethed with a potent combination of intelligence and rage. Oh, and he was really funny, too—which is why his small role in a failed sitcom from 1981 is such a bizarre sight. The pilot (and only) episode of Bulba presents the 18-year old Hicks in a supporting role as a guard at a U.S. embassy in a far-flung island nation. Hick's performance contrasts wildly with the dark, aggressive style he'd develop later in his career. In Bulba, he's fresh-faced, and shows a command of slapstick physical humor he'd later use to a smaller degree in select stand-up bits.
John Schwartzwalder, Pistol Pete
You may not know his name, but you most definitely know his work, because John Schwartzwalder is an unsung comedy hero. Are your favorite Simpsons episodes from the show's earlier seasons? Well, Schwartzwalder probably wrote them. Which ones? Take your pick. He's written more episodes of The Simpsons than anyone, penning an astounding 56 episodes between 1990 and 1998. In his post-Simpsons career he's published hysterical absurdist novellas while adopting a reclusive lifestyle—it's rumored that Ron Swanson from Parks and Recreation was based on him. Schwartzwelder's failed 1996 pilot, Pistol Pete, starred Brian Doyle-Murray and Steve Kearney and took place in an Old West setting. The result, which can sometimes feel like an unfinished Blazing Saddles sequel, was never picked up, but if you like it, Schwartzwalder wrote a Western novella titled Double Wonderful that reads like a repository for every joke he never had a chance to put in the show.
Michael O'Donoghue, TV
Saturday Night Live has seen its fair share of legendary writers. But none, not even the famously grumpy Larry David, was as much of a belligerent and rebellious thorn in the side of producer Lorne Michaels as Michael O'Donoghue. He detested what everyone thought was funny, and dared the audience to laugh at the darkest material he could get on live network TV.
When Fox decided to give O'Donoghue a shot at a pilot, they were fully expecting something edgy—so he gave them pitch black darkness. The show, simply titled TV, was conceived as the broadcast of the fictional CRC television network, featuring absurd commercials for fictional products wedged between bizarre episodes of archetypal network programming like police dramas and the nightly news. The whole thing was shot through with O'Donoghue's legendarily dark humor—such as the commercial for an instant coffee powder that turned into a morbid domestic nightmare when the husband of the spokeswoman threatened her with violence because his napkin was wrinkled.
Andy Kaufman, Uncle Andy's Funhouse
At the height of Taxi star Andy Kaufman's popularity, ABC gave him the chance to shoot a pilot for a potential series. Kaufman responded with Uncle Andy's Funhouse, a surreal, twisted take on classic children's programming featuring a Howdy Doody-style peanut gallery and wacky marionette puppets. It was obviously far ahead of its time, but anyone who's ever watched Adult Swim's late-night programming knows Kaufman's bizarrely confrontational style of comedy eventually made it to some sector of the mainstream.
The six-minute and forty-five second clip embedded here isn't a scene from Uncle Andy's Funhouse—it's the entirety of the show. When Andy introduces his puppets, one of them is a puppet version of his angry chain-smoking failed comedian alter ego Tony Clifton. After that, he introduces his first guest, Debra Jo Fondren—September 1977's Playboy Playmate of the Month.
Carl Reiner, Head of the Family
The modern-day sitcom owes a lot to The Dick van Dyke Show. Its snappy wit and charm created a blueprint that's still used today by hits like Modern Family, and it was also one of the first shows to take a behind-the-scenes look at the entertainment business, a tradition continued decades later by sitcoms like 30 Rock.
Before it launched the careers of Dick Van Dick and Mary Tyler Moore, and before it was even called The Dick Van Dyke Show, it starred series creator (and legendary comedy writer/director) Carl Reiner, under the title Head of the Family. The show was the same, in essence, but the details were vastly different. The cast, the tone, the comedic rhythms, the cinematography, the set—none of it would be recognizable to anyone who's seen even a single episode of The Dick Van Dyke Show. The pilot wasn't picked up, but failure didn't stop Reiner. He re-worked it from the ground up and turned it into The Dick Van Dyke Show we know today. It just goes to show you: sometimes a failed pilot can be salvaged for something far greater than anyone working on it could have imagined.