Corey Feldman Confirms Goonies 2 Isn't Happening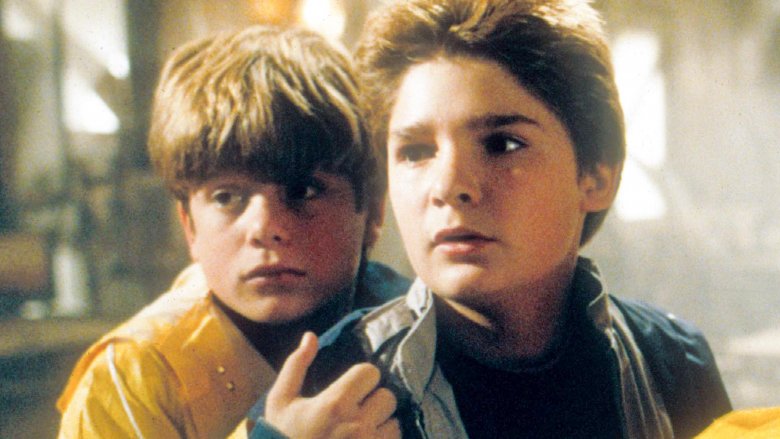 Are the Goonies actually saying die?
Original Goonies actor Corey Feldman, who portrayed Clark "Mouth" Devereaux in the 1985 adventure-comedy, has stated that The Goonies 2 isn't happening. 
Speaking with TMZ in New York City on Tuesday, October 8, Feldman addressed the rumors about a potential Goonies sequel and gave an incredibly blunt answer: "There ain't no damn Goonies reunion!" 
Feldman's statement comes just weeks after he reunited with fellow Goonies actor Sean Astin, who played the optimistic Michael "Mikey" Walsh in the Richard Donner-directed flick, at the 2019 NostalgiaCon '80s Pop Culture Convention that took place in Anaheim, California on September 28 and September 29. Their meet-up got the rumor mill churning once again — with many taking the Feldman-Astin reunion and the comments both stars made in early September 2019 as all the evidence they'd need to believe The Goonies 2 was a sure thing. 
At FAN EXPO Canada at the beginning of September 2019, Feldman and Astin — alongside Jonathan Ke Huy Quan, the actor who portrayed Richard "Data" Wang in The Goonies — had another reunion when they got up on stage to field questions from fans (via ComicBook.com). One was, naturally, whether or not a Goonies sequel would ever see the light of day — the question Quan said he's heard the most over the last 30 years. Astin answered in a sing-song voice, "Someday," before confirming, "The someday part, someday it'll happen." The actor added, "The audience wants it, they're gonna do it, it's annoying it's taking so long, I'm sorry on behalf of Steven Spielberg."
Then, Feldman himself offered an answer that half made light of the situation and half backed up Astin's claims: "Yeah, we'll get it done tomorrow. I swear." Quan reiterated that "someday it'll happen," which prompted Feldman to state that when the Goonies actors get back together, it feels like a family reunion because of the stars' unique bond. He shared, "We did one movie, but we're still just as close as when we were on the set. So there is something to be said for that kind of magic, that it would really have that resounding of an effect on us as adults. And obviously it had that kind of resounding effect on you as the audience, so we're very grateful for that."
Feldman's remarks at FAN EXPO Canada are vastly different from the sharp words he gave to TMZ, so what gives? 
Well, it may have something to do with what happened with Feldman's own idea for The Goonies 2. The actor revealed to Us Weekly in July 2019 that he and Astin wrote a 10-page treatment for a sequel, which they presented to original Goonies director Richard Donner, a representative of screenwriter Chris Columbus, and a representative of story creator and executive producer Steven Spielberg. Donner reportedly loved it, but ultimately said that "it was too expensive an idea." 
At FAN EXPO Boston in September 2019, Feldman further elaborated on his rejected Goonies 2 pitch: "Every year, the rumor circulates, 'Goonies 2 is definitely gonna happen now,' and we'll be like, 'No, it's not.' But Richard Donner at one point started fueling it himself and went to the press. He used to call us and tell us we were going back to work, and we'd get all excited, and then it wouldn't happen [...] Dick got really excited, and his eyes got really big, and he looked like he was loving it. 'We got him, he's in, he loves it!' And then all of a sudden, halfway through, he just opens his eyes again and he goes, 'Too expensive,' ... and we're like, 'What?' And he's like, 'Too expensive, I want to go smaller.'"
It's odd that Feldman would bounce between hinting that a Goonies sequel would happen and gushing about how amazing it is to reunite with the original cast, to discussing the details of his and Astin's shot-down sequel pitch, to stating that there won't be another Goonies movie. 
The long-winded saga of a possible Goonies sequel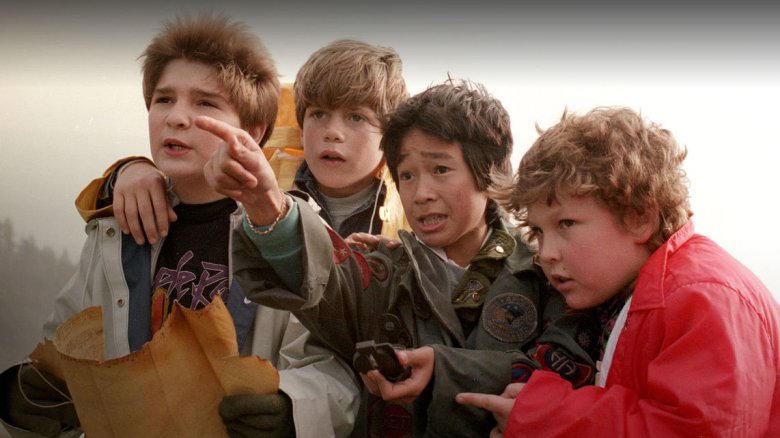 That said, this isn't uncommon when it comes to the Goonies property. Rumors of a follow-up film have swirled for decades, and the status of a possible Goonies sequel has shifted dozens of times in the 34 years since the original film opened in theaters. 
In 2004, Jeff Cohen, whose character Lawrence "Chunk" Cohen made the Truffle Shuffle an infamous dance move, revealed that there was interest in making The Goonies 2 and that an initial pitch for it was "funny." However, according to Cohen, Warner Bros. executives weren't willing to finance the film. Director Donner also said at the time, "Goonies 2 will still happen, provided enough of you keep complaining and sending in letters."
Astin told MTV News in 2007 that The Goonies 2 was "an absolute certainty," following up comments Feldman made about a possible animated sequel to The Goonies. Astin also shared what the basic premise for a second Goonies movie would be: "Steven [Spielberg] and Dick [Donner] and all the powers that be ... they really feel like the thing that made the movie strong was that it was about kids, so they really want to make the next movie about kids... the next generation of Goonies. And they've had a hard time tackling that [...] So as we now all have kids who are coming into the age that we were when we made the movie, it's more likely to me that they'll figure out how to design a story that will satisfy the older audience in terms of connecting with the original 1985 Goonies, and then [also] create this new thing."
A year later, Feldman released a blog post in which he shot down all talk of a Goonies sequel: "There is no Goonies 2! I'm sorry but it's just not gonna happen. It seems every 6 months the rumor mill gets started up again and people run around both excited and angry, and eventually I have to respond. I would have loved to do this movie under the direction of Donner (who wouldn't?) but it is just not meant to be. Hope that's settled."
Donner negated Feldman's claims in 2010, when he said that The Goonies 2 was going to happen and that the majority of the original cast would be involved. The director stated in the documentary The Making of a Cult Classic: The Unauthorized Story of The Goonies, "It will happen. We've been trying for a number of years." By 2014, Donner's stance hadn't changed. He told TMZ in April of that year that The Goonies 2 was officially a go.
In recent years, however, things have gone down, then up, then back down again — and The Goonies 2 has remained in development hell through it all. And there are plenty of reasons why we haven't seen The Goonies 2 yet: "nothing stuck" when Donner discussed ideas with writers, there's a lot of pressure to get things just right and please fans of the original, there hasn't been enough money on hand to make the movie, the beloved Jeff Cohen has taken himself out of consideration for the potential sequel, and it's now more likely that the property will get a reboot rather than a straightforward sequel featuring the original cast. 
Considering how many times The Goonies 2 has been on the road to production before getting kicked off course, it's probably best to take Feldman's remarks to TMZ with a grain of salt. It could be just a few months before the actor changes his tune and confirms that the project is indeed happening. When and if a Goonies sequel ever happens, at least fans will have the perfect response when asked how long they've waited for the film: "Long enough, Mikey. Long enough."