South Park Creators 'Apologize' To The Chinese Government After Being Erased From The Internet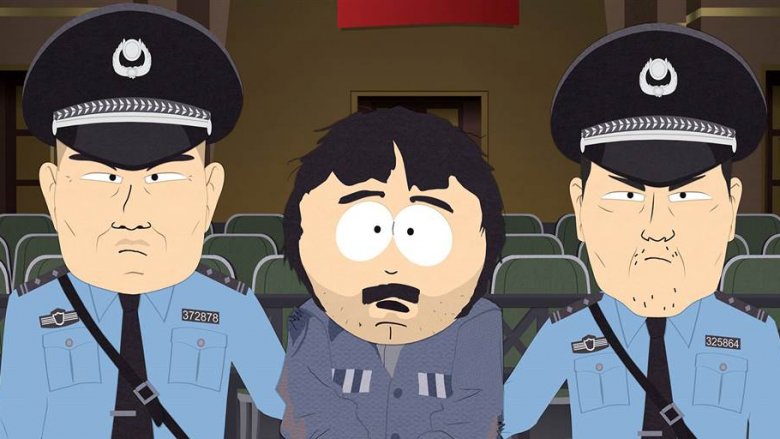 Comedy Central
Things for South Park have been going south over the last few days, but the minds behind the show are looking up in the sort of way only they can. 
A recent episode of the adult-oriented animated series entitled "Band in China" was, well, banned in China after the country's government deemed it inappropriate (via The Hollywood Reporter). Every last clip of the episode, which critiques the ways in which Hollywood tends to adjust its content to avoid censorship from the Chinese government and features character Randy Marsh (Trey Parker) getting thrown in jail after he's caught selling drugs in China, has been scrubbed from China's intensely monitored internet — including from streaming services, fan pages dedicated to South Park, and social media platforms. All instances of discussion about the "Band in China" episode, official or otherwise, have also been removed from the Chinese internet. 
Now, South Park creators Matt Stone and Trey Parker have addressed the episode ban by releasing an "apology" that's really just a thinly veiled jab at Chinese government officials. 
"Like the NBA, we welcome the Chinese censors into our homes and into our hearts. We too love money more than freedom and democracy," the pair wrote in a statement posted to the South Park Twitter account. 
Stone and Parker's faux apology then took a turn to mock Chinese President Xi Jinping, who in 2017 had been compared to the chubby teddy bear Winnie-the-Pooh, causing all traces of the character to be removed from the Chinese internet. The South Park pair also took a shot at the country's authoritarian government in saying, "Xi doesn't just look like Winnie the Pooh at all. Tune into our 300th episode this Wednesday at 10! Long live the Great Communist Party of China! May this autumn's sorghum harvest be bountiful! We good now China?"
The mention of the NBA in Stone and Parker's statement is in reference to Houston Rockets general manager Daryl Morey, who shared to his Twitter page a now-deleted post expressing support of the pro-democracy protests currently happening in Hong Kong. This caused broadcasters in China to pull all scheduled airings of Houston Rockets games, local Chinese sponsors to cut off funding, and the Chinese Basketball Association to state that it would end cooperation with the basketball team, for which now-retired Chinese basketball player Yao Ming was once a member. 
Houston Rockets owner Tilman Fertitta issued a statement thereafter, indicating that Morey "does NOT speak for the @HoustonRockets" and that the team is "NOT a political organization." Morey followed up with a statement of his own: "I did not intend my tweet to cause any offense to Rockets fans and friends of mine in China [...] I have always appreciated the significant support our Chinese fans and sponsors have provided and I would hope that those who are upset will know that offending or misunderstanding them was not my intention. My tweets are my own and in no way represent the Rockets or the NBA."
South Park has come under fire more times than we can count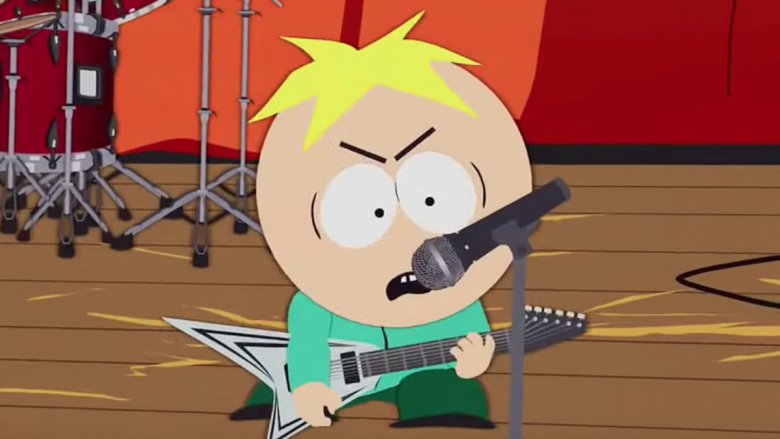 Comedy Central
Clearly, this isn't the first time that a public figure has been on the receiving end of an internet ban in China, and it also isn't the first time South Park has come under fire for intentionally ruffling feathers. At least once every few years since the show premiered on Comedy Central in 1997, a South Park-related controversy has cropped up. 
In the late 1990s, schools attempted to ban students from wearing clothing that depicted South Park characters. Parents in the United Kingdom grew concerned when, in 1999, a poll their eight- and nine-year-old children filled out showed that their favorite television character was the crass, prejudiced, narcissistic Eric Cartman (Trey Parker). For their part, Stone and Parker have long maintained that South Park isn't meant for children, though they have no problem with youngsters tuning into the show if their parents allow them to. 
Religion-based groups and conservative advocacy organizations have rallied against South Park on numerous occasions, finding the subject matter explored and language used on the series, as well as its overall "tastelessness," isn't suitable for any kind of audience. 
The 2006 episode of South Park entitled "Hell on Earth 2006" received backlash for its portrayal of the late Steve Irwin, who had just seven weeks before the episode aired died after a stingray barb pierced through his chest. Comedy Central stood by the episode and defended Stone and Parker's creative decisions, stating, "The South Park guys do inappropriate things all the time... Their goal is to make people laugh, not to offend people."
Three years later, MTV pulled the South Park episode "Pinewood Derby" from screens in Mexico. The episode depicted Mexican President Felipe Calderón, along with other international leaders, struggling to resolve a global crisis. MTV insisted that the episode-yanking wasn't censorship, though many South Park fans felt differently. 
South Park also landed in the hot seat in November 2015 following the terrorist attacks that took place in the Saint-Denis suburb of Paris. Comedy Central in the Netherlands chose not to air a scene from the South Park episode "Sponsored Content" in the aftermath of the tragedy, as it depicted character Mr. Garrison (Trey Parker) making an obscene comment about Syrian refugees, who were fleeing to France around the time of the attacks to escape the Syrian Civil War. 
There have been dozens more controversies that South Park has sparked, with plenty of episodes being banned over the years. Nothing has stopped Stone and Parker from doing exactly what they want no matter the consequences, so it's pretty evident that they'll continue on the same path they've walked for over two decades, paying little mind to past backlash or their current ban in China.