Joker Just Demolished A Box Office Record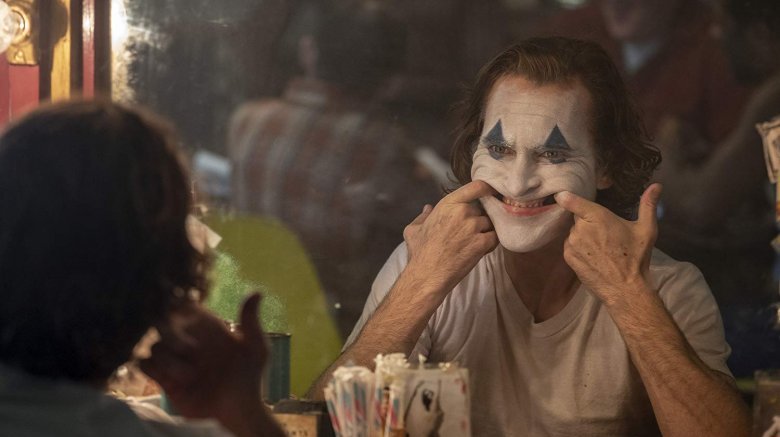 Joker has finally made its theatrical debut, and its box office haul is no laughing matter.
The Joaquin Phoenix-led film — which serves as a particularly dark origin story one of pop culture's most famous characters, the Joker — pulled in an astonishing $96 million at the domestic box office in its opening weekend, marking the largest October debut of all time (via Variety). 
Last year's Venom previously held that record, meaning that a DC Comics villain snatched the crown from the slimy Marvel baddie, which earned $80 million domestically when it debuted on October 5, 2018.
Internationally, Joker earned $140 million, bringing its worldwide debut pull to $236 million.
Considering how highly anticipated Joker was ahead of its release, it's not entirely surprising that it took the top spot at the box office as soon as it came out. However, the movie was mired in controversy before it hit theaters, which was cause for concern. 
Why some people aren't laughing over the Joker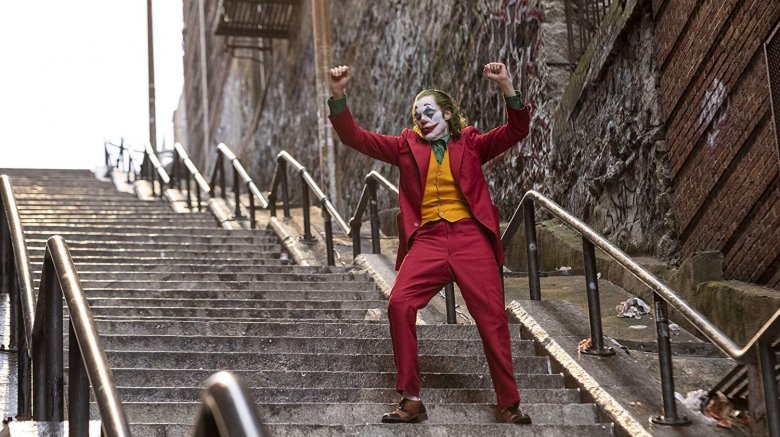 Hyper-violent films are nothing new, but now that audiences can make up their own minds about Joker, some critics and fans are admitting that the film might be particularly disturbing in our current society. 
In the lead-up to Joker's release, some worried that the story of a disadvantaged, mentally ill man rejected from society who exacts his revenge by murdering those who wronged him and committing public acts of violence might be the wrong story to tell in this climate. As of October 1, 2019, the United States has experienced 21 mass shootings, with an average of one shooting every 15 days.
Some have also expressed concerned over the film's treatment of women (especially women of color), in that many of the movie's prominent female characters are murdered, harassed, or otherwise abused to further Arthur Fleck's (Phoenix) backstory. 
Some theaters — including the movie theater in Aurora, Colorado, which experienced a horrible mass shooting during a midnight screening of The Dark Knight Rises in 2012 — simply didn't even show Joker. Many screenings across the country saw increased security and police presence. But clearly, that didn't stop moviegoers from checking out the newest anti-hero story.
Director Todd Phillips had some harsh words for Joker's critics, complaining that it's impossible to make comedies anymore because of "woke culture." He faced significant backlash over that remark — including a clap-back from Thor director Taika Waititi, whose new comedy Jojo Rabbit, in which he plays Hitler, is getting rave reviews.
As for Phoenix, the star told Vanity Fair he wants people to put their preconceived notions aside and judge the film as its own entity: "There's so many different ways of looking at it [...] you can either say here's somebody who, like everybody, needed to be heard and understood and to have a voice. Or you can say this is somebody that disproportionately needs a large quantity of people to be fixated on him. His satisfaction comes as he stands in amongst the madness."
There's little doubt that Joker is a captivating story that has thrilled audiences thus far — thanks in large part to Phoenix's career-affirming performance — and clearly, Phillips, Phoenix, and the rest of the film's team are now laughing their way to the bank (and maybe even a few Oscar nominations).