What You Can Expect From Clerks 3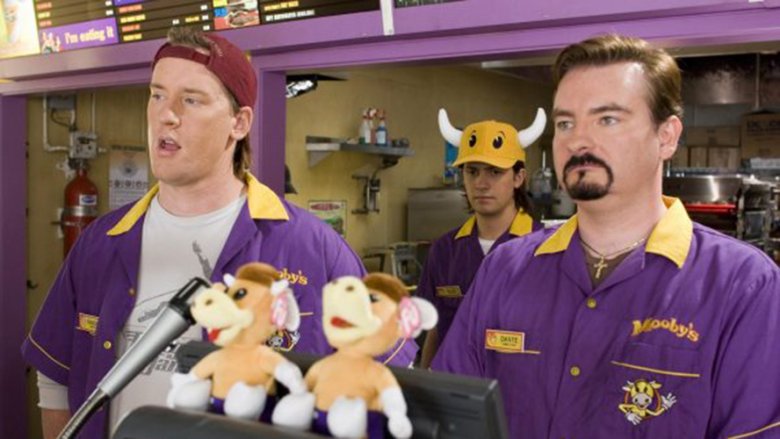 It's official: Kevin Smith, Jason Mewes, Brian O'Halloran, and Jeff Anderson are getting behind the counter once more for a third Clerks movie. 
Two years after it was announced that Clerks 3 wouldn't happen — as actor Anderson was reportedly no longer interested in making another flick to follow up the original black-and-white indie from 1994 – Clerks writer-director Smith has confirmed that the project is back on. 
Smith took to Facebook on Tuesday, October 1 to drop the news, revealing that Anderson had a change of heart and will indeed be a part of the new film, which will feature returning actor O'Halloran as store clerk Dante Hicks alongside Anderson's Randal Graves. He also explained how Clerks 3 went from dead in the water to alive and kicking, stating that he and his longtime collaborator Mewes (who's a part of Smith's View Askewniverse and one half of the Jay and Silent Bob film franchise) met up with Anderson on Saturday, September 28 and came up with a plan to make the third Clerks film happen.  
"3 CLERKS! Thanks to the good folks at @leeloomultiprops, I got to see Randal! #JeffAnderson, @jaymewes, and I spent Saturday signing stuff and catching up, seeing so much movie merch that's been made over the last 25 years (hit the Leloo site for sweet signed skateboards)! But even better than that? We talked about making a movie together," Smith wrote in the caption of a photo of himself with Mewes and Anderson. 
From there, Smith detailed what fans can expect from Clerks 3: it will close out the Clerks film series, which started with the 1994 buddy comedy and continued with its 2006 sequel Clerks 2; deliver a powerful message about one's purpose in life; and further explore the friendship between Dante Hicks and Randal Graves, the former of whom was last heard saying, "Can you feel it? Today is the first day of the rest of our lives." And, of course, Clerks 3 will be set in New Jersey, the state in which Smith was born and in which many of his films take place.
As Smith explained, "It'll be a movie that concludes a saga. It'll be a movie about how you're never too old to completely change your life. It'll be a movie about how a decades-spanning friendship finally confronts the future. It'll be a movie that brings us back to the beginning – a return to the cradle of civilization in the great state of #newjersey."
Additionally, Smith confirmed that he and Mewes will appear in Clerks 3 in "supporting roles," presumably as the dynamic duo Jay (Mewes) and Silent Bob (Smith).
Clerks 3 has a brand-new script
Though all of our old favorites are returning for Clerks 3, the flick will have a totally fresh feel to it, as Smith confirmed that the project is getting a new script. How new, you ask? So new that Smith just started writing it a day before he announced to the world that Clerks 3 is actually happening.
"To be great is to go on. To go on is to go far. To go far is to return. And we're all gonna return to the scene of the crime! This won't be the old script we almost made a few years back: this is a completely new screenplay that I just started writing last night! And so far, it's like a dream come true!" wrote Smith, who went on to thank Anderson for his openness to the project. "After mending fences with @benaffleck [who starred as Shannon Hamilton in Smith's 1995 film Mallrats] earlier this year, I was hoping for a chance to do the same with Jeff – so huge thanks to Leeloo Multiprops for getting us all in the same room. But the biggest thanks ever go to Jeff, for being receptive to the idea at all. This means I'm gonna get to play with my two favorite inaction figures again: Dante & Randal!"
The reason for the script change? Smith's original vision for Clerks 3, which he said he had devised during a "weirder, darker" point in his life, just wasn't what he felt Dante and Randal deserved in their third go-around.
"When I wrote Clerks 3, I wrote it during a weirder, darker point in my life, and it's kind of like the King Lear of our movies. I love it, it's one of my favorite scripts, but it's dark. It's bleak, and it's not what Dante and Randal deserve," Smith said in July 2019. "We're never going to make that version of Clerks 3, but I'm going to write a different Clerks 3 and we're going to make that f****** film, I promise. And in a world where we got to bring Ben [Affleck] back, I'll be able to bring Jeff back. They gave me this much, I owe them one last thing."
All signs point to Clerks 3 being equal parts passion project and a film passionate Clerks fans can get excited about. And based on what Smith has said of the flick so far, it seems that Clerks 3 might take a slight turn toward more dramatic territory as the story delves into what it's like growing older and confronting life changes that come with age and experience.
Be sure to check back with Looper for updates on Clerks 3 as more information becomes available.