The Breaking Bad Scene You Need To Watch Before El Camino Hits Netflix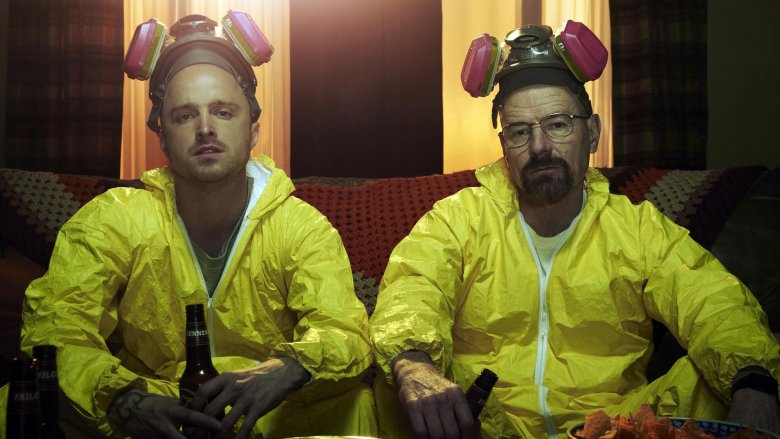 Sony Pictures Television
El Camino is almost done cooking.
The new Netflix Breaking Bad movie will come six years after audiences said their final goodbyes to Walter White (Bryan Cranston), the great "Heisenberg," and Jesse Pinkman (Aaron Paul). Or, at least, after audiences thought they said their final goodbyes. While details surrounding the exact plot of the new film are still sketchy, Breaking Bad fans were recently given a clue via Paul's Twitter.
On Sunday, August 25, Paul revealed the one scene fans need to watch before El Camino: A Breaking Bad Movie drops on Netflix. 
The actor posted a video from the account Screenplayed, which runs script pages underneath TV and film sequences. The scene Paul shared was from the season 3 episode "One Minute." In it, Walter visits Jesse in the hospital, where he's being treated after having been beaten up by Walter's brother-in-law, DEA agent Hank (Dean Norris). Walter wants Jesse to go back into business with him, but Jesse says no, blaming Walter for ruining everything good in his life. 
"I have never been more alone," he says. "I have nothing! No one. All right? And it's all gone!" 
Jesse goes on to remind Walter that he told him his meth was inferior — and when Walter realizes that he won't convince Jesse to join him, he says, "Your meth is good, Jesse. As good as mine."
In the caption of the retweeted post, Paul wrote, "Cats out of the bag...and the bag is in the river. Here's a moment from Breaking Bad to slowly prepare you all for what's to come." Apparently, this tense scene between Walt and Jesse will somehow tie into El Camino. 
When the first trailer for El Camino: A Breaking Bad Movie was released on August 24, it became clear that Paul's Jesse would be playing a central role. The trailer takes place in a police interrogation room, in which Skinny Pete (Charles Baker) refuses to give the cops any information regarding where Jesse is or "where he's headed." Throughout the minute-long clip, Skinny Pete talks about "the little cage" in which Jesse was kept and forced to cook meth. Finally, he says, "No way I'm helping you people put Jesse Pinkman back inside a cage."
Looks like Jesse's cook really was as good as Walter's — or it was at least good enough to warrant being held captive and tortured over. Jesse may have thought he lost everything back in that hospital room, but, as Skinny Pete said, the worst was yet to come. After escaping captivity during the Breaking Bad finale, Jesse really does have nothing to lose now. 
El Camino is sure to shed light on Jesse's whereabouts post-Breaking Bad, but we can only imagine what his state of mind is like these days.
El Camino: A Breaking Bad Movie hits Netflix on October 11.