Playing The Joker In Batman Made Jack Nicholson A Very Rich Man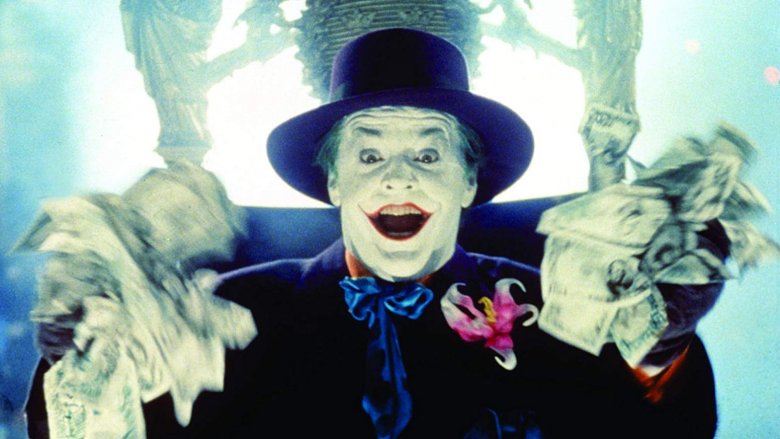 Warner Bros.
Playing "The Man Who Laughs" had Jack Nicholson laughing all the way to the bank.
It's safe to say Nicholson is one of the greatest actors of all time, with the thespian winning three Academy Awards while holding the record for male performers with 12 Oscar nominations over his lengthy career. Known for serious films like One Flew Over the Cuckoo's Nest, Terms of Endearment, and Chinatown, Nicholson made an interesting — and highly lucrative — career move when deciding to play the Joker in Warner Bros. 1989 hit Batman. 
Nicholson's going rate at the time was $10 million, but Batman director Tim Burton and his team at Warner Bros. only had $35 million to work with on their massive superhero production. It goes without saying that they could not afford to spend almost a third of their entire budget solely on Nicholson, so a deal was struck: the actor agreed to bring his salary down to $6 million in exchange for a percentage of the film's earnings and merchandising. 
According to Entertainment Weekly, when all was said and done, Nicholson made more than $50 million after the movie earned over $400 million worldwide upon release. While $50 million may seem somewhat standard as superhero film salaries continue to climb, going by current market inflation rates, the $50 million Nicholson was paid back in 1989 would be worth twice that much today. Let's put it this way: Actors working in the Marvel Cinematic Universe have to appear in multiple films over years and years of work to make that kind of money, and Nicholson only acted as the Joker that one time.
The deal that Nicholson and his agent put together with Warner Bros. has become legendary in the 30-plus years since the film's release, not only for the foresight of the pair to negotiate for gross percentage, but for the other clauses included at the time. While exact details are hard to come by, Nicholson apparently negotiated clauses that included certain stipulations most actors can only dream of having. Famously a massive Los Angeles Lakers fan and constant staple of courtside seating, Nicholson had the Batman production team adjust their shooting schedule for the actor around the Lakers' home games. He also had "total makeup control" as a part of the contract.
By the time the production was over, Nicholson, a Batman fan since childhood, shelled out $70,000 in order to keep the "electrified purple clown outfit" from the film — mere chump change when compared to the financial windfall Warner Bros. threw his way in the first place.