Best Movies Of 2016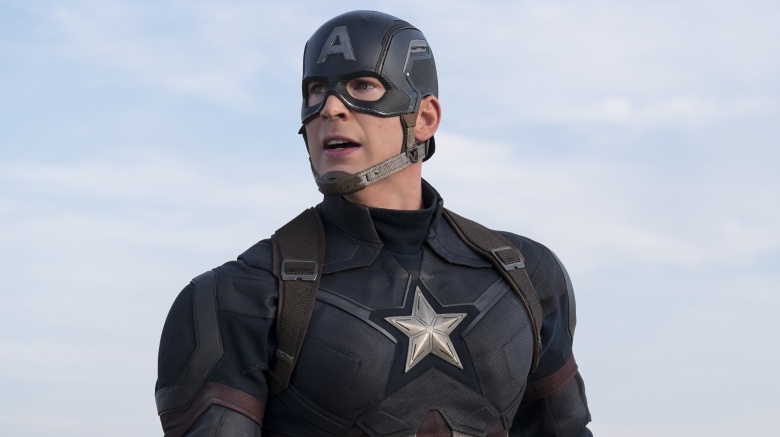 Netflix, Amazon, Hulu, a theater near you—the modern film fan has more movies to choose from than ever. To help you sort through them all, we've taken a hard look at this year's most critically acclaimed features and assembled a list of best bets. What remains is good old-fashioned movie fun you can feel good about—and the best Hollywood had to offer in 2016.
Deadpool
How do you make a Deadpool movie that embraces the character's filthy comics persona while still making enough money to prop up a franchise? We still honestly can't quite believe they pulled it off, but Fox made it work with the fan favorite's long-awaited standalone feature, which finds the merc with a mouth (Ryan Reynolds) slashing up bad guys and breaking the fourth wall with equal abandon. Marvel has done a tremendous job of expanding the superhero genre's borders with their in-house MCU releases—and with Deadpool, Fox proved it has room for R-rated movies too.
Captain America: Civil War
At some point, Marvel is bound to make a wrong turn in its multi-billion-dollar quest for worldwide box office domination. But it didn't happen with Captain America: Civil War, which rounded up a hefty assortment of Marvel Cinematic Universe favorites—and added some highly anticipated new faces—for a thrilling, action-packed adventure with an impressive amount of thought-provoking political subtext. As ambitious as it is viscerally satisfying, this is a blast of superhero spectacle that even the most anti-comic book film fan might enjoy.
Arrival
Don't let the trailers fool you: this is certainly not your typical alien invasion movie. Yes, there are alien ships showing up over major cities, but that's pretty much where the similarities end. Instead of focusing on a potential battle with aliens, Arrival takes a deep dive into the story of a translator tasked with communicating with these extraterrestrial visitors. The film stars Amy Adams and Jeremy Renner, and offers a thoughtful look at humanity, how we communicate, and the way we threat those we may not immediately understand. It also managed to weave a taut thriller around a story about language and the minutia of words and how we interpret them. It's not just one of the most original sci-fi films of the year, but one of the most original films period.
Zootopia
If Big Hero 6 marks the moment when Disney's animation studio finally caught up with Pixar, Zootopia suggests the Mouse House may have started to surpass the Toy Story maestros. This cleverly ambitious effort takes the simple "animals as people" setup and turns it on its head: instead of just telling a simple story about good guys beating the bad guys and an idealistic young bunny becoming a cop, it took a left turn in the best possible way. Zootopia uses these anthropomorphized animals to tell a poignant story that doubles as a kid-friendly fable about bigotry, while still being fun enough to keep kids and adults coming back for repeat viewings.
10 Cloverfield Lane
When is a sequel/spinoff not a sequel/spinoff? When it's 10 Cloverfield Lane, which uses 2008's Cloverfield as the very loose launchpad for the story of a woman (Mary Elizabeth Winstead) who flees a busted engagement only to run headlong into disaster on the road. She ends up locked in an underground shelter by a man (John Goodman) who insists the Earth is under attack. Is he a hero, or a psycho killer? The story keeps you guessing, and director Dan Trachtenberg packs in enough twists, turns, and jolts to keep you hanging on for dear life along the way. We have more than enough franchises in Hollywood, but if this really does turn out to be the dawn of what Trachtenberg has jokingly referred to as the "Cloververse," we definitely won't mind.
The Nice Guys
Writer-director Shane Black has a flair for hard-hitting action and a dark sense of humor. Unfortunately, both of those qualities haven't always been well served in his bigger-budget efforts. But the lower-key buddy cop comedy The Nice Guys put him squarely back on the right track. Starring Russell Crowe and Ryan Gosling as police partners on a case in late '70s L.A., it proves Black hasn't lost the gifts that put him on the map with his screenplay for the original Lethal Weapon in 1987. The Nice Guys delivers cheerfully crass, high-caliber fun for genre enthusiasts.
Doctor Strange
Sure, Marvel's final film of 2016 borrowed from a few of the studio's most well-worn tropes, most notably the Tony Stark-esque genius archetype, but it pushed boundaries in other ways. Doctor Strange introduced magic to the world of the Marvel Cinematic Universe (MCU), and did it with style. There was a lot of weight on this film to open this door, and it's hard to ague it could've gone much better: it weaves in references to the wider world of The Avengers, but manages to tell a fresh story that really carves out its own corner of this colorful world. The film featured some of the most mind-blowing visuals to ever grace the big screen, comic book movie or otherwise. It also winds down with one of the most clever finales (don't worry, no spoilers here) of 2016.
Rogue One: A Star Wars Story
Disney is cranking the Star Wars franchise up to 11 in the wake of The Force Awakens, and the latest installment snuck in with just a couple of weeks left in 2016. Rogue One follows the Rebels' mission to acquire the Death Star plans, and is set in the time just before the start of Star Wars: A New Hope. Director Gareth Edwards delivered a war movie with a hopeful edge, steeped in all the things fans already love about Star Wars. Much the same way the animated Star Wars Rebels has provided an opportunity to explore a new story with fresh characters, Rogue One brings that idea to live action. It's a new group of heroes to fall in love with, and strong characters to explore, woven into a story that's intimately entwined in the DNA of the original trilogy.
Moana
Disney's getting really good at subverting its own animated tropes, and you'd be hard-pressed to fine a better example than Moana. It takes the classic Disney princess story and turns it on its head, wrapping it all up in a package with wild beaches and Polynesian visuals, quirky characters, and box office juggernaut Dwayne "The Rock" Johnson tossed in for good measure. As if all that wasn't enough to ensure Moana would be a hit, the film booked a pre-Hamilton Lin-Manuel Miranda to contribute to the soundtrack before he became a global sensation thanks to his Broadway hit. Talk about a fortuitous hire.
Star Trek Beyond
Fans were largely mixed on Star Trek Into Darkness a few years ago, and with the franchise celebrating its 50th year in 2016, the pressure was on for Star Trek Beyond. Lucky for fans, new director Justin Lin put together one of the most entertaining Star Trek movies in years. Lin comes from the Fast & Furious family, and brings that wild action sensibility to Trek. Surprisingly, it works. The story finds the Enterprise crew in the middle of their five-year mission, tasked with investigating a call for assistance from a mysterious nebula. They end up crashing the Enterprise and facing off with a brand new baddie played by Idris Elba (buried under a boatload of effects). The crash element manages to separate the team and create some interesting team-ups, as we get a relatively lo-fi story of pluck and morality that made the original series so beloved. Plus, the Beastie Boys save the galaxy. What's not to love?
Don't Breathe
Focusing on a few teens who break into the house of a blind madman, Don't Breathe takes a simple premise and crafts one heck of a terrifying tale. Fede Alvarez (Evil Dead) directed, soaking the story in claustrophobic dread as the viewer feels every horrified gasp and creak of the floor during the teens' frantic fight to escape. Stephen Lang (Avatar) is an intimidating figure on his own, but his turn as the homeowner—a grizzled former soldier with more than a few secrets he'd like to keep—might be one of his best roles to date. The film was made for less than $10 million, and the low budget only helps to accent the burned-out setting in the abandoned corners of Detroit. It's one of the most original horror movies of the year.
Ghostbusters
During the lead-up to Paul Feig's female-led Ghostbusters reboot, it seemed like folks wanted to talk about everything except the movie itself. It made headlines for potential boycotts and a mountain of fan hate, led by some fans who didn't want to see the classic heroes recast as females. But ignore all that noise—this Ghostbusters update was actually pretty great, and it's a shame it wasn't a box office hit. Feig assembled some of the funnest women on the planet, led by Melissa McCarthy, Kristen Wiig, Kate McKinnon and Leslie Jones, to make a very funny film. He even brought in typical leading man Chris Hemsworth (Thor) as a doofus office assistant, playing hilariously against type. No, it wasn't the classic '80s original, but it's still fun on its own merits.
Hacksaw Ridge
It's been awhile since Mel Gibson made a great film, but Hacksaw Ridge put the veteran actor and director back on the map. Starring Andrew Garfield, this gritty World War II drama focuses on the real-life story of Desmond T. Doss, a combat medic who was the first conscientious objector to win the Medal of Honor. Both a fantastic war film and the antithesis of a war movie, it's a fascinating tale that's been critically lauded as a heart-tugging story of family and love—and a return to form for Gibson, who uses his hero's commitment to peace as a counterpoint to the brutal violence happening all around him.
The Jungle Book
Disney has been mining its vault for live-action adaptations for awhile now, and this 2016 entry is one of its most ambitious—and gorgeous—efforts to date. The Jungle Book is a live-action retelling of the 1967 animated classic (itself adapted from Rudyard Kipling's classic stories), following a young orphaned boy as he gets wrapped up in the wild world of the jungle. The visuals are incredibly realistic, and the star-studded voice cast of Bill Murray, Ben Kinglsey, Idris Elba, Scarlett Johansson, Lupita Nyong'o, and Christopher Walken truly bring it to life. Director Jon Favreau created one of the best family films of the year in Jungle Book, an adventure that may even rekindle adult viewers' childlike sense of wonder.
Finding Dory
It took more than a decade, but Pixar finally returned to the oceans for its Finding Nemo sequel in 2016. Though there was obviously a mountain of hype riding on Finding Dory, the animated fish follow-up lived up to pretty much all of it. Finding Nemo had a special magic, and as hard as it was to do, Finding Dory somehow managed to largely recapture it with a new spin. Instead of trying to track down Nemo, Finding Dory focuses on Dory's misadventures as she tries to find her long-lost parents. It's a sweet story about the real meaning of family, and it's also a whole lot of fun.
Hail, Caesar!
The Coen brothers have tried their hands at any number of genres, and you never really know what you're going to get out of their next movie—only that it'll be worth watching. Such is the case with Hail, Caesar!, which stars Josh Brolin as a Hollywood fixer (based on the real-life Eddie Mannix) on a mission to solve the disappearance of a dopey movie star (George Clooney) who's been drugged and abducted from the set of his latest major production. It's a madcap ode to the film industry's golden era, assembled with typical Coen grace, performed by an outstanding ensemble cast—and some of the most fun we've had at the movies this year.
Everybody Wants Some!!
With his 1993 cult classic Dazed and Confused, Richard Linklater assembled an insightful and eminently quotable look back at the lives of '70s high school students. More than 20 years later, he picked up that thread with its "spiritual sequel," Everybody Wants Some!!. Despite that somewhat misleading billing, Wants doesn't continue the story of Dazed and Confused. Instead, it offers a look at college life cut from the same affectionately irreverent cloth—and packs in a killer, era-appropriate soundtrack featuring classic hits from Cheap Trick, Dire Straits, Van Halen, and more.