The Boys Season 2: First-Look Photo Promises Even More Action And Gore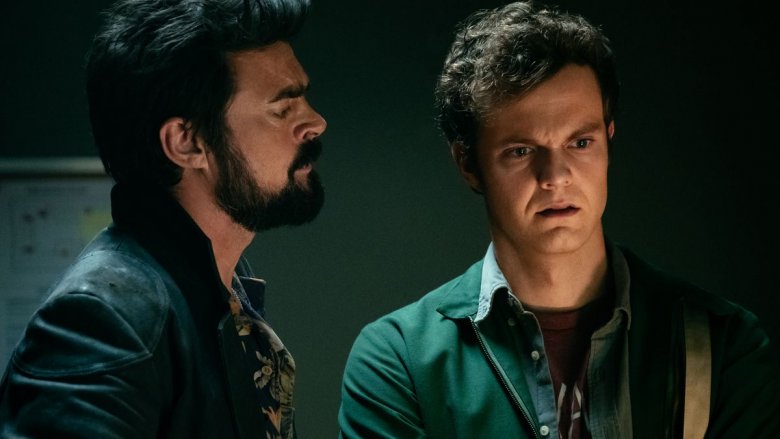 The boys will be back in town before too long, and it looks like it'll be a pretty bloody return.
Amazon's The Boys, which dropped its first season on July 26, is already back at work filming season two — and we've got the first look at what's coming. Showrunner Eric Kripke tweeted out a photo of a few core members of the series' cast covered in a not-insignificant amount of fake blood.
"A small token for #TheBoysTV fans. World's first pic of #Season2. As you can see, we're up to our old tricks. If you haven't seen, JOIN US," Kripke wrote in the caption of the photo — which is a little NSFW, so view with caution.
The snap features Kripke surrounded by his cast, which includes Tomer Capon as Frenchie, Karen Fukuhara as The Female, Jack Quaid as Hughie, and Laz Alonso as Mother's Milk. Conspicuously missing is Karl Urban as Billy Butcher, which might have something to do with his bloody twist ending during the show's first season.
Based on a series of comics by Garth Ennis and artist Darick Robertson, The Boys imagines a world where superheroes are corrupt and evil, and a vigilante named the Homelander (Antony Starr) heads up the core superhero group known as the Seven. After the Seven inadvertently kill one particular young man's girlfriend, that man, Hughie (Jack Quaid), vows revenge against the "heroes."
Amazon has claimed that The Boys is one of its most-watched programs, and though Amazon hasn't provided any specific numbers, the company clearly has plenty of faith in the show – renewing it for its second season before the first even aired. Season 2 also will feature some new cast members, including You're the Worst's Aya Cash, and a new focus on military experiments and the repercussions of the first season.
The Boys' second season has no release date just yet, but fans can rest assured knowing that the team behind the show is hard at work.