Does Dora And The Lost City Of Gold Have A Post-Credits Scene?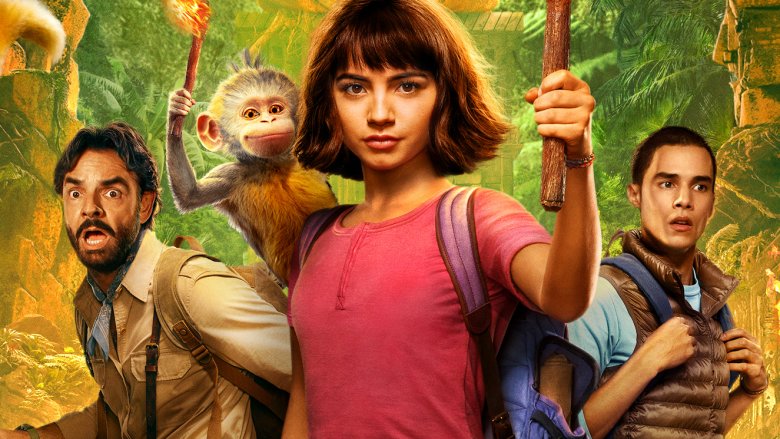 When it was announced that the classic Nickelodeon kids' show Dora the Explorer was getting the live-action treatment, with a full-length film featuring a high-school-aged Dora, people could hardly believe it. Over time, though, they've started to warm to the idea of this new movie. Now that Dora and the Lost City of Gold is upon us, hype is actually quite high, and audiences are starting to wonder whether the film will cement itself as a legitimate summer movie with one key element almost all other blockbusters feature: an end-credits scene. 
So, does Dora and the Lost City of Gold have a post-credits scene?
The simple answer is "yes."
Warning: We're about to get into some mild spoilers for Dora and the Lost City of Gold. 
According to Raising Whasians, those who head out to see Dora and the Lost City of Gold should "be prepared for a plethora of familiar singing Dora moments — all of which will undoubtedly get stuck in your head." Anyone who grew up watching Dora the Explorer on Nickelodeon will want to keep their butts in their seats until after the credits roll, when an after-credits scene plays out and gives a "small nod to the show." 
Per AfterCredits.com, this end-credits stinger features the Fiesta Trio — a musical group comprised of a little blue frog, a small orange cricket, and a tiny pink-and-purple snail — coming out and playing the fanfare music as heard on Dora the Explorer. Within the series, the Fiesta Trio would arrive when Dora and her monkey sidekick Boots would finish a mission. The three creatures would play an eight-note tune to congratulate the heroes, and then would scurry away. 
Though it isn't a traditional post-credits scene that caps off Dora and the Lost City of Gold and teases a potential sequel (as most stingers do), the sequence is still pretty cute. Whether or not it's worth sticking around for is up to audiences' discretion, but small children and anyone who is a hardcore Dora the Explorer fan (hey, no judgment here) will likely get a kick out of the end-credits moment. 
If you don't feel like sitting through several minutes of scrolling text to witness a small tip of the hat to Nickelodeon's Dora the Explorer, Dora and the Lost City of Gold actually features a pre-credits scene as well. It's a choreographed song-and-dance number in which the film's main characters assemble at their high school and sing the famous Dora song "We Did It." At the end of the film, the peers who once poked fun at Dora are now her friends and the high-stakes mission to unravel the mystery of the lost Inca civilization is complete, so "We Did It" is certainly an apt song to sing.
Directed by James Bobin, Dora and the Lost City of Gold follows Dora (Isabela Moner) as she leaves the jungle and heads to public high school. But her exploring ways and her life in the wilderness catches up to her, thrusting her into chaos and sending her on a dangerous journey. With her monkey best friend Boots, her cousin Diego (Jeffrey Wahlberg), the jungle-dweller Alejandro Gutierrez (Eugenio Derbez), and a group of students from her new school, Dora must crack the case of the lost city of gold and rescue her parents (Eva Longoria, Michael Peña) before it's too late. 
Dora and the Lost City of Gold hits theaters on Friday, August 9.