Will We Ever Get To See Pacific Rim 3?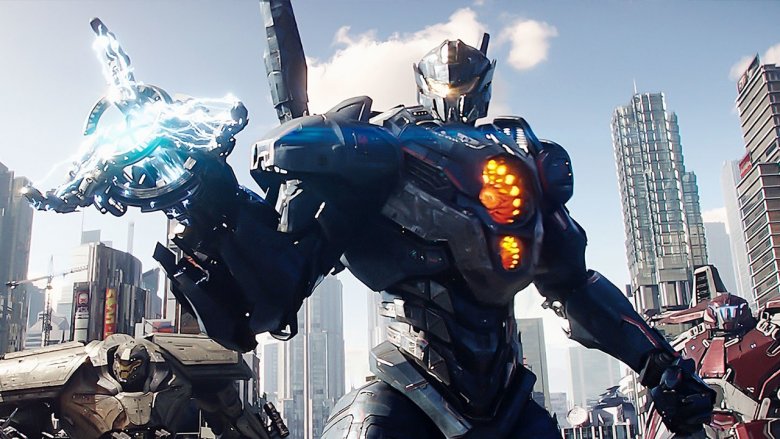 Universal Pictures
Inquiring fans of kaiju-on-mech action want to know: are we ever going to get Pacific Rim 3?
It's far from a done deal, but there are a few promising signs indicating that — despite the middling box office of the second installment, Pacific Rim: Uprising — it's quite possible that Pacific Rim 3 may yet happen.
2013's Pacific Rim was a significant hit, thanks in part to the presence of future Oscar winner Guillermo del Toro in the director's chair. The film took place in a future where the Earth is under siege from kaiju — giant, rampaging monsters which emerge from a mysterious interdimensional portal on the bottom of the Pacific Ocean. In response to the threat, humanity creates "Jaegers," towering robotic mechs capable of engaging the kaiju in combat. Each Jaeger is piloted by at least two people, who are mentally linked (in a process known in-universe as "drifting") in order to share the stress of operating the hulking mechs.
The flick starred Charlie Hunnam (Sons of Anarchy) as Raleigh Beckett, an over-the-hill Jaeger pilot called out of retirement; Rinko Kikuchi (47 Ronin) as his co-pilot Mako Mori, whose parents were killed in a kaiju attack; Idris Elba (Fast & Furious Presents: Hobbs & Shaw) as their commanding officer Stacker Pentecost; Ron Perlman (Fantastic Beasts and Where to Find Them) as Hannibal Chau, a black market purveyor of kaiju organs; and Charlie Day (It's Always Sunny in Philadelphia) as Newt Geiszler, a scientist who studies the kaiju and provides intelligence on them. It ended with humanity victorious, the portal apparently destroyed when Beckett and Mori sent their Jaeger through it set to self-destruct.
It wasn't an ending that lent itself terribly well to a sequel, and the film underperformed stateside, barely crossing the $100 million dollar mark. But overseas, it cleaned up, grossing over three times that amount to finish with a total worldwide gross in excess of $400 million dollars — so, of course, a continuation became inevitable. 
Pacific Rim: Uprising arrived in 2018, with del Toro only serving as a producer, having handed the directorial reins over to Steven DeKnight (Smallville, Marvel's Daredevil). The flick had a hurdle or two to clear with fans even before it hit screens; Hunnam was unable to reprise his role due to scheduling conflicts, and Elba and Perlman likewise sat out the sequel, which filled out its main cast with John Boyega (Star Wars Episode VIII: The Last Jedi) and Scott Eastwood (The Fate of the Furious).
The critical reception given to the film could charitably be described as "unenthusiastic." Observers found Uprising to be little more than a rehash of the original, one sorely missing the sure directorial hand of del Toro — and while audiences were a little kinder (the flick earned a respectable B Cinemascore), Uprising had the misfortune of opening as Black Panther was entering its sixth week. The Marvel Cinematic Universe film, which would become the highest-grossing superhero film of all time in North America until being dethroned by Avengers: Endgame, had held the #1 spot at the box office in each of its first five weeks of release — and while Uprising managed to snag the top spot in its debut frame, it did so with an underwhelming take of $28 million dollars.
The flick eventually managed to garner $290 million dollars worldwide, but with a production budget of $150 million dollars, this could hardly be called a rousing success. Unlike its predecessor, though, Uprising actually teased a sequel, as its ending implied that humanity was ready to take the fight through the portal to the homeworld of the "precursors," the aliens who created the kaiju for the purpose of preparing Earth for colonization.
This, of course, is our first indication that Pacific Rim 3 is a possibility. Also helping matters: the Pacific Rim movies play like gangbusters in China, an increasingly important market for big-budget Hollywood fare. While Uprising failed to reach $60 million dollars in domestic box office receipts, it came just a hair short of the $100 million dollar mark in China — meaning that, at the very least, Pacific Rim 3 could count on a strong boost to its international take from that market. 
It should also be mentioned that the property is being kept in the public eye, thanks to Netflix. The streamer has commissioned two full seasons of an anime-style Pacific Rim animated series, the first of which will be hitting the small screen sometime in 2020. If viewers take to the series, it could very well bring the subject of a potential Pacific Rim 3 into the thick of the conversation at Universal, the studio behind Uprising.
Finally, we should take into consideration the comments made by DeKnight in 2018. The director indicated that not only does he have some pretty firm ideas about a story for Pacific Rim 3, but he hinted that he'd be interested in bringing back the stars of the first film for another go-round.
"When we were doing Pacific Rim: Uprising, I was taking a lot of notes on what we would do for the third movie, if we had a third movie, and if I was involved I'd pass along a lot of those ideas during that time to the good people at Legendary," the director told ScreenRant. "But whether or not there's a third movie is completely above my paygrade. I haven't heard anything. My own schedule is getting a little complicated, so even if there is [a third movie] I'm not sure I'd have the bandwidth to be involved. But yeah, there was a very clear idea for what [Pacific Rim 3 would be]. Without giving too much away, I can say getting the band back together was a very large part of it."
So, will we ever get to see Pacific Rim 3? It may depend on the Netflix series' reception, and on whether the members of "the band" — which we're assuming includes Hunnam, Elba, and Perlman — have any interest in reuniting. We feel comfortable filing it under "P" for "Probably, at some point."