The Final Shot Of Rise Of Skywalker Is Going To 'Melt Your Mind'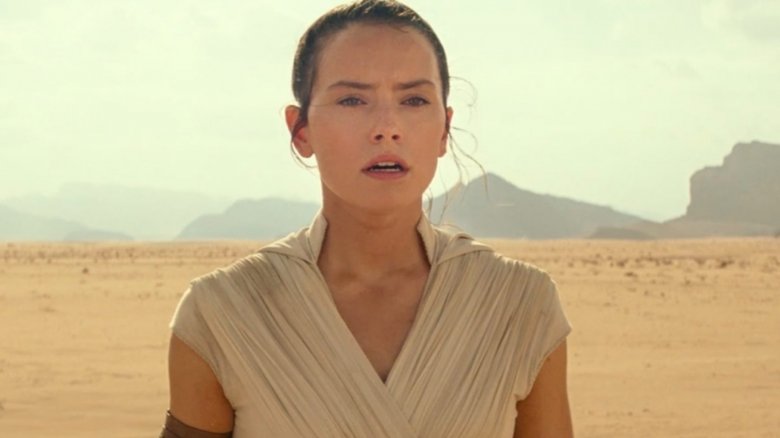 Shut your eyes, cover your ears, and pinch your nose, 'cause Star Wars: The Rise of Skywalker is going to turn your brain to goo and send it leaking out of your head.
More specifically, the final shot of the upcoming Star Wars flick will "melt your mind," according to diehard Star Wars fan and filmmaker Kevin Smith. 
Speaking with IGN during 2019's San Diego Comic-Con, Smith recalled his experience on the set of The Rise of Skywalker, where director J.J. Abrams and the film's crew were sending him mixed signals about a certain set piece — that is, the set piece used for the closing shot of the film, and thus the final frame of the entire Skywalker saga. 
Smith detailed that some folks at Pinewood Studios, where The Rise of Skywalker was being filmed, advised him to not look at the final shot set piece, as it's shocking enough to melt the mind of anyone who sees it. On the other hand, some people urged Smith to take a peek at it for that same reason.
"There was a scuttlebutt about a set there at Pinewood. A big set that they were like, 'You have to see this, when you see this it will melt your mind,'" Smith shared. "I said 'Why?' [Abrams] said, 'It's the last shot of the movie.' So I was like, 'Well, now I really want to see it.' He said, 'You don't want to be spoiled. You want to be in a theater when this happens, trust me.' And then other people on the crew were like, 'Bro, I wish I hadn't seen it. I'm glad I did, but it will melt your mind.'"
Smith continued, noting that it was almost impossible for him to resist the temptation to look at the final shot of The Rise of Skywalker. Ultimately, though, his will power was strong enough, and Smith walked away from his time on the film's set with confidence that whatever The Rise of Skywalker ends on, it will be incredible thanks to director Abrams. He also underscored the importance of trusting filmmakers and not cheating oneself out of an amazing cinematic experience by looking at spoilers. 
"As inquisitive as I am, and curious as I am, I desperately wanted to go look. But when you talk to the magician and the magician's like, 'Trust me on this one' ... Sometimes as human beings we want to know how they pull the rabbit out of the hat," said Smith. "But J.J.'s such a magical magician that I'm just like, 'You know what? OK, trick me.' I'll wait and get tricked. Even though I could've seen what it was, I was like, 'I'll sit back. I'll like your plan.' He's never let me down so far.'"
What this final shot could be, we truly have not a single clue. Maybe The Rise of Skywalker wraps on some kind of shot involving Luke Skywalker (Mark Hamill), Leia Organa (the late Carrie Fisher), and rising Rebellion leader Rey (Daisy Ridley). Perhaps the film concludes on a darker note, teasing that while the Skywalker saga has ended, the tension between the light and dark sides of the Force is as strong as ever and the war between the First Order and the Resistance is far from over. Or maybe the last shot of Rise of Skywalker is in a hospital room — much like the one Padmé Amidala (Natalie Portman) was in when she gave birth to Luke and Leia in Revenge of the Sith — and shows Rey, whom many believe is a Skywalker descendant herself, giving birth to a child of her own. (That might be an answer too on-the-nose when it comes to what the "rise of Skywalker" actually means, though.)
In any case, it's evident that The Rise of Skywalker is going to exceed expectations and electrify the Skywalker saga right to the very last second. And even though we don't know what the mind-melting last shot that Smith teased here really is, there's plenty more to look forward to seeing in the film before that moment comes. The Rise of Skywalker features the return of iconic franchise characters Lando Calrissian (Billy Dee Williams) and Emperor Palpatine (Ian McDiarmid) — and it's anyone's guess how the two might factor into the story that sees the ancient Jedi-Sith conflict come to its apex and brings the Skywalker saga to its conclusive end. 
Prepare for a head-spinning experience when Star Wars: The Rise of Skywalker arrives in theaters on December 20.