What The Rotten Tomatoes Reviews Are Saying About The Lion King Remake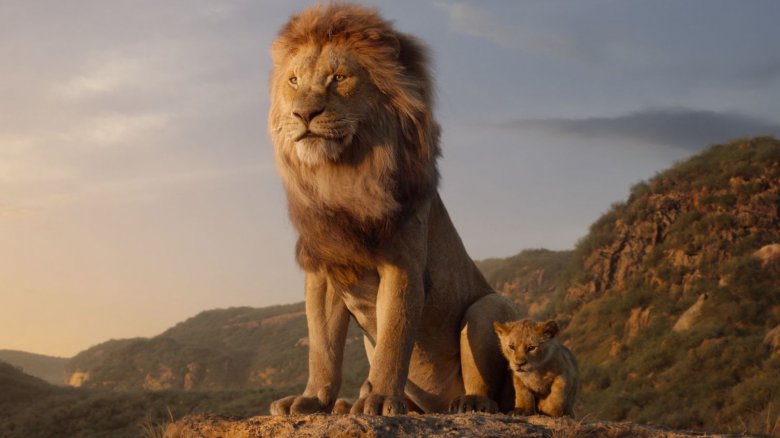 Looks like critics aren't feeling the love tonight.
Reviews have arrived for Jon Favreau's star-studded CGI remake of the classic animated film The Lion King, and critics aren't exactly charmed by the director's modern, hyper-realistic approach. 
With a Rotten Tomatoes score of less than 60 percent as of this writing, the new Lion King is proving to be middling at best and a disappointment at worst — which has to be discouraging for Favreau and his crew as well as for fans of the animated movie. With that said, though, new generations might go for Favreau's vision, especially if they're not as familiar with the original. 
Released in 1994, the original film –– a retelling of Hamlet set on the African plains –– was a landmark film for Disney, becoming the highest-grossing film of the year and eventually garnering Academy Award nominations and a Golden Globe for Best Picture (Musical or Comedy). After some sequels, a hugely successful Broadway adaptation, and even a few TV shows, it felt almost inevitable that someone would remake The Lion King, but according to critics, this particular refresh doesn't have the heart of the original.
NPR's Justin Chang didn't have very many compliments for The Lion King – aside from praising a scene where a beetle participates in the circle of life. He wrote, "The new Lion King is so realistic-looking that, paradoxically, you can't believe a moment of it. And although it was directed by Jon Favreau, who previously shepherded a wild menagerie in his recent remake of The Jungle Book, it has none of the imagination that made that movie more than just a high-tech retread."
Chang added, "This isn't the circle of life; it's more like a creative dead end."
Peter Travers of The Rolling Stone gave the film 2.5 out of 5 stars and wrote that "everything money can buy — including the vocal talents of Beyoncé and Donald Glover and the latest in digital pizazz — has been poured into Jon Favreau's photo-realistic retake on The Lion King, the 1994 Disney animated classic. What's missing? Let's start with intangibles such as heart, soul and the faintest hint of originality." 
However, Travers did praise the voice acting, saying that "the voices help, especially when Glover and Beyoncé duet on 'Can You Feel the Love Tonight.'" He continued, "Welcome comic relief arrives with Seth Rogen as the warthog Pumbaa and Billy Eichner as his meerkat buddy Timon. They bring their own uniquely uproarious comic perspective to their scenes together, especially on the highlight number, 'Hakuna Matata.' No worries when these two are vocally set loose. Eichner just crushes the role of Timon, finding laughs previously uninvestigated on-screen."
Over at New York Magazine's pop culture outlet Vulture, Bilge Ebiri said the film feels like a nature documentary, but that this may not be a good thing. 
"By and large, this new Lion King hews pretty closely to the animated Lion King, at times even replicating the same shots and editing patterns as the original. And the effect can feel like a stunt — like someone decided to do a scene-by-scene re-creation using real-life animal footage. It doesn't help that the characters in some cases have been rendered with such realism that they have lost all human expression on their faces," he wrote. "Maybe that's the idea — to not anthropomorphize them too much and to stay grounded in zoological authenticity. But they're still talking, and singing, only now their faces are inexpressive; it's a weird disconnect." 
Like many other critics, Ebiri called the film out for a lack of heart, writing, "It's a stirring reminder of what can be achieved with all the talent (and money) in the world, as well as a cautionary tale of what can happen when there's no vision to bind it all together."
Indiewire's David Ehrlich had basically nothing positive to say about the film, calling it a "disastrous plunge into the uncanny valley" in his headline. He went on to say, "Unfolding like the world's longest and least convincing deepfake, Jon Favreau's (almost) photorealistic remake of The Lion King is meant to represent the next step in Disney's circle of life. Instead, this soulless chimera of a film comes off as little more than a glorified tech demo from a greedy conglomerate — a well-rendered but creatively bankrupt self-portrait of a movie studio eating its own tail." 
Ehrlich even compared it to one of the most famously ill-advised remakes of all time: "This zombified digital clone of the studio's first original cartoon feature is the Disney equivalent of Gus Van Sant's Psycho."
Over at TheWrap, William Bibbiani pointed out the grosser aspects of the film: "In other words, this new version of The Lion King isn't realism; it's literalism. This is what it would actually look like if the events in a Disney animated movie happened in real life. Sometimes it's fascinating, frequently it's ludicrous, and sometimes — like when an incredibly realistic animal dies on-screen in front of you while its only child mourns him — it's borderline grotesque."
On the flip side, The Washington Post's Michael O'Sullivan gave the film a glowing review, saying that the super-realistic approach works better with the story's original source material: "There's something about this Lion King, which, like the original, has its narrative roots in Hamlet, that feels so much more Shakespearean and — there's no other word for it — so much more tragic than the 1994 feature-length animation, in which the story's darker themes were subliminal, not center stage. Here, the death of a beloved character, one whose fur looks so real you could pet it, is that much harder to take."
After the success of Favreau's The Jungle Book, which took the same route of adapting an animated Disney film into a much more realistic format, the Chef and Iron Man star was given the green light to go ahead with The Lion King. However, it appears the new Lion King is among the first few Disney remakes to falter. Earlier this summer, the live-action take on Aladdin premiered to similarly middling reviews, and The Lion King is tanking in the same fashion.
Remaking a film as beloved as The Lion King was always going to be a huge risk, so Favreau would have had to absolutely knock it out of the park in order to succeed. Despite breathtaking effects and an incredible cast –– which includes Donald Glover as Simba, Beyoncé as Nala, and James Earl Jones returning as Mufasa –– the bottom line seems to be that the emotional heft of the original is missing from the remake.
Though critics weren't all in on the new Lion King, the audience score is sitting pretty and the film has already pulled in $23 million during Thursday night previews. Even when Disney's live-action remakes have stumbled critically, they've performed pretty consistently at the box office (Beauty and the Beast, in particular, even crossed the $1 billion threshold). So, once again, Disney bigwigs will likely overlook poor reviews and keep the remake trend going until they've covered just about every one of their classic films.