This Horror Movie Actress Has A Dad You Would Easily Recognize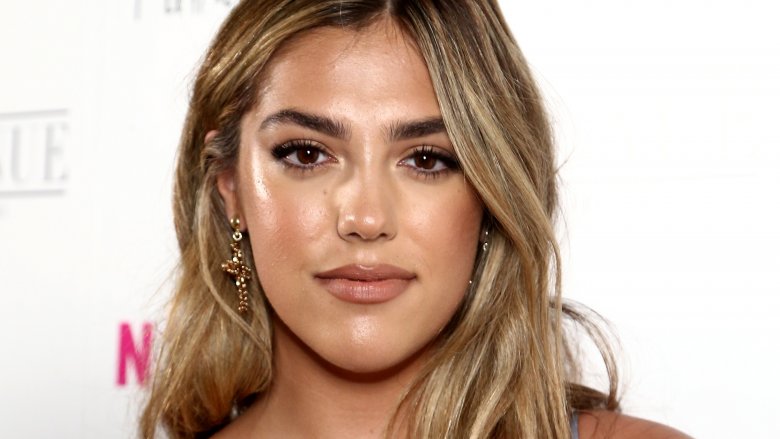 Tommaso Boddi/Getty Images
We've all been there before: sitting in a packed theater, staring up at the silver screen, and all but scratching our head wondering where we've seen a certain actor before. There are plenty of reasons why a face on film might look familiar — their past roles in other genres, their careers on television, or their inescapable presence on social media. But in the case of the actress who stars in this year's 47 Meters Down: Uncaged, she won't catch your eye for any of her previous work on film or television. Rather, it's down to her family name and how it's placed her in the public eye from a very young age and put her on a path toward stardom.
Leading 47 Meters Down: Uncaged, the horror sequel to 47 Meters Down directed by Johannes Roberts, is Sistine Rose Stallone, who has a very famous father in Rocky and Rambo franchise star Sylvester Stallone. 
The striking 21-year-old makes her feature film debut in 47 Meters Down: Uncaged, portraying a teenage girl named Nicole who dives into a ruined underwater city with three of her closest friends. Much to their horror, the four girls soon discover that the secret city is home to threats of all kinds. What was meant to be a huge adventure quickly devolves into a living nightmare as they realize they aren't the only ones searching through the submerged caves. The further the foursome swim into the system of caves, each turn getting darker and more claustrophobic, the closer they get to entering territory inhabited by the deadliest sharks known to man.
Stallone has been in the Hollywood spotlight thanks to her easily recognizable father, who remains one of the biggest action stars Hollywood has ever seen. Throughout her life, she's appeared alongside her dear ol' dad at movie premieres, glitzy Hollywood outings, and film festivals like Cannes, so if you feel like you've seen her dark blonde hair and brown eyes somewhere before, it's likely that you saw a snap of Sistine and Sylvester together on the red carpet. You may have also seen her up on the Golden Globe Awards stage in 2017 as Miss Golden Globe, an honor given to up-and-coming children of prominent Hollywood celebrities. Sistine's two sisters, Scarlet Rose and Sophia Rose Stallone, were also named Miss Golden Globe — joining the likes of Melanie Griffith, Laura Dern, Rumer Willis, and Dakota Johnson, who have all gone on to have incredible careers in film.
While Stallone hit the genetic jackpot in being the daughter of a Hollywood legend and former model Jennifer Flavin, she isn't solely relying on her famous family to carve out a career for herself. Of course, her conventional good looks and surname that's instantly linkable to her father have helped set her up for fame, as evidenced by her one million-plus followers on Instagram, but Stallone has worked hard to establish herself as a model prior to jumping into the acting world with 47 Meters Down: Uncaged. Most notably, she signed with IMG Models in 2016; walked in Dolce & Gabbana, Zadig & Voltaire, and Chanel fashion shows; debuted as a Town & Country Modern Swan when she was 18 (then graced the cover of the magazine two years later); and was on the cover of Elle Russia in 2017. 
Stallone has admitted that it's been "a bit difficult" to make a name for herself — as her surname precedes her and has forced her to have to continually prove her talent and drive — but the time and energy she has spent seems to have paid off. Plus, she's clearly on the cusp of something great with what could be a breakout role in 47 Meters Down: Uncaged. Ironically enough, while Stallone has said she's always dreamt of modeling and loves it so much that she work for free and "do it regardless of [her] last name," she once said that she could never picture herself getting into acting. 
"As for me, I don't think I could ever act," she told The Hollywood Reporter in a January 2017 interview. "I'm good for modeling because I don't have to talk. [Acting] is something you're born with."
With a mother like Jennifer Flavin, Sistine Rose was bound to try her hand at modeling, and with father like Sylvester Stallone, how could she not be born with the acting gene firmly in place? She's got the best of both worlds — let's just hope that her acting chops are as impressive as her father's. 
Catch Sistine Rose Stallone in 47 Meters Down: Uncaged when the horror film swims into theaters on August 16.