Stranger Things Season 3: Phone Number Easter Egg May Hint At What's Coming On Season 4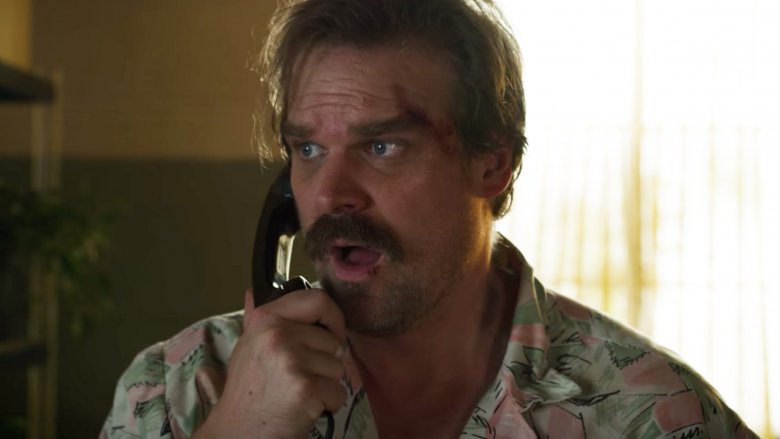 Contains spoilers for Stranger Things season 3
Stranger Things has always slipped into its episodes awesome Easter eggs for fans to find. The series upped the ante for season 3, however, by including a phone number that extends beyond the confines of laptop and television screens and gives fans a hint at what could be coming on season 4. 
Now entering spoiler territory. Head the other way if you aren't completely caught up with Stranger Things season 3. 
Introduced on the second season of the Duffer Brothers-created sci-fi hit, the eccentric private investigator Murray Bauman (Brett Gelman) played a crucial part in the narrative of the third installment. When the "Russians are trying to destroy Hawkins by building a massive machine underneath Starcourt Mall" plot began to unravel, Chief Jim Hopper (David Harbour) and Joyce Byers (Winona Ryder) partnered up, took USSR scientist Alexei (Alec Utgoff) hostage, and traveled to Murray's secluded Illinois warehouse-slash-home to seek his help in uncovering exactly what the Russians were planning to do with the machine. Murray, being the only person Hopper knew who could speak Russian, translated Alexei's intel: the Russians wanted to re-open the gate Eleven (Millie Bobby Brown) had already closed. This revelation led Hopper to grab Murray's phone, which he was always wary of using for more than a few minutes out of fear of the government tracking his calls, and send out a distress signal. Hopper shared that they could be reached at (618) 625-8313 – Murray's phone number that you can call. 
Those who ring the number — an actual one with a southern Illinois area code — will hear a prerecorded message from Murray, in which he says that his mother should only call him between the hours of 5 and 6 PM. Murray then turns his attention to Joyce, sharing a vague message about an "update" on something that presumably went down at the end of the season. 
"If this is Joyce — Joyce, thank you for calling, I've been trying to reach you. I have an update. It's about... well, it's–it's probably best if we speak in person," Murray says. "It's not good or bad, but it's something."
In true Murray fashion, he then says anyone who isn't his mother or Joyce isn't clever but is a "parasite" for trying to contact him. Ah, Murray.
It seems that the incident Murray is referring to in his message is – seriously, last spoiler warning – Hopper's (presumed) death that happened during the finale. Viewers didn't actually witness Hopper die, only seeing the explosion believed to have killed him when Joyce turned the keys and shut down the Russians' machine. The Stranger Things season 3 post-credits scene detailed that an American was imprisoned in a Russian base in Kamchatka, where the baddies were seen selecting a prisoner to feed to a Demogorgon. Putting the pieces together, Murray's mentioning of a not-good-but-not-bad update appears to tease that Hopper survived the explosion, was captured and shipped off to Russia, and might appear on Stranger Things season 4. 
Harbour himself has said he hopes Hopper is still alive, and the internet hasn't exactly taken his apparent death with a smile, so it would certainly be great to learn that the mustached cop will be around for another season. In the same token, though, it would be awful to know that Hopper is trapped in a Soviet base and could be eaten by an Upside Down monster at any given moment. But hey, beggars can't be choosers, right?