Watch Zachary Levi Parody Game Of Thrones In 2019 MTV Movie & TV Awards Skit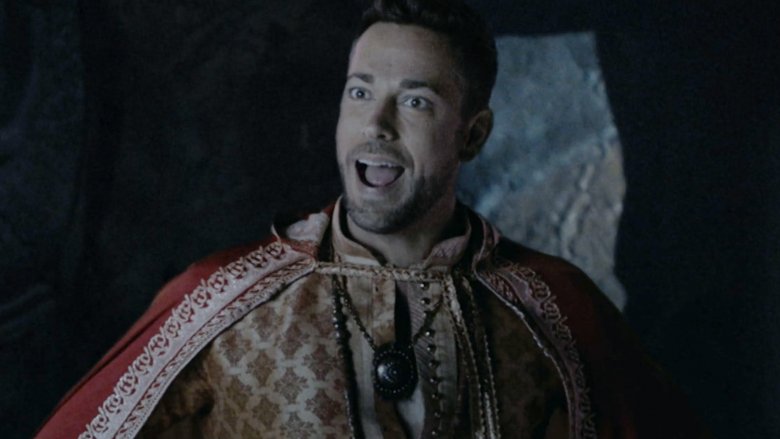 In the game of thrones, you win or you die — unless you're Zachary Levi, in which case, you act sassy and run your mouth in front of the Mother of Dragons. 
During the 2019 MTV Movie & TV Awards on Monday, June 17, host Levi rolled a clip of himself parodying the Varys death scene from the eighth and final season of Game of Thrones. 
Fans of the fantasy drama remember how things started: Varys (Conleth Hill) wound up betraying Daenerys Targaryen (Emilia Clarke) after learning that she wasn't the legitimate heir to the Iron Throne, shifting his allegiance to Jon Snow (Kit Harington) and believing him to be better fit to rule Westeros than the increasingly quick-to-violence Dany. When the silver-haired Dragon Queen discovered that her Master of Whisperers had metaphorically stabbed her in the back, she decided she would literally burn him to a crisp. Following a tense discussion with her Hand, Tyrion Lannister (Peter Dinklage), Daenerys ordered Varys out of his quarters at Dragonstone and into an open patch of land. There, she formally sentenced Varys to death via dragon fire, and called on her scaly son to douse his body in white-hot flames. With a single "dracarys," Varys was no longer.
Levi's take on the situation was far lighter, heaps funnier, and, surprisingly, a touch more graphic. 
The Shazam! actor played a character who spilled the beans on Jon's identity as Aegon Targaryen (and went on a shopping spree in Dorne using the money he obtained in exchange for the intel), but plays dumb about his involvement in the news spreading through the Seven Kingdoms. He even throws Varys and his "flat front" under the bus to make himself look better. Levi's lines are perfectly positioned between those of Clarke's Daenerys, and the new spin on the conversation is truly hilarious to watch. 
Also likely to draw out giggles: Levi's character speaking with Grey Worm (Jacob Anderson) in Valyrian, the fictional Game of Thrones language that's quite tricky to master. He butchers several sentences, which pushes him even higher up on Team Dany's list of enemies, and he eventually receives the same sentence Varys did. Up until his final seconds alive, Levi's character keeps the jokes coming. With his dying breath, he asks that Daenerys tell his story but "leave out the weird stuff."
After following along with an infamously contentious final season, Game of Thrones fans are now more than ever in need of some merriment, and Levi's Thrones spoof provided just that. It may not take away the pain of seeing many major characters perish or experiencing the downfall of a woman many believed to be the only choice for the Throne, but the Game of Thrones skit from the 2019 MTV Movie & TV Awards was downright chuckle-worthy on all fronts. And you know what they say about laughter: it's the best medicine. So thanks, Dr. Levi — you've helped heal dismayed Thrones fans, if only slightly.