Men In Black: International Earns $3.1 Million In Thursday Previews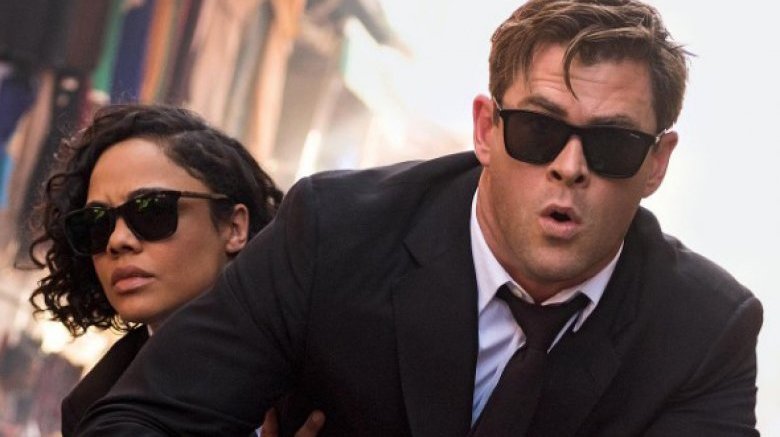 The Men in Black made a modest splash at the box office during their Thursday night preview showings. 
A day before the film's official theatrical launch on Friday, June 14, Men in Black: International took in $3.1 million from theaters in the U.S. and Canada (via Variety). 
Men in Black: International, the reboot-slash-sequel led by Thor: Ragnarok stars Chris Hemsworth and Tessa Thompson as a pair of alien-fighting agents, will expand from 3,472 domestic theaters to reach 4,224 over the weekend. However, it isn't expected to build upon its pre-release profits all that much. Analysts predict the flick will earn roughly $30 million in its first three days out at the domestic box office, though some insiders estimate a higher bow of between $35 million and $37 million. While global audiences should boost Men in Black: International's overall debut revenue, it isn't looking like the film will become a box office-breaking summer blockbuster by any means. 
The reason for such a soft opening estimation? Well, there are many factors that go into box office tracking, but we can't imagine that the harsh reactions to Men in Black: International are helping the cause. Critics have torn International to bits (mentioning the memory-erasing neuralyzer from the Will Smith and Tommy Lee Jones-led movies is a common theme) and the film's Rotten Tomatoes score sits below the 25 percent mark. 
At the end of the day, Men in Black: International need only make $110 million worldwide to break even on its reported production budget. It hasn't garnered the same glistening reviews that the 1997 original did (let's not talk about the stinker of a sequel that came in 2002) and hasn't been nearly as well-received as many thought it would be, though where money is concerned, it didn't cost as much to make as its predecessor did — about $33 million less when factoring in inflation. Not exactly the outcome the film's team was probably hoping for, but hey, there has to be some bright side to look on, right?
Also starring Liam Neeson, Emma Thompson, Kumail Nanjiani, and Rafe Spall, Men in Black: International is in theaters now.