The Boondocks Getting A 'Modern' Reboot From Original Creator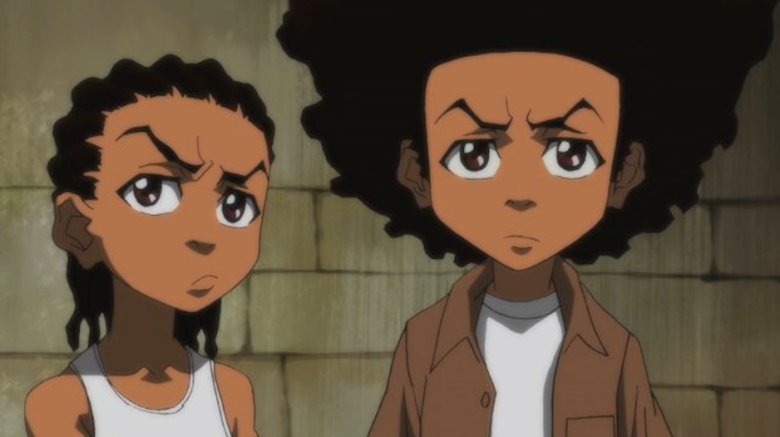 The Boondocks is coming back. 
Per Variety, Sony Pictures Animation announced during the Annecy International Animated Film Festival on Wednesday, June 12 that a reboot of the much-loved animated sitcom The Boondocks is underway. 
Aaron McGruder, the mastermind behind The Boondocks, is developing the reboot, described as a "complete re-imagining for the modern era." The original series adapted McGruder's comic strip of the same name and followed the Freeman family — Huey (voiced by Regina King), Riley (also King), and Robert Jebediah "Grandad" (John Witherspoon) — as they settled into the predominately white neighborhood of Woodcrest County, Maryland. The Boondocks, which premiered on Adult Swim in November 2005, explored themes of classism, racial inequality and stereotypes, and mixing of cultures all with a comedic, satirical edge. The new take on The Boondocks should maintain that same perspective, while chronicling the Freemans' new adventures "against the evil local government tyrant Uncle Ruckus," who rules Woodcrest "with an iron fist."
No other details were available at the time of the official announcement, though this isn't the first we've heard about a Boondocks reboot. Voice actor John Witherspoon hinted at the series' revival back in May, when he stated during an episode of The Joe Rogan Experience, "The Boondocks is coming back. It's one of the best cartoons I've ever been on."
McGruder also teased that The Boondocks would return to the small screen — and with a story that would resonate with audiences in 2019 — when he brought the Boondocks comics back to life. Radio presenter and TV personality Charlamagne tha God shared photos of the strip on his Instagram and relayed in the caption a message from McGruder himself: "#BoondocksBack The following message is from Aaron Mcgruder. 'Did these for fun (and to see if I still could). More to come... exactly how much more is tough to say. These strips were only possible due to the enormous talent of my good friend Seung Kim, who did the animation for the old show – and he's a busy guy. Thanks to him and thanks to Charlamagne for putting these out for me while I get my instagram act together.' AM."
With McGruder aboard the reboot, it's likely that King and Witherspoon will also return to reprise their roles. Sony hasn't revealed anything to that effect as of this writing, though, and hasn't announced when the new Boondocks will debut or whether it will air on its original network Adult Swim.