The Strain Season 3 Promo Teases Vampire War
Humanity is going all out to take the five boroughs back from the strigoi (vampire) menace in this season three promo of FX's The Strain. You can expect a whole lot of action between the human resistance and the Master's undead legion, with all of our favorite faces returning for the rematch. Just a heads up: this clip contains a little gore, and if you haven't watched the show yet, there are major spoilers for seasons one and two ahead.
The last time we saw our heroic band of vampire hunters, things had kind of gone south. In a facepalm-level move of stupidity, Dr. Ephraim "Eph" Goodweather's son Zach allowed himself to be abducted by his obviously vamped-out mother. The Occido Lumen, an ancient book about the strigoi which likely tells how to destroy their Master, is now in the possession of the Holocaust survivor-turned-slayer Abraham Setrakian, who is temporarily abandoning an overrun New York. He was last seen on a boat with Vasiliy Fet, a city exterminator with a knack for slaying vamps; Quinlan, a human/vamp hybrid with a vendetta against the Master; Gus, a ex-convict helping Quin; and Angel, a former Mexican wrestler who was once Gus' childhood hero. Unfortunately, Eph's love interest from the CDC, Dr. Nora Martinez, died after failing to stop Zach's mom from abducting him.
The Strain evolves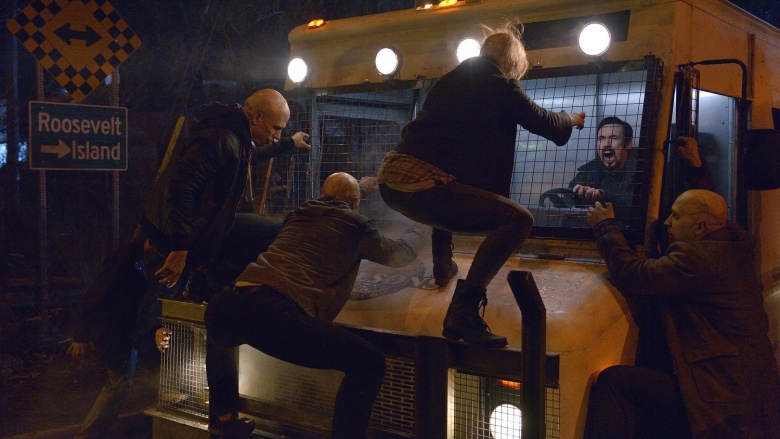 Based on the events of season two, we're expecting some heavy deviations from Guillermo del Toro and Chuck Hogan's trilogy of vampire novels (comprised of The Strain, The Fall, and The Night Eternal), especially since Nora survives the events of the books. Based on these changes, you'd best believe there are going to be other major divergences from the source material. Fans of The Walking Dead might want to give The Strain a chance if they haven't done so already, especially when it's the offseason for zombies.
The Strain season three is scheduled to debut on FX on August 28, 2016.