This Netflix Horror Movie Is Making People Sick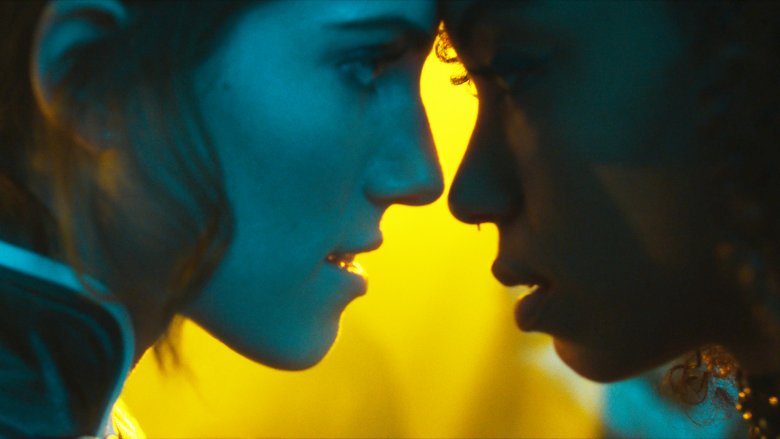 Contains spoilers for Netflix's The Perfection
It takes but one look at Netflix's content catalogue to realize that the streaming platform is rife with gut-churning horror movies. The latest addition to the streamer's library that's leaving audiences covering their mouths and clutching their stomachs is The Perfection — a horror-thriller unlike anything you've seen before. 
Directed by Richard Shepard, The Perfection stars Allison Williams, the actress who will likely forever be known as the wildly evil Rose from Get Out, and Dear White People's Logan Browning as Charlotte and Lizzie — two cello prodigies who studied at the prestigious music school Bachoff. Netflix bills the flick as following Charlotte returning to Bachoff after taking leave of absence to look after her ailing mother, reconnecting with her mentors, and meeting the musician who replaced her after she left. That musician is, you guessed it, Lizzie. 
From that relatively vague description, one might assume that The Perfection is a tale of jealousy, and that its horror elements are rooted in Charlotte's desire to be as "perfect" as Lizzie à la Black Swan or All About Eve. When The Perfection takes its first twist, audiences might mistake it for a contagion tale. In actuality, though, it's a lot more complex and far more gruesome — so much so that several grizzly moments have made viewers physically ill. A horrifying mutilation scene strikes down in the film's first act, and images of gore and body horror appear again and again until the very end of The Perfection. Many watchers simply couldn't stomach it all. 
"I got migraine just by watching The Perfection on netflix. I wanna vomit," one user on Twitter wrote, adding a pair of "dizzy face" emojis to emphasize how nauseated they were. 
Another tweeted, "the perfection on netflix is SICK... in a bad way ugh my body can't move and i feel like puking."
"I actually feel physically sick after watching the perfection," someone else posted to Twitter, while another viewer agreed, "Omg im going to puke #ThePerfection that was gross."
A few others were sick to their stomachs but still found The Perfection a gripping, terrifying, and smart horror-thriller. As Twitter user @fieryAisha wrote, "Just finished watching #ThePerfection. I feel like vomiting. WHAT THE HELL. I feel sick. The film is sick, twisted, cunning, beautifully made, creepy, evil, scary, funny, tragic all at the same time. What a psychological horror thriller!! I watched the film with my mouth open!!"
For many, watching The Perfection was pretty taxing. And, as it turns out, it wasn't exactly sunshine and roses on the opposite side of the screen. 
Director Shepard previously told Bloody Disgusting that the revolting scenes in The Perfection, namely the one in which Browning's character Lizzie has a panic attack after she vomits up maggot-filled bile onto a bus window, were tiring to film and even more difficult to edit. 
"We shot hugely long takes — basically six or seven pages a take," said Shepard. "It was four days on the bus, with a lot of screaming and flaming out by Logan and Allison, and a lot of laughs in between takes. Everyone knew how difficult it was for Allison and Logan, and for the crew, so everyone was in it to win it ... It was tough to edit because Logan is yelling and freaking out so much. Just looking at takes was exhausting. We'd have to work for a few hours and take a big break. But I knew if we could get the sequence to work it would be an amazing bit of movie-making."
All that hard work certainly paid off and generated the desired effect: completely freaking out viewers. 
Even with the visceral reactions to The Perfection, the film isn't nearly as divisive as one may think. It touts a Certified Fresh rating on Rotten Tomatoes and has amassed mostly positive reviews from critics, who found the elements of the movie relative to its carnage innovative and thrilling. 
"The Perfection is uncomfortable, gratuitous, and there are scenes that will make you shift in your seat as the narrative plays with you. For some, the lack of ease may be too much, with no room to come up for air," wrote Kate Sánchez of But Why Tho?. "Overall, The Perfection is a solid film and for Netflix, it is completely unexpected."
Katie Walsh of The Los Angeles Times also praised the way The Perfection encapsulated its terrors: "The exterior of The Perfection is flawless, covering up the darkness that lies beneath. The wild ride in store is both supremely disturbing and unpredictable. But rendered with such care, skill and sheer glee — it's utterly divine."
The Perfection definitely isn't for those with sensitive stomachs, but it's evident that viewers looking for a fresh horror-thriller they won't be able to stop talking about for days on end will be satisfied by the film. Load up The Perfection on Netflix now, and be sure to have a barf bag at the ready.