Stargate SG-1, The Godfather Part II Actor Carmen Argenziano Dies At 75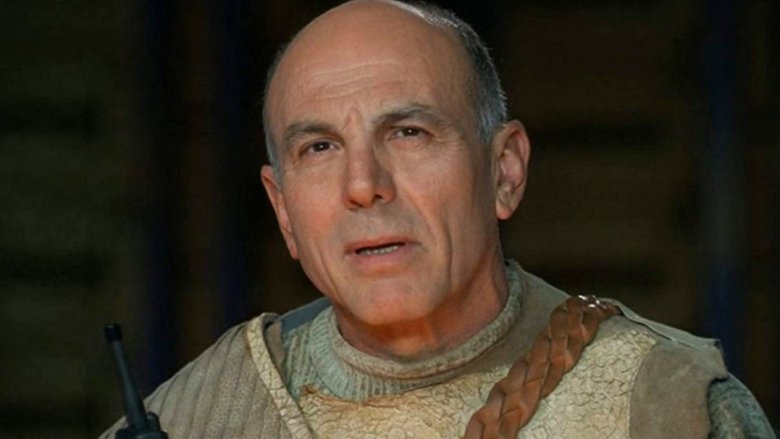 Carmen Argenziano, the prolific character actor best known for his roles on Stargate SG-1 and in The Godfather Part II, has died. The actor's talent agency, Event Horizons Talent, announced his passing in a post uploaded to Facebook on Sunday, February 10. A representative for Argenziano confirmed the actor's death to People on Monday, February 11. He was 75 years old. 
"It is with a heavy heart and more sadness than anyone can realize right now that I announce the passing of client Carmen Argenziano at the age of 75," the Facebook post reads. "His acting career began in the early 1970's and included a turn in The Godfather, Part II. Carmen worked steadily over more than 40 years and was a staple character actor on our televisions throughout that time, including on series such as Cheers, Melrose Place, ER, CSI:NY and many others, while also lending his talents to films both tentpole and intimate. To genre fans, he is best known for his role as Jacob Carter/Selmak on the series Stargate SG-1, a role he relished and recurred in for seven years."
The post continues, "While Carmen was a client, he was also a good friend. While he was a class act and a consummate gentleman at the events he was booked for, he was also a caring and generous person. While I had known him for more than a decade, it wasn't until the past 3 years as a con representative for him that our trust and friendship grew and blossomed. He truly treated me like family, and that sentiment was returned. Please join me in sending thoughts and prayers to Carmen's family and loved ones during this difficult time. Despite what media outlets are running with, he is survived strictly by his children. Godspeed, my friend."
Born in Pennsylvania on October 27, 1943, Argenziano started his career in film in 1970, when he landed a small role in Noel Black's drama feature Cover Me Babe. Throughout the '70s, he appeared in a variety of films — playing Jay Kaufman in Punishment Park, Flavio the Guerrila in The Hot Box, Sam in Grave of the Vampire, Second Hawk in The Outside Man, an undercover wrestler in Caged Heat, Jack McGurn in Capone, Brian Seldon in Vigilante Force, Morelli in Death Force, Ken in The Boss' Son, and Dr. Mandrakis in When a Stranger Calls. Argenziano's shiniest role of the decade came in 1974, when he was tapped to play a small part as Michael's buttonman in The Godfather Part II. 
Throughout the 1980s, Argenziano popped up in Graduation Day, Circle of Power, Sudden Impact, Heartbreakers, Into the Night, Starchaser: The Legend of Orin Dagg, Naked Vengeance, Dangerously Close, Under Cover, Stand and Deliver, Remo Williams: The Prophecy, The Accused, and Red Scorpion. The '90s saw him take on more projects, including roles as Lieutenant Grimes in The First Power, Ron Ball in Rompecorazones, Jerome Lurie in Unlawful Entry, Abe Weinstein in Rave Review, Lieutenant Stein in Final Combination, Don Alfonzo in Don Juan DeMarco, Phil Hawkes in The Tie That Binds, General Boone in Broken Arrow, Judge Wiley Banning in A Murder of Crows, and Captain Penelli in Blue Streak. 
From 2000 to 2018, he held roles in films like Gone in 60 Seconds, Angels & Demons, The Single Moms Club, Don Quixote: The Ingenious Gentleman of La Mancha, Sharkskin, A Winter Rose, The Labyrinth, Empire of the Heart, The Mad Whale, and Future World. Argenziano's final film appearance as Lieutenant Brannigan in the 2018 film Duke.
Argenziano's television credits include one-off episodes of Columbo, Once an Eagle, The Bionic Woman, CHiPs, Buffalo Bill, Cheers, Cagney & Lacey, Babylon 5, 24, Criminal Minds, Castle, and Hawaii Five-0. His most noteworthy (and longest-lasting) television role was as Selmak / General Jacob Carter on the military sci-fi adventure series Stargate SG-1. Argenziano also starred as Lawyer Neil Robertson on L.A. Law, Chick Sterling on Booker, Dr. Stanley Levin on Melrose Place, George Vickers / Paco Cruz on Walker Texas Ranger, Insp. Stanton Gerrard on CSI: NY, Henry Dobson on House, and Commander Murphy on Meteor.  
Argenziano is survived by his three children. The Sun reports that he is also survived by his wife, Lisa A. Angelocci, though the post by Event Horizons Talent suggests otherwise. 
Our thoughts are with Argenziano's loved ones during this difficult time of mourning.