Aquaman 2: Why Black Manta Is Trying To Kill Aquababy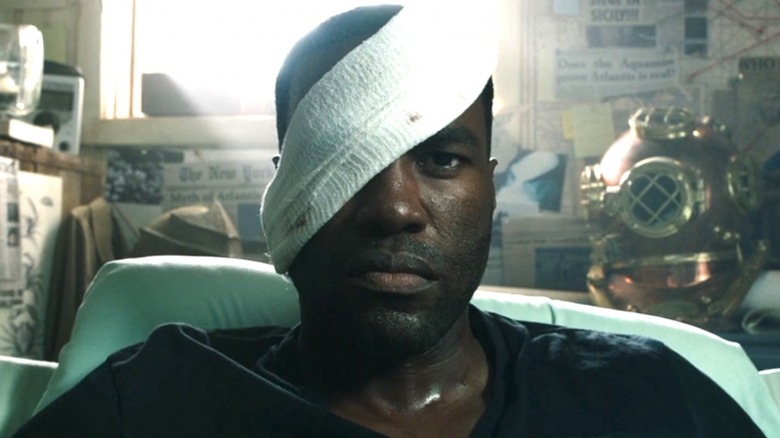 Warner Bros. Pictures
There is still no sign of Arthur Curry's (Jason Momoa) queen, Mera (Amber Heard), in the trailer for "Aquaman and the Lost Kingdom," but there is substantial concern for the Atlantean king's infant son. In the trailer put out by Fandango, Arthur introduces his child to fish in an aquarium and explains his great legacy. However, this legacy comes at a cost. Following the events of "Aquaman," Black Manta (Yahya Abdul-Mateen II) is still obsessed with killing Arthur. And to do this, he has to make a deal with the devil.
The trailer shows a villain who appears to be the aquatic version of Sauron, promising that he will give Manta the power to kill Aquaman if he is freed from his prison. As explained by Arthur's mother, Atlanna (Nicole Kidman), "The key to this prison is the royal bloodline itself," only now, it doesn't just end with Arthur and his half-brother, Orm (Patrick Wilson). If it is true that the death of the bloodline is required, Arthur's son is the one who is in trouble. As far-fetched as it may seem that a DC film will engage in infanticide, the death of Aquababy is one of Aquaman's darkest storylines.
Aquababy was not long for this world in the comics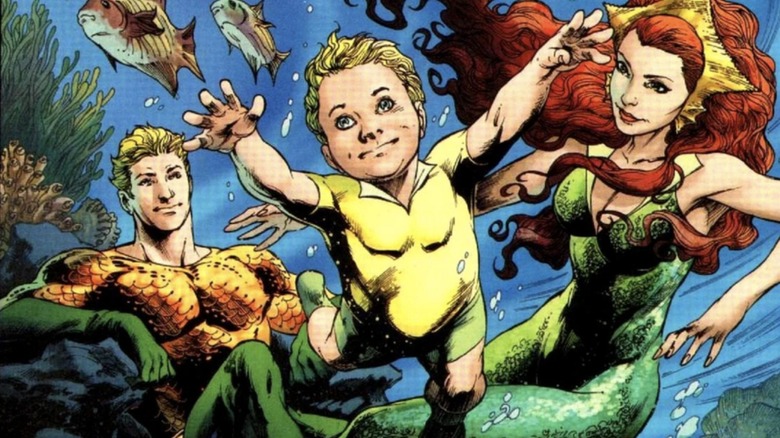 DC Comics
In the comics, Aquababy is born Arthur Curry Jr. and the son of Arthur and Mera. Like his mother, he can control water with hydrokenesis, even at a young age. But, also like his parents, he became an unwitting pawn in the plans of the classic Aquaman villain, Black Manta. To force Aquaman and Aqualad into a confrontation, Black Manta kidnaps Aquababy and holds him hostage. He places the infant in a sphere of air, which Aquababy would not be able to survive since he can only breathe through water. Black Manta promises to release the child if the two aquatic heroes fight, but it does not end well. Even though Aquaman and Aqualad battle, Aquababy perishes.
This is a turning point for the king of Atlantis, as Aquababy's death led to the end of his marriage. Despite vowing revenge against his enemy, he is unable to kill Black Manta, not wanting to violate his moral code. There is no telling exactly where James Wan's version of the story will go, but this is one instance where fans can't count on a happy ending. The horror director is famous for his twists, so there is a small chance he could lean into the source material and legitimately endanger Arthur's child. This event should encourage fans to see the film in theaters when it premieres on December 22.