Disney's Wish Directors Reveal Its Unusual Inspirations & Big Breakout 'Star' - Exclusive Interview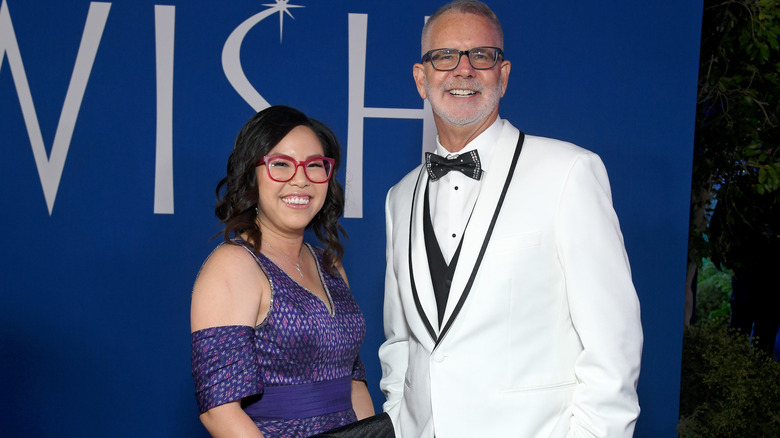 Alberto E. Rodriguez/Getty Images
Disney animated movies have often centered on characters who either literally or metaphorically wish upon a star. They may even get a full song describing what they want out of life. As such, it's only appropriate that the film commemorating the 100th anniversary of Disney Animation is "Wish," a story about a young girl named Asha (Ariana DeBose) who wants to help the people of the kingdom with assistance from an unusual source.
To bring this story to life, Disney brought on directors that one could argue represent both the past and future of the company. First, there's Chris Buck, whose first director credit with Disney was 1999's "Tarzan"; from there, he also worked on "Frozen" and "Frozen II." Then, there's Fawn Veerasunthorn, who makes her feature-length directorial debut on "Wish" — but she's also been with Disney for a while. She has worked as a story artist on the likes of "Moana" and "Zootopia," and hopefully, "Wish" is the first of many projects she gets to direct for the company going forward.
Together, they bring a unique style and aesthetic to "Wish," and Looper had the opportunity to speak with them about the new film. They discussed working together and explained the various changes made to the movie throughout its lengthy development.
All the hard work that made Wish a reality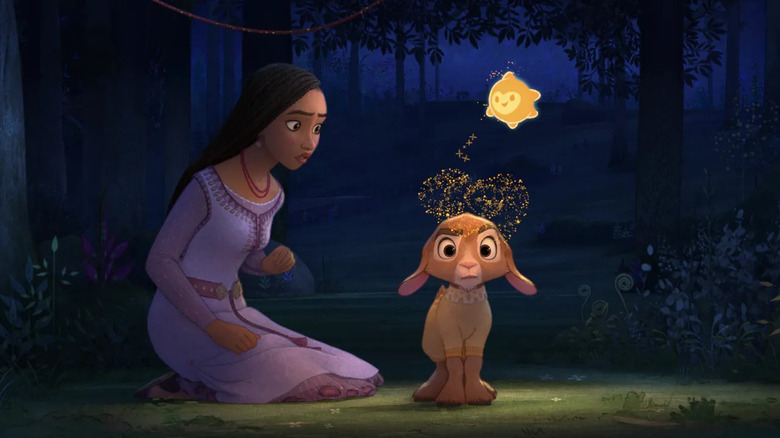 Walt Disney Studios Motion Pictures
What is it about "Wish" that you think makes it right to celebrate the 100th anniversary of Disney Animation?
Chris Buck: It went back to the origin of how we came up with the story, and that was pinning up one frame from each of our films on one bulletin board and seeing the breadth of all our incredible legacy and beautiful art styles that we've done — the different ones — but also seeing this connective thread of characters wishing on stars. We realized that's it. Walt [Disney] was telling us, "Do it — do the wish, a character making a wish on a star." That's where it started.
Like all animated movies, "Wish" has been in development for years. Were there any major changes to the story that came later on, or even characters you didn't think of at first but came later on in the process?
Buck: Star.
Fawn Veerasunthorn: Yes — the big breakthrough is the Star character. Star used to be this shape-shifter who speaks. We worked on it. We liked the idea, but it didn't feel right for the character that ... At the time, we found that it represents the cosmic force that's made of things like possibility and hope and wonder. Those kinds of feelings, you can't really put words to it. Once we arrive at that, that helps us simplify the design of Star to this ball that represents bouncing balls, which is the first lesson many animators embark on. It pays great homage to the art of animation. Our character designer added a heart-shaped mask on Star that represents Mickey [Mouse].
We're like, "Wow, all the stars aligned to make this character that makes Asha's life wonderful and also very difficult." She doesn't know why this character is here, but this character is a catalyst in her journey pushing her on to this adventure that she didn't know she could [have].
Working together as directors for the first time on Wish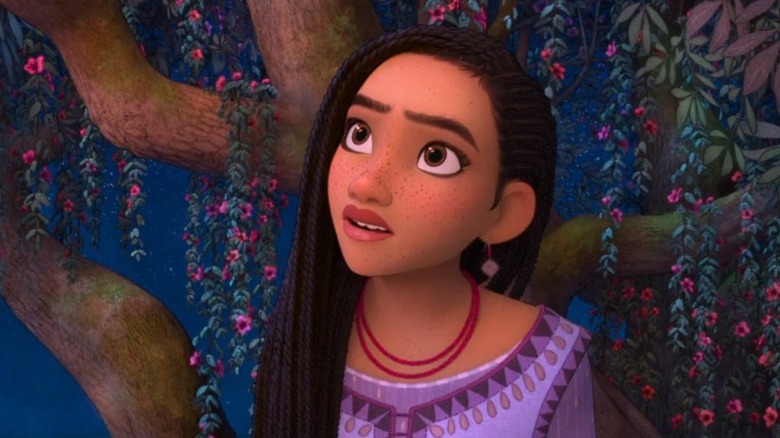 Walt Disney Studios Motion Pictures
You two have worked together before on various Disney films, but now, you're co-directors. Can you speak to that collaboration? Did you both have a hand in pretty much every aspect of the process, or did you fill in gaps here and there?
Buck: We pretty much were together in everything. Luckily, we had a schedule that allowed that, so we were able to be in the story room together. We were able to be in animation together, effects together. We were really working together. But we do have different strengths. I come from animation, and Fawn comes —
Veerasunthorn: I'm from story. We joined forces.
Buck: We joined forces, but there's a nice yin and yang to that. It was a great collaboration. We rarely had any arguments. I don't know if any ...
Veerasunthorn: I loved working with Chris' "Frozen," and I got to know him a lot more on "Wish." We bonded over so many things.
Buck: The weird sense of humor. I had no idea she had such a weird sense of humor and vice versa.
Veerasunthorn: You're weird, just like me. Awesome — let's make a fun movie together.
When it came to the song choices, how did you decide to go the pop music route, as opposed to the Broadway-inspired songs of Disney's past?
Buck: It went back to ... Again, what we wanted to do with this film was honor the legacy, but also honor the contemporary where we are right now. [Songwriters] Julia Michaels and Benjamin Rice — 
Veerasunthorn: They're perfect.
Buck: Julia's such a Disney fan and brings that gorgeous Disney legacy sound to the music but also brings that great contemporary sound. It's very fresh and new. When we heard the first song — "This Wish" was the first one she wrote — we went, "That's it." Then, each one that she wrote after that was just as exciting.
How the cast helped bring Wish to life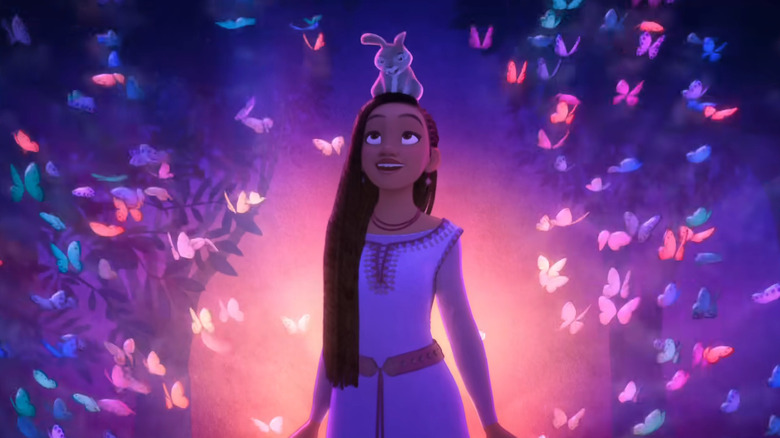 Walt Disney Studios Motion Pictures
When it came to working with the actors — you have a fantastic voice cast with Ariana DeBose and Chris Pine — was there anything that you discovered about a character through the voice-acting performance?
Buck: Probably Asha — the quirkiness of Asha and the humor. Ariana ...
Veerasunthorn: She has so much energy.
Buck: She's got so much energy, and she'll give you these certain lines [where] you're like, "I did not expect that or how you would do that." But it brings that great believability and individuality to the character that only Asha would do or say.
Veerasunthorn: Wherever she goes, she brings joy into the room. That transcended onto the screen.
"Wish" changes up the traditional Disney 3D animation approach we've seen with "Frozen" and "Encanto." How do you hope "Wish" continues to inspire the next generation of Disney animated films in terms of pushing those boundaries for what you can do in the medium?
Buck: There are so many things that we've done here, but in the recent past, the shorts we did were "Paperman," "Feast," and "Far from the Tree," which did play with this 2D-3D kind of look. We were inspired by that. The challenge for us was to do it as a feature, to do it for a full 90 minutes. That was incredible. It's handing the baton to the next directors, the next generation ... Go for it. Keep pushing the innovation just like Walt Disney would've done, because that's what he did his whole career.
"Wish" releases in theaters on November 22.
This interview has been edited for clarity.