Black Panther: Marvel Studios President Kevin Feige Has One Word For Film's Oscar Nomination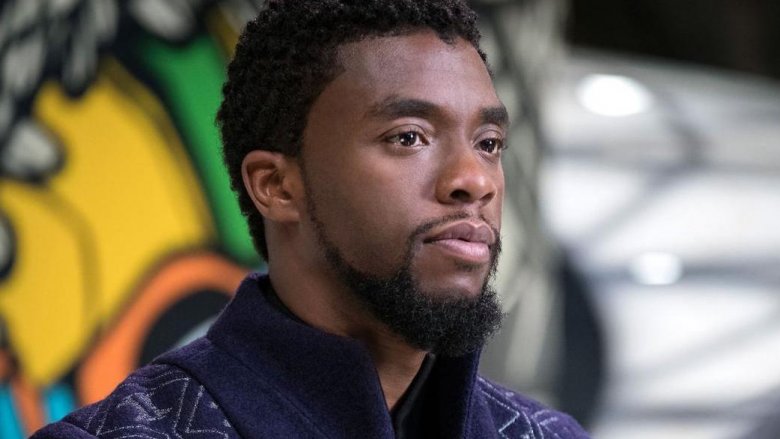 On Tuesday, January 22, Black Panther made history when it became the first-ever superhero movie to be nominated for Best Picture by the Academy of Motion Picture Arts and Sciences for the upcoming Academy Awards. No longer is the Ryan Coogler-directed film, led by Chadwick Boseman as the headstrong Wakandan king T'Challa and his heroic alter ego Black Panther, just another entry into Marvel's massive cinematic universe — it is a groundbreaking Oscar-nominee. And the folks at Marvel couldn't feel luckier for it. 
Marvel Studios president Kevin Feige, who also produced Black Panther, has responded to the film's Best Picture nomination, offering one word to sum up his feelings about the honor: "pride."
He shared with Entertainment Weekly, "The word that keep coming to me from the moment it happened is just this humbling sense of pride for everyone involved in the movie. It's the most important recognition that a film can receive in our industry. That's not lost on any of us. It's something that's immensely gratifying. As the numerous phone calls and text messages [show] that went back and forth between all of us who were lucky enough to work on the film, it is just ... pride."
Black Panther's visionary director and co-writer Ryan Coogler has generated Oscar buzz with his past films Creed and Fruitvale Station; sadly, the Academy didn't recognize either of those flicks for Best Picture or Coogler himself for Best Director in the respective years the movies were released. This year was, unfortunately, no different. While Black Panther scored the top honor, Coogler went without recognition for his directorial work, which he imbued with sumptuous, candy-colored visuals and one-shot action sequences that have become his "stunning technical trademark."
Feige didn't comment on the Best Director snub, but he did give credit where it is undoubtedly due, stating that he feels the Academy was moved by Coogler's vision for Black Panther and that the choices he made with the film's script and direction are what pushed voters to honor a comic book movie for the first time in history. 
"I think Black Panther is a unique movie told by a unique filmmaker in a unique time. It comes down to this amazing cast and crew, and a brilliant director who had something to say. He had a very personal story and struggle to explore, and he wanted to use this movie and this canvas to tell it," said Feige. "Looking over the past year at the cultural impact this movie has had around the world, it feels like the recognition from the Academy this morning is the pinnacle of that."
He added that he believes the nomination was in response to "the message of Black Panther, and not just the message within the thematics of the film, but even the story of how the film was made, how it came together, and how it was received." 
To Feige, and to many viewers, Black Panther is "about representation, and it's about inclusion, and it's about the importance of telling different types of stories." He mentioned that the film's exploration of a "personal responsibility" struck a chord with so many, and that Coogler's handling of the story was phenomenal. 
"As Ryan always tells it, the inherent question of the film is, 'Am I my brother's keeper?'" said Feige. "That the Academy recognized that this morning is extremely gratifying to all of us."
It comes as no surprise that Feige had quite the emotional response to Black Panther earning a Best Picture nomination for the 2019 Oscars, not just because of his professional connection to the film and the cinematic world in which it exists, but also because he's a personal fan of the movie. After seeing the theatrical cut of Black Panther on the big screen in February 2018, Feige heralded it as the best film in the entire MCU at the time. "The movie finished and I looked over at Ryan and I said, 'That's the best movie we've ever made,'" he told ABC News.
Whether Black Panther can turn its nomination into a win remains to be seen, but if it does, it will trump some serious competition. Black Panther is up against Spike Lee's BlacKkKlansman, the Rami Malek-starring Freddie Mercury biopic Bohemian Rhapsody, Yorgos Lanthimos' The Favourite (which earned 10 nominations total), Green Book, Roma, A Star Is Born, and Vice, so taking home the golden statue may prove difficult. Regardless, though, nothing can take away Black Panther's status as a history-making, record-breaking movie. Like Wakanda, it is forever.
Tune into the 91st annual Academy Awards on Sunday, Feburary 24.