The Witches: Anne Hathaway To Star In Robert Zemeckis' Adaptation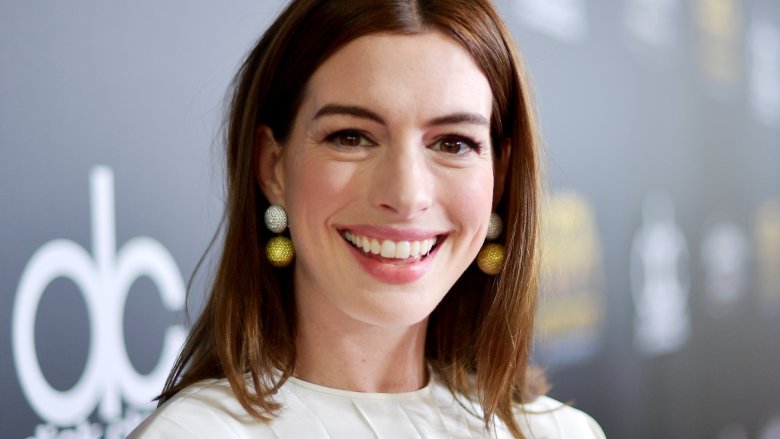 Getty Images
Anne Hathaway has scored herself a bewitching new project. 
As detailed by Variety, Hathaway is set to star in director Robert Zemeckis' forthcoming remake of The Witches, based on Roald Dahl's 1983 children's novel of the same name. 
The actress has been linked to the project for quite a while, circling both it and a starring role in the Sesame Street movie around the same time. Since both projects are housed at Warner Bros., working out the scheduling for each proved tricky, and deals couldn't be made for either until all the details were sorted out. Now it appears everything is ship-shape and smoothed over, and Hathaway is officially on board for The Witches.
Hathaway will portray the Grand High Witch, the most powerful being on Earth who 1) hates children, 2) uses her supreme abilities to hide her evil nature, and 3) masks her horrifying true looks behind glossy, put-together, and alluring visages. She's a real treat, gang. 
In Warner Bros.' The Witches movie from 1990, Anjelica Huston terrified an entire generation as the Grand High Witch, who appeared as a tall, glamorously and provocatively dressed woman who touted a slightly vampiric aesthetic. Hathaway aims to take the Grand High Witch torch from Huston and scare millions more in Zemeckis' adaptation, which will "be more rooted" in Dahl's story as opposed to the loose adaptation of yesteryear. 
As does the source material, Zemeckis' The Witches will center around a young boy who goes to live with his grandmother following the death of his parents. The boy is captivated by his grandmother's story about witches, which she describes as terrible beasts who despise children. One thing leads to another, and the boy winds up having a run-in with real-life witches and their coven determined to turn kiddos into creepy, crawly mice using sweets laced with a "Formula 86 delayed-action mouse-maker" potion.
Zemeckis will stay true to the source material in terms of story, but a big chance he will in his film is altering the setting, moving the action from England to America and constructing it as a period piece. As he explained to French outlet Allocine, "We're going to set it in the Gothic South in the 1960s. That's, you know, an exciting way to kind of like put a sociological spin on this kind of traditional witch story." Witches in the south? We're getting some serious American Horror Story: Coven vibes. 
It's no small feat to follow in Huston's footsteps to play the Grand High Witch, but Hathaway has more than enough experience portraying sinister yet oddly charismatic characters to deliver a knockout performance in The Witches. Viewers may recall how eerie and twisted she was as the White Queen in Tim Burton's Alice in Wonderland — a role that just might inform the approach she takes here, in her first bonafide big-screen villain gig. 
Before she traumatizes us all as the children-hating Grand High Witch in Zemeckis' The Witches, produced by Oscar-winning filmmaker Guillermo del Toro, Hathaway will roll out a handful of hotly anticipated pics coming in 2019. Fans can first catch her in Serenity, Steven Knight's neo-noir thriller that co-stars Matthew McConaughey, on January 25. In May, see her alongside Rebel Wilson in the gender-swapped Dirty Rotten Scoundrels remake The Hustle, then keep an eye out for Hathaway in director Dee Rees' drama The Last Thing He Wanted, set to hit Netflix later this year.
The Witches doesn't yet have a set release date. We'll update you with more information as it becomes available.