Goodfellas Actor Frank Adonis Dies At 83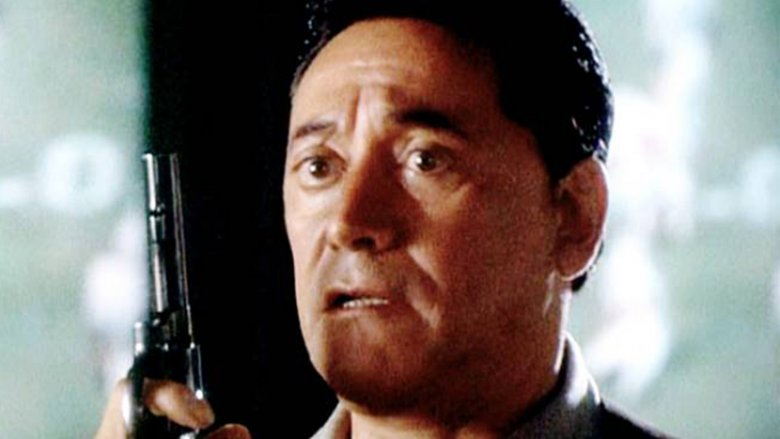 Frank Adonis, the actor known for his roles as Anthony Stabile in Goodfellas and Patsy in Raging Bull, has died. 
Adonis' wife, Denise, confirmed to TMZ that the actor passed away on Wednesday, December 26 in Las Vegas, Nevada following a battle with "various health issues." An exact cause of death wasn't immediately available, though Denise did relay to the outlet that Adonis had been ill for many years, suffering mostly with kidney problems. He had also been undergoing dialysis and was placed on a ventilator just over a week before his death. Adonis' family is said to have "waited until after Christmas" to take Adonis off the ventilator. He was 83 years old. 
"He will be missed. He was a great father and an amazing husband," Denise said in a statement. "He helped all his friends he could. Great writer, director, and actor. He was my best friend."
Born Frank Testaverde Scioscia in Brooklyn, New York, Adonis was often credited by his birth name — like in Patty, The Sister in Law, The Gambler, Shaft's Big Score!, and Cops and Robbers. When his career started to take off, Adonis took on his stage name and scored parts in Eyes of Laura Mars, Spike of Bensonhurst, Wall Street, One Way Out, King of New York, Mob Queen, Finding Interest, Black & White, and Mafioso: The Father, The Son. His other film credits include Find Me Guilty, Ace Ventura: Pet Detective, and True Romance. A frequent collaborator of Martin Scorsese's, best known for his work in Goodfellas and Raging Bull, Adonis also appeared in Scorsese's 1995 film Casino. 
On the television side of things, Adonis popped up on episodes of The Equalizer, The Sopranos, Law & Order: Criminal Intent, and New York Undercover. 
Adonis' passions in the entertainment industry weren't limited to acting; he also had experience writing and directing. He helmed the 1998 action-crime drama One Deadly Road and penned the script for the 2007 horror-thriller pic The Woods Have Eyes. 
His last on-screen appearance came in 2017, when he starred in the drama film Proximity to Power. 
Adonis is survived by his wife and three children. 
Our thoughts are with Adonis' loved ones during this difficult time of mourning.