Kirsten Dunst's Spider-Man-Themed Instagram Post Will Make You Cry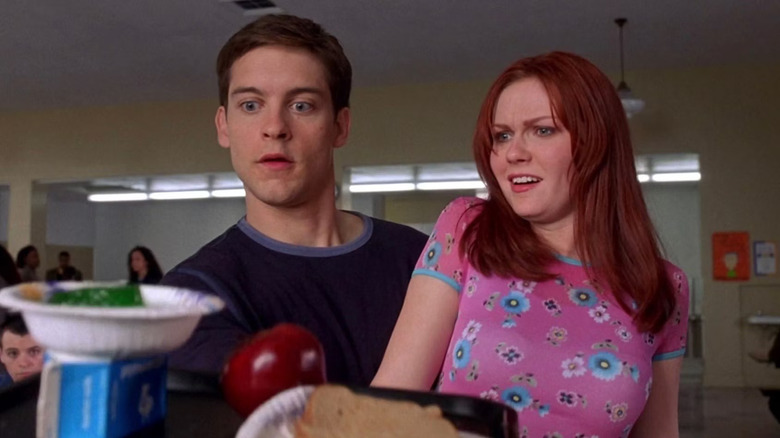 Sony Pictures
Kirsten Dunst is living the life. She has a filmography most actors could only dream of, even getting nominated for an Academy Award for her work on "Power of the Dog," and she has two children with her husband, Jesse Plemons. She also has some of the cutest and coolest Instagram posts, including one that just melted the internet's heart.
For many, Dunst will forever be affiliated with portraying Mary Jane Watson in the original "Spider-Man" trilogy, directed by Sam Raimi. As Peter Parker's (Tobey Maguire) love interest, she kept the superhero grounded while providing ample opportunities for him to question what he really wants out of life. And it seems the actress hasn't forgotten her roots, as she posted a photo on September 17 of one of her kids holding a Spider-Man umbrella. The child's face is hidden, and it comes with the caption, "Has no clue his mom was MJ."
It appears Dunst wants to keep her children out of the limelight and is in no rush to tell them how their mother is associated with one of modern society's most famous fictional characters. 
Kirsten Dunst still carries a flame for Spider-Man
Fans loved seeing the adorable post, and they came into Kirsten Dunst's comments to let her know they still think about her as MJ all the time. Underneath the caption, you'll find all kinds of positive comments like "The best MJ ever" and "You have to let us all know his reaction when he finds out." It's a cute post and just the kind of thing people want to see before starting the next work week. 
But since people are always looking to see who might return to the realm of superhero movies, it's worth considering whether Dunst could reprise MJ in a future Marvel project. Bringing back actors is all the rage right now, as evidenced by Michael Keaton in "The Flash" and Hugh Jackman returning to the role of Wolverine for "Deadpool 3." And Dunst sounds open to playing MJ once more if the opportunity arises, as she told Variety, "I would do it. Why not? That would be fun. I would never say no to something like that. I'd be old MJ at this point with little Spidey babies."
Her former co-star, Tobey Maguire, already returned as Spider-Man in "No Way Home," and Dunst even appears in archival footage for "Spider-Man: Across the Spider-Verse." And with the Marvel Cinematic Universe building up toward "Avengers: Secret Wars," a brief MJ cameo would go off big with fans. But even if her days in Marvel movies are over, Dunst is doing just fine these days.