The Princess Bride Screenwriter William Goldman Dies At 87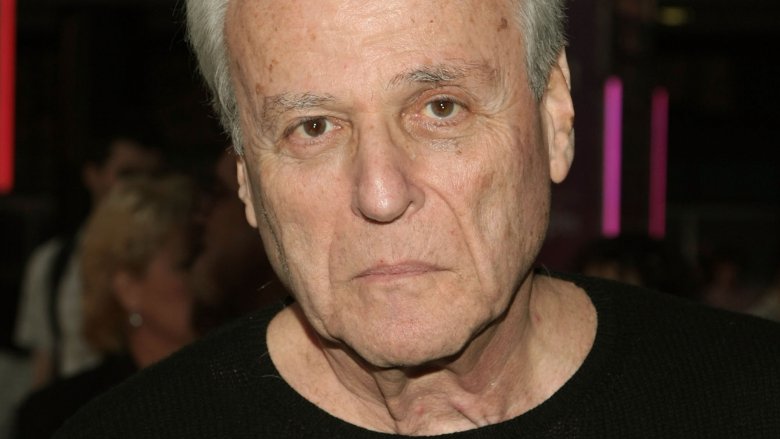 Getty Images
William Goldman, the author of the iconic fantasy romance novel The Princess Bride and the screenwriter behind the book's film adaptation, has died, Deadline announced on Friday, November 16.
The outlet detailed that Goldman passed away in his home in Manhattan, New York. He was "surrounded by family and friends" at the time of his death, which came after he had reportedly been suffering issues with his health that had worsened in condition over the summer months. Goldman was 87 years old. 
Mike Lupica, a noted newspaper columnist and close friend and collaborator of Goldman's, took to Twitter to announce the unfortunate news: "The great William Goldman, my dear friend of 40 years, passed away this morning at the age of 87. All he did in the same career was write The Princess Bride and Butch Cassidy and the Sundance Kid and the screenplay for All the President's Men. And that is the short list."
In addition to writing The Princess Bride, which was published in 1973, and adapting the screenplay for the silver screen version directed by Rob Reiner, Goldman also penned scripts for the 1969 Western classic Butch Cassidy and the Sundance Kid and the 1976 political thriller All the President's Men, which chronicled the events leading to and the circumstances surrounding the Watergate scandal that marked the beginning of the end of Richard Nixon's presidency. For his work on both films, Goldman received Academy Awards for Best Adapted Screenplay. 
Goldman's other screenwriting credits include Masquerade, Harper, The Hot Rock, The Stepford Wives, Marathon Man, A Bridge Too Far, Magic, A Few Good Men, Memoirs of an Invisible Man, Year of the Comet, Chaplin, Maverick, The Chamber, Absolute Power, and The General's Daughter. He also wrote screenplays for several film adaptations of Stephen King novels — like 1990's Misery, 2001's Hearts in Atlantis, and 2003's Dreamcatcher. 
Additionally, Goldman served as a scripting consultant on 1992's A Few Good Men, 1993's Malice, 1995's Dolores Claiborne, 1996's Extreme Measures, and 1997's Good Will Hunting. His last screenwriting project was in 2015 — a script for a movie version of his novel Wild Card. 
Beyond the screen, Goldman was a prolific author, writing several novels, non-fiction works, and short stories throughout his life. His novels (in addition to The Princess Bride) include The Temple of Gold, Solider in the Rain, The Thing of It Is..., Father's Day, Tinsel, Control, Marathon Man The Color of Light, Heat, Brothers, and The Silent Gondoliers. In the non-fiction genre, Goldman penned The Story of 'A Bridge Too Far,' Wait Till Next Year, Hype and Glory, Adventures in the Screen Trade: A Personal View of Hollywood and Screenwriting, and more. He also published a children's book, Wigger, which follows an orphan who gets separated from her trusty blanket. Between 1963 and 1974, Goldman wrote five short stories, starting with "Something Blue" and ending with "The Simple Pleasures of the Rich." Several were published in Transatlantic Review. 
Given his sundry talents and unwavering kindness, Goldman was well-liked and well-respected by his contemporaries in Hollywood and by fans across the world. 
After learning of Goldman's passing, Solo: A Star Wars Story and A Beautiful Mind director Ron Howard honored his memory on Twitter. "RIP #WilliamGoldman. One of the greatest most successful screenwriters ever. I was lucky as hell to count Bill as a mentor and a friend," Howard wrote. "Check his credits & see a William Goldman movie or read a Goldman book over the holiday & give thanks that we had his voice in our world."
Actress Mia Farrow also tweeted, "Legendary William Goldman, has died. He gave us 'The Princess Bride', ( book even better than the film) 'Butch Cassidy-' screenplay of "All the President's Men' and  best book on show biz, 'Adventures in the Screen Trade'. He was also a true friend. Thank you dear Bill."
Doctor Strange writer C. Robert Cargill gave a resonant tribute to Goldman's talents, insights, and astonishing body of work, which is sure to influence screenwriters for generations to come. "William Goldman is the patron saint of screenwriting," Cargill shared on Twitter. "Everything he wrote, both for the screen and about the trade, is f**king gospel. Study it, master it, understand you will likely never measure up to him. Nothing any of us will write today will be worthy of him."
Our thoughts are with Goldman's loved ones during this difficult time of mourning.