Daredevil Showrunner Responds To Iron Fist Cancellation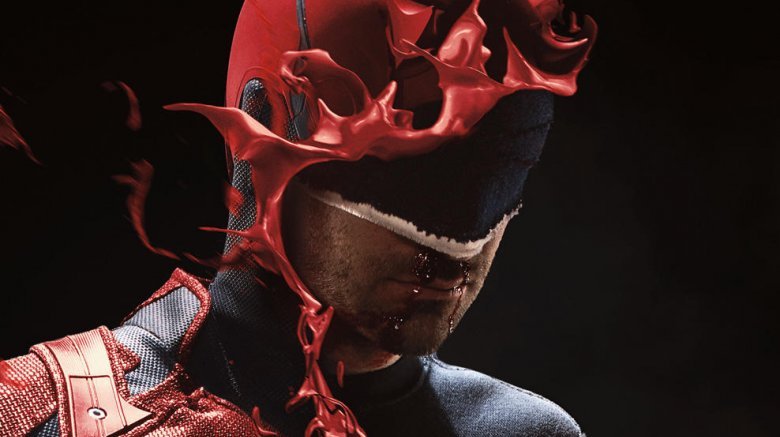 Netflix/Marvel Studios
Marvel and Netflix's move to cancel Iron Fist has had a ripple effect on the streaming site's other superhero series — particularly the people in charge of making them happen. 
Following the cancellation of Iron Fist on October 12, Daredevil showrunner Erik Oleson spoke with The Playlist about the Finn Jones-starring show getting the ax. Oleson told the outlet that he met with Iron Fist season 2 showrunner Raven Metzner over the weekend for a drink and a chat and to sympathize with one another over the unfortunate situation.
"I'm close, personal friends with Raven Metzner and a number of folks who worked on that show, and I'm sad for my friends. The Marvel shows are a family. As the showrunner of Daredevil, I'm always rooting for my fellow showrunners and their families, and it was a hard blow. I'm not going to lie," said Oleson. "I took Raven out for drinks on Saturday night and we commiserated. It was heartbreaking news."
In speaking about Iron Fist biting the dust, Oleson noted that Disney's upcoming streaming service — and, more importantly, the planned Marvel series that will exclusively launch on the platform upon its release — may be impacting the current Marvel shows on Netflix. He also noted that, despite not having all the inside information and not being entirely aware of what Marvel Studios president Kevin Feige is working on behind closed doors, he's holding on to a tiny bit of hope that Iron Fist could return to the screen in some capacity. 
"I don't know what the future holds in terms of Netflix and Marvel and the new Disney streaming service and all of that. I'm not really privy to any of that stuff. That's way above my pay grade. But who knows what the future holds?" Oleson stated. "I wouldn't put it past anyone that [Iron Fist] comes back in some other form."
Oleson could be on to something here in mentioning Disney's streaming service, its possible connection to Marvel's collaborations with Netflix, and the potential for the characters of Iron Fist to make a comeback somewhere down the line. Shortly after word of Iron Fist's cancellation broke, it was announced that yet another Marvel-Netflix show had died a premature death: the Mike Colter-led series Luke Cage. Fans naturally took to social media to relay their disappointment over Marvel and Netflix pulling the plug on two comic book shows in the span of just a single week — but what viewers also did was theorize that perhaps now that Iron Fist and Luke Cage have both been axed, there's an opportunity for Jones' Danny Rand and Colter's Luke Cage to team up for a Heroes for Hire series. 
That certainly hasn't been confirmed, seeing as though the series' cancellations are still quite fresh, but it's an interesting idea that may hold more weight than it appears to, especially with Oleson's remarks that he wouldn't be surprised if Iron Fist comes back in a different form. 
As for Oleson's own superhero show, Daredevil recently premiered its highly anticipated third season, which currently boasts an impressive 92 percent critical approval rating on Rotten Tomatoes. Critics have applauded the new installment for depicting Charlie Cox's Matt Murdock in "top form" and generating true "comic book thrills, immeasurably helped by the welcome return of Vincent D'Onofrio's menacing Kingpin." Although word on the street is that Daredevil may never get a fourth season, with lead actor Cox mentioning earlier this week that he doesn't know "if there's any intention of us doing more seasons," the strong reception to the latest batch of episodes should keep Daredevil afloat for at least one more turn. If only Iron Fist and Luke Cage had secured the same fate.