Hulu: Everything Coming In October 2018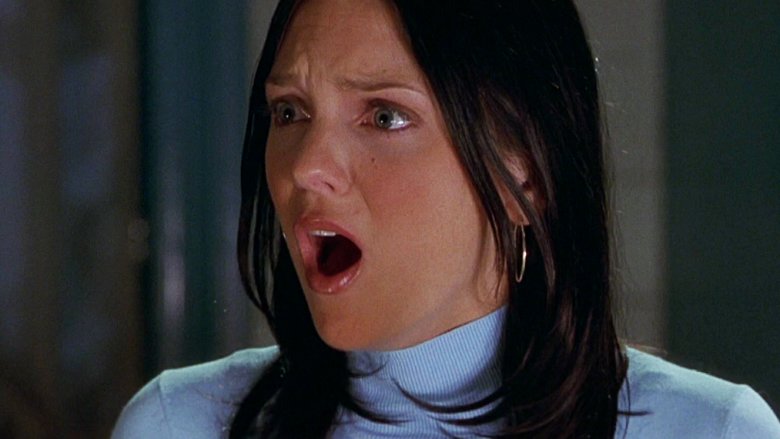 Fall is upon us, and that means sweater weather, pumpkin spice everything, and staying inside on crisp nights for movie nights of epic proportions. It also means that a ton of new content is coming to your favorite streaming sites — like Hulu, which just announced a sizable list of films and television shows available to stream on the platform in October 2018. 
The streamer that annually celebrates "Huluween," a week of horror shows, movies, scripted shorts, and much more, has plenty of awesome picks for those who love spooky stuff. Coming at the start of the month are American Psycho, Child's Play, Children of the Corn II: The Final Sacrifice, Rec (and its three sequels), Texas Chainsaw Massacre II, and Zombies of Mass Destruction. 
A few days into October, Hulu will premiere the debut episode of its newest original series, Into the Dark, the 12-part horror anthology series from Blumhouse Productions' Jason Blum. Critics have already argued that Into the Dark, which is scheduled debut one new episode per month until October 2019, will "inject further energy into what's become an interesting and unconventional mission for Hulu" as it continues on.
For those who are less into full-on gore and more into the cutesy side of October's Halloween festivities, Hulu is adding Scary Movie and the classic The Nightmare Before Christmas next month. 
There's plenty more to watch on Hulu in October 2018. Check out the full list of movies and TV shows coming next month below. 
Available October 1
60 Days In: Complete Season 4 (A&E)
America's Book of Secrets: Complete Seasons 1 & 2 (History)
American Pickers: Complete Season 18 (History)
Ancient Aliens: Complete Season 4 (History)
Bob's Burgers: Season 9 Premiere (FOX)
El Clon: Complete Season 1 (Telemundo)
Escaping Polygamy: Complete Season 3 (Lifetime)
Family Guy: Season 16 Premiere (FOX)
Hoarders: Complete Season 9 (A&E)
Hunting Hitler: Complete Season 3 (History)
Intervention: Complete Season 20 (A&E)
Kingpin: Complete Season 1 (History)
Little Women: Atlanta: Complete Season 4 (Lifetime)
Little Women: LA: Complete Season 6 (Lifetime)
Married at First Sight: Complete Season 5 (Lifetime)
Nightwatch: Complete Season 3 (A&E)
The Simpsons: Season 30 Premiere (FOX)
Storage Wars: Complete Season 11 (A&E)
The Curse of Oak Island: Complete Season 5 (History)
Undercover High: Complete Season 1 (A&E)
Ace Ventura: Pet Detective (1994)
Ace Ventura: When Nature Calls (1995)
American Psycho (2000)
American Psycho 2 (2002)
An Eye for an Eye (1966)
Anaconda (1997)
Anacondas: The Hunt for the Blood Orchid (2004)
The Armstrong Lie (2013)
The Arrival (1996)
Barbie Presents: Thumbelina (2009)
Beacon Point (2017)
Bees Make Honey (2017)
Bitter Moon (1992)
The Blair Witch Project (1999)
The Blair Witch Project: Book of Shadows (2000)
Blue Steel (1989)
Bulletproof Monk (2003)
Call Me (1988)
Capture (2017)
Charlotte (2017)
Child's Play (1988)
Children of the Corn II: The Final Sacrifice (1992)
Cinderella Man (2005)
Closer (2004)
Cocaine Godmother (2017)
Comic Book Villains (2002)
Daddy Day Care (2003)
Dark Blue (2003)
Deadly Blessing (1981)
Death Wish 2 (1982)
Double, Double, Toil and Trouble (1993)
Election (1999)
Evangeline (2015)
Extreme Justice (1993)
Flyboys (2006)
Frank and Jesse (1994)
Frank & Johnny (1991)
Frida (2002)
Galaxy Quest (1999)
The Glass Shield (1994)
Gods and Monsters (1998)
Gordy (1995)
Guess Who's Coming to Dinner (1967)
Heist (2015)
Hot Tub Time Machine (2010)
The House of Spirits (1993)
How to Get Girls (2017)
Insomnia (2002)
Jayne Mansfield's Car (2012)
Jim Norton: Please Be Offended (2012)
Joe the King (1999)
Kicking & Screaming (2005)
Kicking and Screaming (1995)
The Long Riders (1980)
More than a Game (2009)
Mullholland Drive (2001)
Music and Lyrics (2007)
The Music Never Stopped (2011)
The Night We Never Met (1993)
No Vacancy (1998)
Once Bitten (1985)
The Others (2001)

Pawn Shop Chronicles (2013)
The Peacemaker (1997)
Pieces of April (2003)
Platoon (1986)
Prancer (1989)
The Presidio (1988)
The Prophecy (1995)
Raging Bull (1980)
Reasonable Doubt (2014)
Rec (2009)
Rec 2 (2010)
Rec 3 (2012)
Rec 4 (2015)
Robocop (1987)
Robocop 2 (1990)
Robocop 3 (1993)
Rust and Bone (2012)
Scary Movie (2000)
The Second Arrival (1998)
The Simone Biles Story (2018)
Six Weeks (1982)
The Son of No One (2011)
Split Image (1982)
Stage Beauty (2004)
Stand Up Guys (2012)
Starship Troopers (1997)
The Tailor of Panama (2001)
Texas Chainsaw Massacre II (1986)

Trees Lounge (1996)
Valley of the Dolls (1967)
The Way of the Gun (2000)
Wes Craven Presents: They (2002)
Wild Bill (1995)
Zombies of Mass Destruction (2010)
Available October 2
The Nightmare Before Christmas (1993)
Available October 3
Dheepan (2016)
Ma Ma (2015)
RBG (2018)
The Eye (2007)
Available October 4
Cardcaptor Sakura: Clear Card (Dubbed): Complete Season 1 (Crunchyroll)
The Real Housewives of New Jersey: Complete Season 8 (Bravo)
The Gospel According to Andre (2018)
Available October 5
Into The Dark: THE BODY: Series Premiere (Hulu Original)
La Diosa Coronada: Complete Season 1 (Telemundo)
The Real Housewives of Atlanta: Complete Season 10 (Bravo)
Station 19: Season 2 Premiere (ABC)
Superstore: Season 4 Premiere (NBC)
Will & Grace: Season 10 Premiere (NBC)
Available October 6
Child Support: Season 2 Premiere (ABC)
Dot.: Complete Season 2A (Universal Kids)
Fresh Off The Boat: Season 5 Premiere (ABC)
Speechless: Season 3 Premiere (ABC)
Lowlife (2018)
Pyewacket (2018)
Available October 8
Alguien Te Mira: Complete Season 1 (Telemundo)
Shark Tank: Season 10 Premiere (ABC)
Available October 10
Miles from Tomorrowland: Complete Season 3 (Disney Jr.)
What We Become (2016)
Available October 11
The Quest of Alaine Ducasse (2017)
Available October 12
Light As a Feather: Complete Season 1 Premiere (Hulu Original)
Available October 13
Blindspot: Season 4 Premiere (NBC)
Available October 14
Basilisk: The Ouka Ninja (Dubbed): Complete Season 1 (Crunchyroll)
The Miracle Season (2018)
Available October 15
The Alec Baldwin Show: Series Premiere (ABC)
Birthday Girl (2018)
Next Stop Wonderland (1998)
Available October 16
El Fantasma de Elena: Complete Season 1 (Telemundo)
Available October 17
Black-ish: Season 5 Premiere (ABC)
Splitting Up Together: Season 2 Premiere (ABC)
The Conners: Series Premiere (ABC)
The Kids are Alright: Series Premiere (ABC)
The Rookie: Series Premiere (ABC)
Available October 19
Darling in the Franxx (Dubbed): Complete Season 1 (Crunchyroll)
Available October 22
Available October 24
Overlord (Dubbed): Complete Season 2 (Crunchyroll)
Available October 25
Available October 26
Available October 27
Midnight, Texas: Season 2 Premiere (NBC)
Available October 29
Racer and the Jailbird (2018)