Suicide Squad Director Makes Admission About Jared Leto's Joker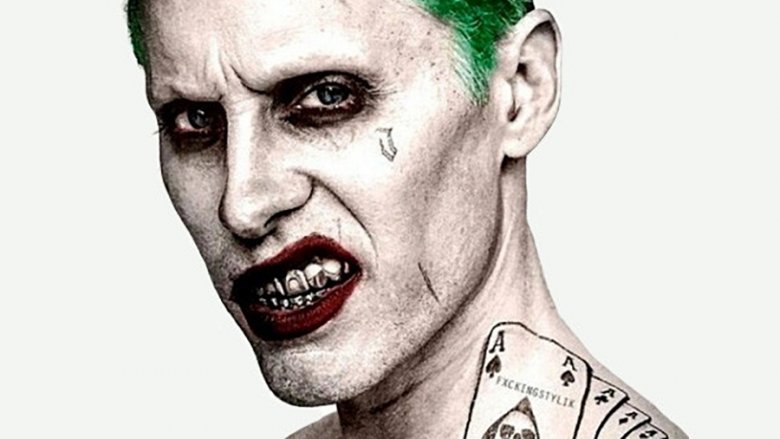 Filmmaker Todd Phillips and actor Joaquin Phoenix may be scurrying around New York City filming Joker, the gritty solo movie that will offer a brand-new look at the infamous DC Comics villain, but director David Ayer is still wrestling with himself over a choice he made when crafting 2016's Suicide Squad, which starred Jared Leto as a silver-toothed, perma-grinning, rubber glove-wearing Joker. 
While most fans couldn't really make sense of Leto's Joker in Suicide Squad, there was no arguing against the fact that the Clown Prince of Crime had a unique look in the movie — from his paper-white skin to his bright green hair to that eye-catching "damaged" tattoo scrawled across his forehead. Now, over two years after Suicide Squad's theatrical run, Ayer has confessed that giving the Joker that piece of ink was a mistake. 
A fan asked Ayer on Twitter about the tattoo, writing to him, "What was the inspiration behind [the] 'damaged' tattoo on Joker's forehead, was it your idea?" Ayer admitted that yes, it was his idea, but he regrets ever thinking of it in the first place. 
"Yes I have to fall on that sword. It was one step too far," he wrote.
Even after owning up to what he feels was an error, Ayer affirmed that he likes the tattoo, and gave an explanation as to why the Joker would have such a tattoo scribbled across his cranium. 
"In my mind it was meant for Batman after he smashed Joker['s] teeth for killing Jason Todd," tweeted Ayer. "Some people found it alienating. Originality and faithfulness to the canon are often at odds."
Ayer offered a similar explanation for the Joker's "damaged" tattoo around the time Suicide Squad launched in theaters. He told Empire in August 2016, "Joker killed Robin and Batman basically smashes his teeth out and locks him up in Arkham Asylum. It's in the asylum where Joker would have done the 'damaged' tattoo as a message to Batman saying, 'You've damaged me. I was so beautiful before and now you've destroyed my face.' That's where the grill comes from."
Those who have seen Suicide Squad know that these events don't play out in that exact order, but that's because, according to Ayer, the timeline was changed after shooting wrapped.
As it happens, Ayer has quite a few regrets about the decisions he made with Suicide Squad. Not only does Ayer wish he didn't ink an adjective on the Joker's forehead, but he also feels repentant about not making not making the character the main bad guy in the villain-centric ensemble film. 
The confession came after actor and producer Norman D. Golden II tweeted at Ayer, "Watched Suicide Squad the other night on HBO & genuinely enjoyed it. Critics are too much." Ayer casually sent back, "Yeah it was a big fun silly movie. It could have been a bigger success had I done it a little different. But it did great and made an impression."
But when another viewer jumped into the conversation, Ayer got even more candid. Twitter user @JoshDamage shared his opinion that Suicide Squad was better than Batman v Superman: Dawn of Justice — which belly-flopped with critics and featured an undeniably, uncharacteristically awful performance from Jesse Eisenberg as Lex Luthor — but the film could have been stronger if Ayer had made Joker the villain. 
Faced with that sincere and straightforward reaction to Suicide Squad, Ayer couldn't contain his feelings of regret. "Believe me. I agonize over this," he tweeted in response. "Yes. Joker should have been main bad guy."
These two concessions come after Ayer went public with his disappointment regarding how he shaped Suicide Squad shortly after the film opened in theaters. In January 2017, the director penned a lengthy post detailing what he wished he'd done differently, then shared a screenshot of the note on his Twitter page. 
"I know it's a controversial film, I really tried to make something different, with a look and a voice of its own. I took inspiration from the insanity of the original comics. Making a movie is a journey, not a straight line," Ayer wrote in part. "If you set out to make a mass appeal movie, it's easy to end up with vanilla. But I went for it. And I know Squad has its flaws, hell, the world knows it. Nothing hurts more than to pick up a newspaper and see a couple years of your blood, sweat and tears ripped to shreds."
He added, "Would I do a lot of things differently? Yep, for sure. Wish I had a time machine. I'd make Joker the main villain and engineer a more grounded story. I have to take the good and bad and learn from it ... I have to give the characters the stories and plots they deserve next time. Real talk."
At the end of the day, as divisive as Suicide Squad was (and still remains) and as many regrets as Ayer has about the movie, studios Warner Bros. and DC Films turned a massive profit, plenty of fans truly enjoyed the film, and Ayer crafted arguably the most unforgettable version of the Joker in the comic character's history. Like one fan so wisely told Ayer, "To plenty of moviegoers out there, that's their Joker. Have some swag about it."