What The Avengers Cast Looked Like As Kids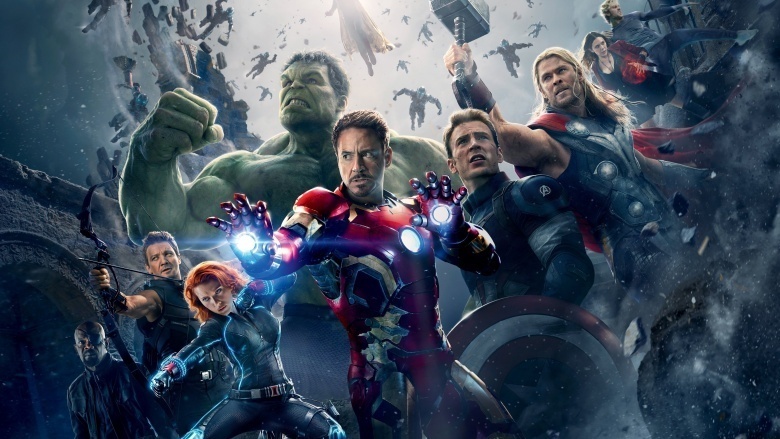 Ever wondered what the cast of The Avengers looked like before they became Earth's mightiest superheroes? If you pictured bowl cuts, braces and, in one unfortunate case, mullets, you wouldn't be too far off. We're bringing you a special S.H.I.E.L.D. dossier about their origins, back when they were fighting acne, '80s fashion trends, and bad haircuts.
Robert Downey Jr. - Iron Man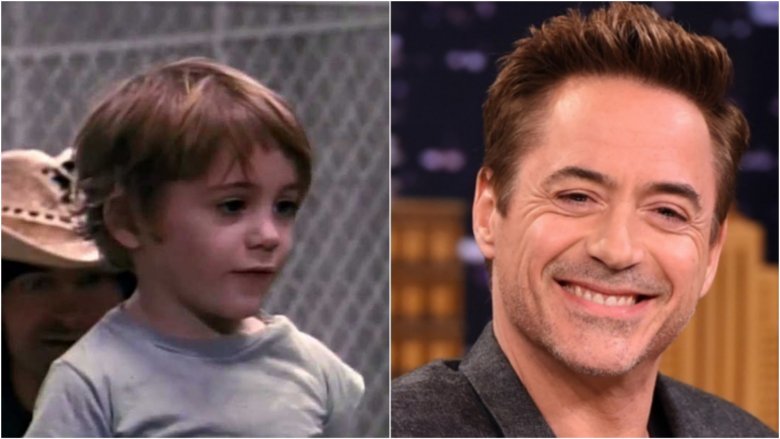 Then: Way back in the day, Robert Downey Jr. moved with his father to California, where he enrolled in Santa Monica High School. Among his classmates: oh, you know, Charlie Sheen, Sean Penn, and Rob Lowe.
Now: Robert Downey Jr. dropped out of high school before graduation, moving to New York to pursue acting. Despite a number of battles with addiction and run-ins with the law along the way, he has ultimately become one of the most successful and profitable actors in the business. In 2013, Downey Jr. confirmed that playing Iron Man has earned him about $50 million since 2008. His net worth today: an estimated $220 million.
Chris Evans - Captain America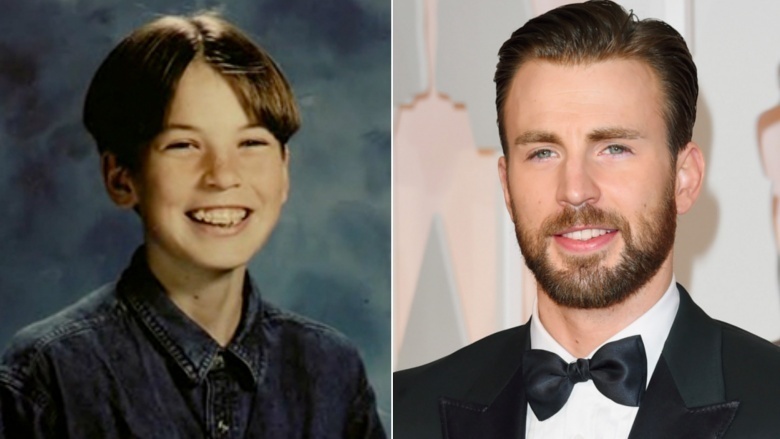 Then: Before he was one of Hollywood's most handsome men, Chris Evans was just a dorky middle school kid like the rest of us. Proof of this came on a 2011 episode of Late Night with Jimmy Fallon, during which Fallon surprised Evans with a bunch of his old yearbook photos. "It's so unacceptable," he said of his seventh grade photo. "I blame my parents completely. They knew every day this kid was walking out the door and they said, 'Good luck!'"
Now: Evans, of course, grew out of his braces and bowl cut to become the super-beefed-up Captain America. Incidentally, Evans told Jimmy Kimmel he actually turned down the role a few times before accepting, mostly out of fear for signing a multi-picture contract. He eventually changed his mind after talking to family and friends which, millions of dollars later, was clearly the right thing to do.
Scarlett Johansson - Black Widow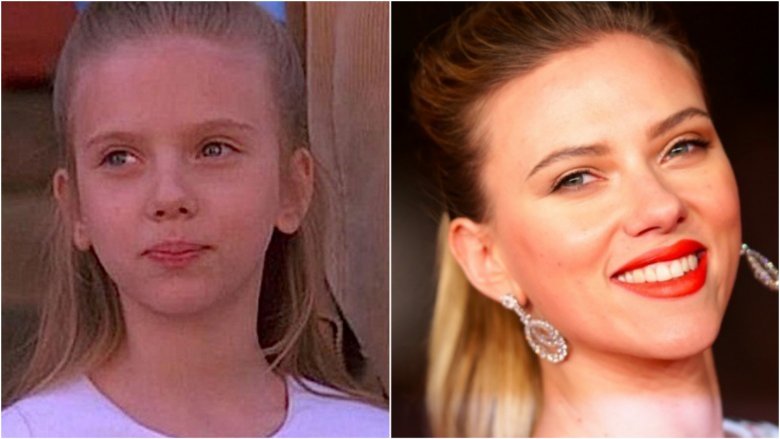 Then: Scarlett Johansson has been in the Hollywood biz since she was a child. Long before she became an agent of S.H.I.E.L.D., she made her feature film debut in the critically maligned comedy North and followed with roles in Home Alone 3 and The Horse Whisperer.
Now: ScarJo has enjoyed critical acclaim and box office success in the lead up to playing Black Widow, thanks to films like Lost in Translation. In recent years, however, Black Widow has been subjected to numerous criticisms on the Internet, many of which felt that her story arc in Avengers: Age of Ultron was sexist. "Everything that I've done with the Widow, to me makes sense," Johansson said to Entertainment Weekly in response to her character's critics. "It's in line with active decisions that I've made for the character."
Mark Ruffalo - Hulk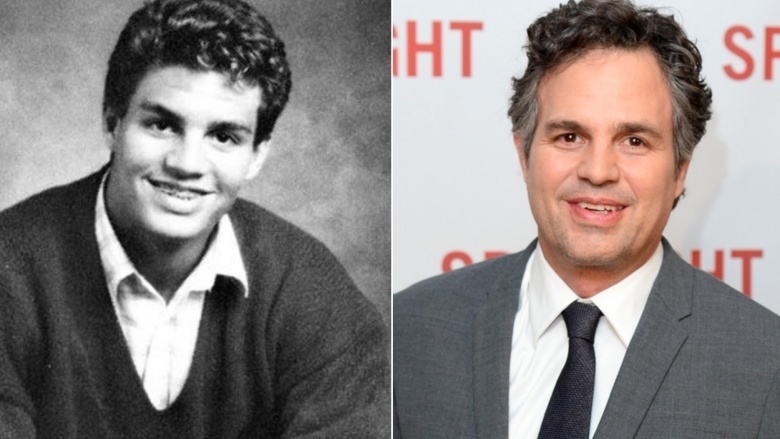 Then: The son of a construction painter (and a wrestling champion), Mark Ruffalo actually competed in wrestling tournaments throughout high school. He eventually gave it up to pursue acting his senior year in high school.
Now: After starring in critically acclaimed movies for years, Ruffalo entered the Avengers universe in 2010 when he was cast to play The Hulk. Fans have been hoping for a stand-alone Hulk movie ever since. However, Ruffalo told Yahoo in 2015 we probably won't see one for awhile, mostly because of tense studio relations between Marvel and Universal. "I know for a fact that everyone is holding out hope that one day we can do it. But the nature of the relationship right now, it's a little prohibitive. And I hope that that changes...but right now it doesn't look particularly promising." It's okay, Dr. Banner—your high school pics didn't look promising, and you turned out just fine!
Jeremy Renner - Hawkeye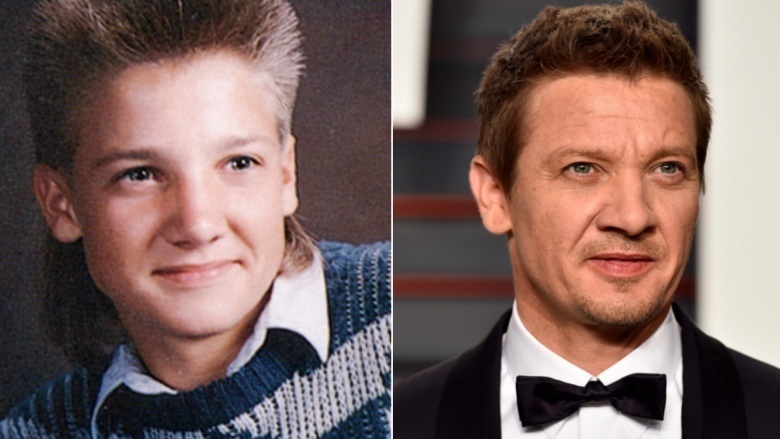 Then: Before Renner dove into acting, the California native was actually considering a career in computer science. "I went to college studying computer science," he said recently in a Reddit AMA. What stopped him? "My personality didn't fit behind a computer or tearing apart a computer...I looked around at everybody I was with and realized I had nothing in common with those people. But I was good at computers." Thank goodness he lost the mullet, got off the computer, and picked up a bow.
Now: Renner rose to fame in the late 2000s thanks to back-to-back Oscar nominations (for The Hurt Locker and The Town, respectively), before landing the role of Hawkeye. Despite his fame on the big screen, Renner admitted that Netflix's success with Daredevil and Jessica Jones actually has him interested in a Hawkeye series. "I think that's actually a really great model, if there's ever a way to explore the character, maybe it's in that world," he said (via EW). "These are things that are really not in my control, but I'd be open to it." We'd love to see a Hawkeye Netflix series starring Jeremy Renner.
Samuel L. Jackson - Nick Fury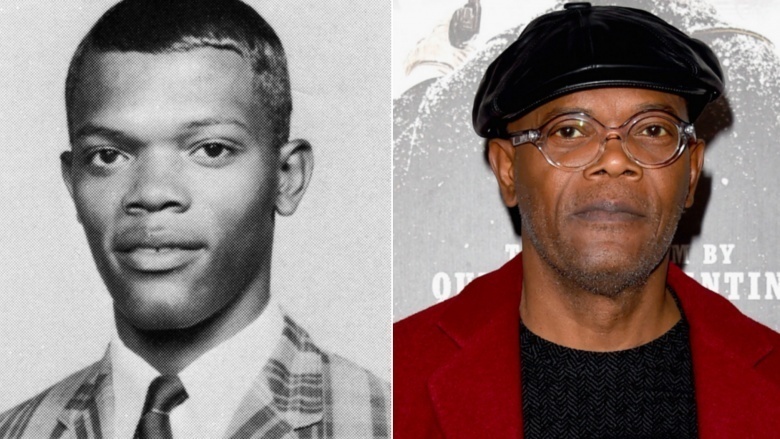 Then: Jackson grew up in Chattanooga, Tennessee and went on to study at Morehouse College in Atlanta. Jackson told Parade magazine he fell in with the "radical faction" of the Civil Rights movement while at Morehouse, until the FBI came to his mother's house and allegedly made threats. He ultimately traded politics for acting when he returned to Morehouse in 1971.
Now: Samuel L. Jackson's illustrious career speaks for itself. Jackson currently plays Nick Fury in the Avengers movies. He's also showing no signs of slowing down, with memorable roles in other recent movies such as The Hateful Eight and Kingsman: The Secret Service. Can we get a S.H.I.E.L.D. prequel movie with Nick Fury, Black Widow, Agent Coulson, and Hawkeye please?
Elizabeth Olsen - Scarlet Witch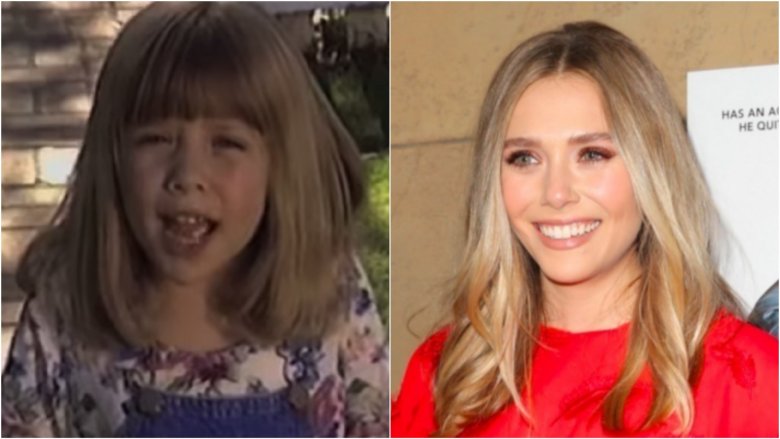 Then: As a youngster, Elizabeth Olsen dove right into the acting business by appearing in a few projects starring her insanely famous sisters, Mary-Kate and Ashley. Elizabeth told The Guardian she "retired" from acting at age 10, only to pick it up when she studied the craft at New York University.
Now: Olsen's big breakout came in 2011 when she starred in the cult-family drama Martha Marcy May Marlene. After a brief cameo in Captain America: The Winter Soldier, Olsen made her official big Marvel debut as Scarlet Witch in Avengers: Age of Ultron. Does she have any plans to star in her own solo Avengers movie? Not exactly. "I love my character, I just don't know how that would fit in the whole Marvel universe or if it would even be necessary," she told Business Insider in 2015.
Paul Rudd - Ant-Man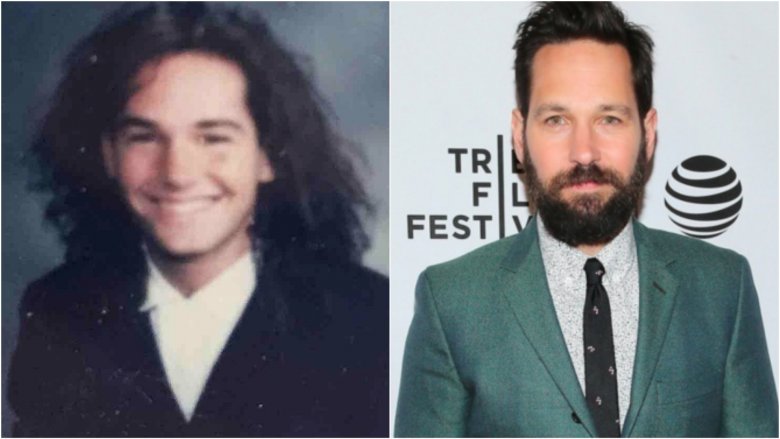 Then: Long before he became Ant-Man, Paul Rudd was just another long-haired frat boy at the University of Kansas. While in college, Rudd—who pledged to Sigma Nu—actually became friends with Mad Men star Jon Hamm in Kansas City, where they both grew up. Before they became friends, Rudd and Hamm were both feuding over the same girl, according to Vanity Fair.
Now: While promoting Ant-Man in 2015, Rudd said that he'll never lose sight of his roots. "I've lived in New York City twice as long as I ever lived in Kansas. And yet, Kansas was where those formative years of school and high school and college were that registered for me..." he told The Kansas City Star. "Kansas City is a reminder to me of who I am, where I come from, my friends that are my friends way before I ever started doing this as a job. It makes me feel a little sane." Here's to hoping Ant-Man plays a major role going into the future phases of the Marvel Cinematic Universe.
Chris Hemsworth - Thor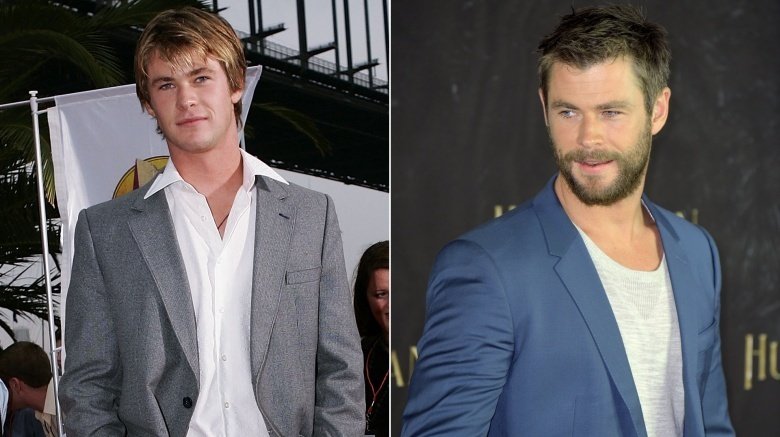 Then: Born in Melbourne, Australia, Hemsworth spent his youth moving between the city and the Outback. "My earliest memories were on the cattle stations up in the Outback, and then we moved back to Melbourne and then back out there and then back again," he told Film Festival Traveler. "Certainly most of my childhood was in Melbourne but probably my most vivid memories were up there in Bulman with crocodiles and buffalo. Very different walks of life."
Now: After scoring early roles on Guinevere Jones and Neighbours, Hemsworth landed a long-running stint on the Australian serial Home and Away. Nearly 200 episodes later, he left to make a break for Hollywood, where he found fast success: a brief appearance in the Star Trek reboot led to a quick series of roles culminating in his coronation as the MCU's mighty Asgardian. Since soaring to superstardom as Thor, Hemsworth has continued to book a variety of roles, from dramas like Rush to comedies like Vacation and the Ghostbusters reboot.
Paul Bettany - Vision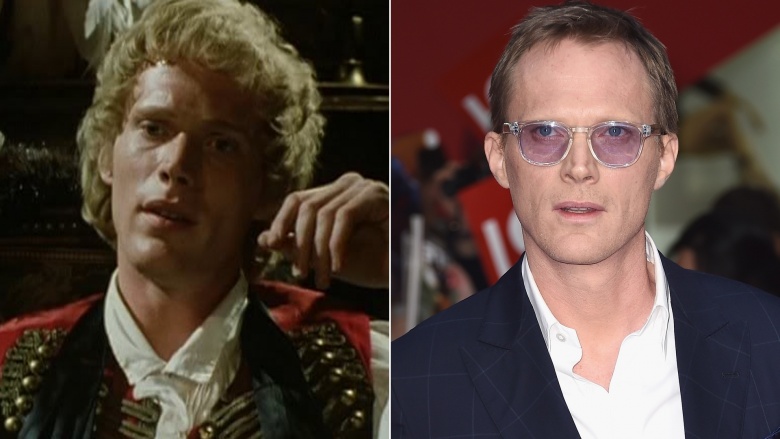 Then: Bettany took the long road to Hollywood, spending a period subsisting as a street performer after a family tragedy led to him leaving home in his teens. At 19, he enrolled in a drama course at the Drama Centre in London, which led to roles in a series of stage productions—and his screen debut in a 1994 episode of the British crime drama Wycliffe.
Now: Bettany's gifts quickly caught the eye of a number of directors, and after earning acclaim for his work in the 2000 British film Gangster No. 1, he picked up roles in A Knight's Tale, A Beautiful Mind, and Master and Commander: The Far Side of the World. He made his MCU debut as the voice of Tony Stark's AI assistant J.A.R.V.I.S. in Iron Man before being brought fully online as the Vision in Avengers: Age of Ultron. Surprisingly, Bettany told Business Insider that just moments before getting the call from Age of Ultron director Joss Whedon, he'd been told by a producer that he'd never work in Hollywood again: "I sort of looked up to heaven and thought karma's very quick these days," he recalled, "and [I] flipped the building behind me the finger." Aside from his busy on-camera life, Bettany has branched out behind the scenes, writing and directing the 2014 drama Shelter—starring his Oscar-winning wife, Jennifer Connelly.
Sebastian Stan - The Winter Soldier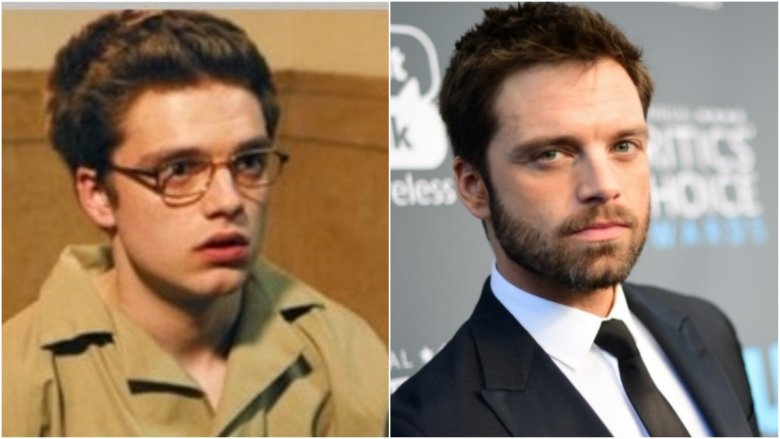 Getty Images
Then: Sebastian Stan was born in Romania and spent his early childhood moving from place to place until his family decided to put down roots in Rockland, New York, which couldn't come quick enough for the 12-year-old. "You want to be like everybody else, you know, fit in," he told Nylon. "There was a time when I was switching schools just about every year until I landed in Rockland."
He knew back then that he enjoyed performing ("I loved doing impressions at gatherings for family friends or whoever was around"), but it wasn't until his sophomore year of high school that he began dreaming of a career in acting, encouraged by his drama teacher. "Those days jump-started everything," he said.
Now: Stan's first proper role was on a 2003 episode of Law & Order, in which he played a deranged teenage killer. His breakthrough came in 2007 when he landed the part of Carter Baizen in Gossip Girl, but he still had eyes for the big screen and decided to get in touch with Marvel. He sent the studio an audition tape and — after a successful screen test — was offered a nine-picture deal portraying Bucky Barnes. That wasn't the role he was going for, however.
"At the time, I was auditioning for the actual Captain America role," he told MTV. "So I screen tested for that role. Usually with screen tests, you can be very nervous, the stakes are high. But this one was actually really chilled out."
Tom Holland - Spider-Man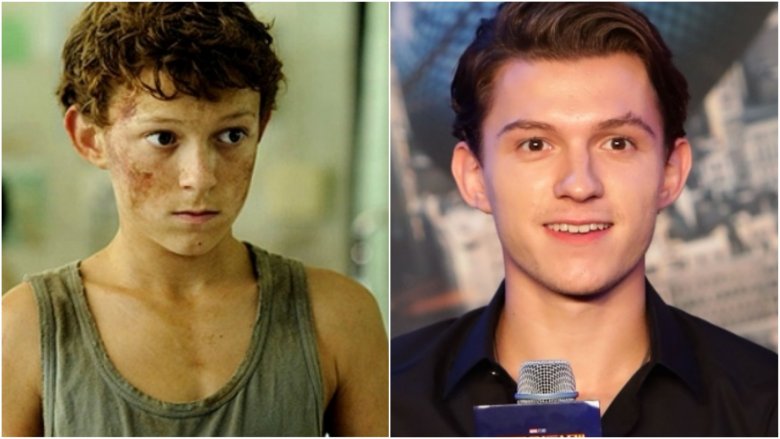 Getty Images
Then: Back when he was a pre-teen, British actor Tom Holland was a member of a street dance club. When the club performed at a local ballet school, the headmaster saw something special in him and suggested that he audition for Billy Elliot, a musical about an inner-city child fighting for his right to dance. Sadly, after winning the part, his real life began mirroring the story.
"I had my rough patches," he told People. "There was times when I was bullied about dancing and stuff, but you couldn't hit me hard enough to stop me from doing it." Holland's resilience paid off, as his work on stage wound up winning him his breakthrough role in 2012 tsunami survival flick The Impossible. Naomi Watts (who played Holland's mother in the movie) called him an "unbelievable talent."
Now: Hollywood clearly agreed with Watts' assessment of Holland's abilities. His stock continued to rise after accomplished performances in How I Live Now and In the Heart of the Sea, and before long Marvel had confirmed him as their new Peter Parker, though they did so in a pretty unconventional way.
"I had been auditioning for about five months, and after my final audition they said, 'You'll find out tomorrow.' Fast forward six weeks, I was still waiting," he told Ellen. "One day Marvel just posted on their Instagram, 'Go to our website to find out who the new Spider-Man is.' And that's it, I just found out online!"
Chadwick Boseman - Black Panther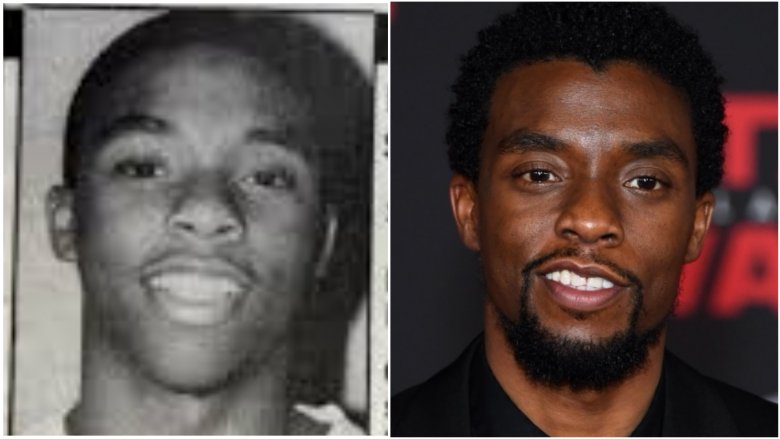 Getty Images
Then: Chadwick Boseman grew up in Anderson, a small town in South Carolina. He has a huge family, who helped him to deal with what he called the "complications" of living in the South and encouraged him to explore his creative side. "My mom put me in art classes in the summer," he told Garden & Gun. "When I started down this creative path, my point of view was as a director and a writer because I understood painting pictures with words and framing." While he did go on to direct some shorts in later life, his first gig was as an actor, guest-appearing in ABC daytime drama All My Children in 2003.
Now: Boseman's break came a decade later when he played Jackie Robinson, the first African-American in Major League Baseball. 2013's 42 was a hit with critics, and Bosemen went on to wow them further when he channelled James Brown in Get on Up the following year. Celebrating his heritage has been a running theme in Boseman's career to date, and he approached Marvel's African king T'Challa with the same mindset, insisting that the character have an African accent.
"At one time they were thinking he'd have a European accent or an American accent," Boseman told the Los Angeles Times. "I said that would not be fine because if we did that, that would be saying that they had been colonized. That was something that I wanted to make sure happened, that we stuck to that in the character."
Josh Brolin - Thanos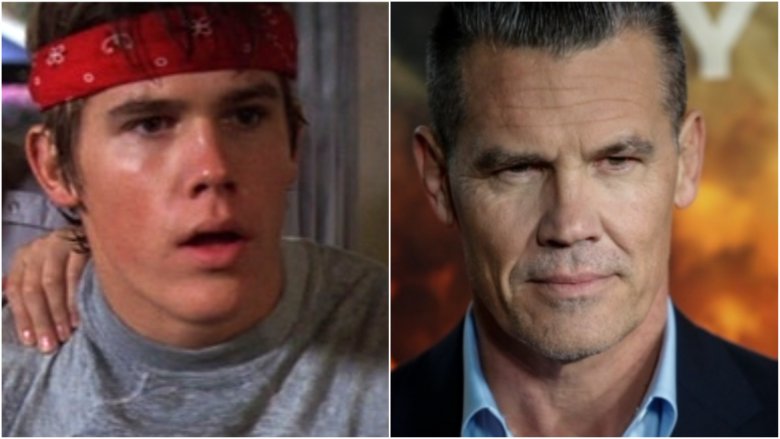 Getty Images
Then: Josh Brolin made his debut in 1985 cult classic The Goonies, helping his little brother Mikey (Sean Astin) locate a legendary treasure and ultimately save their home from foreclosure. Away from the cameras, however, Brolin wasn't one of the good guys — he was robbing cars to pay for heroin with his buddies from the Cito Rats. "You either had the children of rich, neglectful parents or children of poor, neglectful parents, so it was a mix," he said of the Santa Barbara-based surfer gang. "Most of those guys I grew up with, they're all dead now." Thankfully, he managed to get back on the straight and narrow when his partner at the time fell pregnant.
Now: Roles began to slowly dry up for Brolin and he almost quit the acting game for good after teaching himself how to predict the stock market — he made himself a lot of cash, according to The Guardian. But his belated breakthrough as an adult actor finally came in 2007 when he starred in No Country For Old Men and then followed it up with an Oscar-nominated performance in 2008's Milk.
According to Brolin, he was offered the part of Thanos in the MCU based on a recommendation from Marvel Studios co-president and long-time friend Louis D'Esposito. "When I first said yes, they sent me so much frickin' research," he told IGN. "I was in the middle of doing Everest, and I was focusing more on Thanos than I was on Everest."