GLOW Renewed For Season 3 On Netflix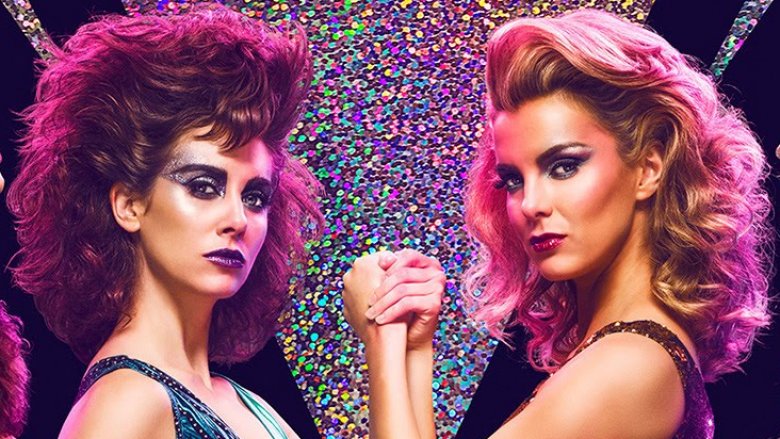 Netflix
Contains spoilers for GLOW season 2
The Gorgeous Ladies of Wrestling are going a third round in the ring. 
Netflix announced on Monday, through the series' official Twitter account, that it had renewed the acclaimed comedy drama GLOW for a third season. 
"Did you think we'd GLOW to Vegas without you? Let's do this," the season 3 announcement tweet reads. Included in the caption was the news-appropriate hashtag #GLOWS3 and a flexed biceps emoji. The video itself stitched together various different moments from the series when characters said the word "three," ultimately leading to the confirmation that another season is currently in the works.  
Starring Alison Brie as Ruth Wilder (a.k.a Zoya the Destroya) and Betty Gilpin as Debbie Eagan (a.k.a Liberty Belle), GLOW centers on the lives of a group of women hoping to make a splash in Hollywood through director Sam Sylvia's (Marc Maron) blossoming all-female professional wrestling program, which is also titled GLOW. 
Where the freshman season of the series tracked the rise of the show within the show, ending with the gals taping an episode that saw Ruth's Zoya and Debbie's Liberty Belle going head to head, the second season chronicled the hardships they faced in trying to push GLOW off the ground. From sexual harassment to prejudice to infighting to people who are just plain rude, the obstacles they had to overcome were abundant. 
However, things actually wrapped up on a high note on the season 2 finale, when strip club chain owner Ray (Horatio Sanz) offered to take GLOW to Las Vegas. The Gorgeous Ladies in Sin City, filming their GLOW shows at the Riviera? Sign us up. 
Having dropped its glowing (pun definitely intended) second season, which critics raved is "fearlessly led by its excellent ensemble" and "adds a new layer of drama without sacrificing its self-effacing, delightfully silly humor," back in June of this year, GLOW successfully skirted around the sophomore slump and swung for the fences in hopes for a third turn. With season 3 now officially underway, it looks like the only way for GLOW to go is up. 
Did you think we'd GLOW to Vegas without you? Let's do this. 💪 #GLOWS3 pic.twitter.com/tZhWzOJGHu

— GLOW (@GlowNetflix) August 20, 2018