Charlotte Rae, The Facts Of Life Actress, Dies At 92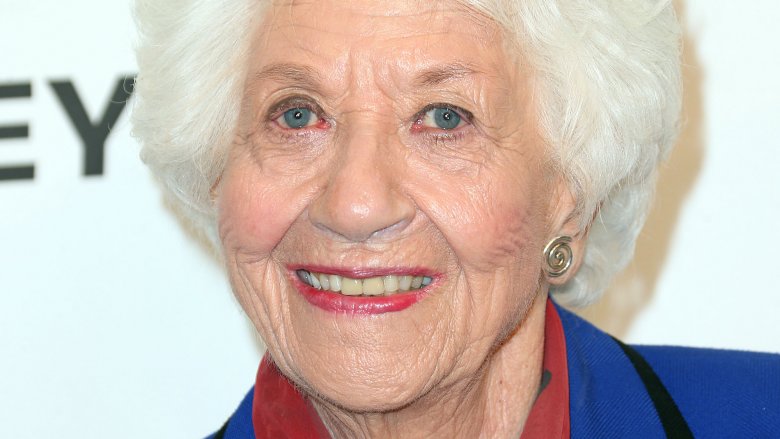 Getty Images
Charlotte Rae, the actress who played Mrs. Garrett on the sitcom The Facts of Life, has died. Rae's publicist, Harlan Boll, announced news of her passing, which The Hollywood Reporter confirmed. A cause of death wasn't immediately noted. She was 92 years old. 
Rae got her first television break starring as Sylvia Schnauser on Car 54, Where Are You? She then headed for Broadway, starring in Pickwick; Morning, Noon and Night; and Queen of the Stardust Ballroom — which earned her an Emmy nomination. 
The actress then shot into mainstream fame in 1978, landing the role of Edna Garrett on Diff'rent Strokes, a role she reprised in the spin-off series The Facts of Life. The series centered around a group of teenage girls at a prestigious boarding school in New York; Rae's Mrs. Garrett served as their no-nonsense house mother.
Rae told the Spartanburg (S.C.) Herald (via THR) that she tried to make Mrs. Garrett more than just a character. "I want to bring in as much humanity as possible, as well as the humor," said Rae. "I've tried to make her a human being with dimensions. The way they write her now is with a great deal of sensitivity and understanding. But I don't want her to be Polly Perfect, because she must have human failings and make mistakes ...  I wanted to be firm with the girls because I know it's important ... They must learn to stand on their own two feet."
Eight years after The Facts of Life launched, Rae left the show, citing health issues. Cloris Leachman replaced her. 
But health concerns didn't keep her away from the small screen entirely. She held guest roles on ER, The King of Queens, Pretty Little Liars, and Sisters. Rae also appeared in films like Tom and Jerry: The Movie, Don't Mess With the Zohan, Love Sick Love, and Ricki and the Flash.
Rae's other television credits include All in the Family; Barney Miller; Good Times; Love, American Style; McMillan & Wife; and The Partridge Family. She also lent her voice to Nanny on the animated show 101 Dalmatians: The Series, released a memoir entitled The Facts of My Life, and recorded an album in 1955, titled Songs I Taught My Mother.
Rae is survived by her son Larry, daughter-in-law Eleanor, sister Miriam, and grandchildren Sean, Carly, and Nora. She was preceded in death by her son, Andrew, in 1999. 
Our thoughts are with Rae's loved ones during this difficult time.