Who Plays Janice Anderson On Chicago Med?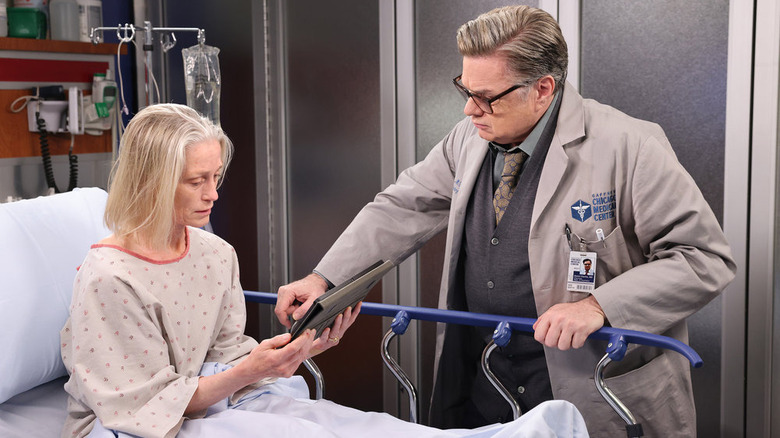 George Burns Jr/NBC
The Season 8 finale of "Chicago Med" was a wild ride for fans. The finale included several unforgettable moments, including a car accident that not only nearly had homicidal intentions but also revealed some major medical issues in the process. Janice Anderson was one of the people involved in the unfortunate event that escalated dramatically at Gaffney Chicago Medical Center, and after watching her performance in "Does One Door Close and Another One Open?," some viewers may be wondering which actress was responsible for playing the character on the NBC medical drama.
In the entry, Janice Anderson was medevaced from a car crash and accused her husband of causing the accident before learning the wreck resulted from his rare neurological disorder and found out the biopsy she kept secret was negative, all in the same day. It was quite a roller coaster ride of emotions for the "Chicago Med" patient, and the person responsible for portraying someone going through such an ordeal on screen was Jessica Tuck. Besides the "One Chicago "gig, the actress has made numerous appearances in various TV shows and movies throughout her career. Some of Tuck's bigger claims to fame include portraying a vampire rights activist named Nan Flanagan in the HBO series "True Blood." Other standouts on her resume include roles like Christian Francis on "For All Mankind," Viv on the series "Upload," and Gillian Gray in 138 episodes of "Judging Amy." She has also done a few movies like "Super 8" and "High School Musical 3: Senior Year." While her credits are impressive, there is one realm of television that the actress has excelled at, and it also involves her being at the center of the drama in a dire medical situation.
Soap Opera star Jessica Tuck isn't afraid of dying on camera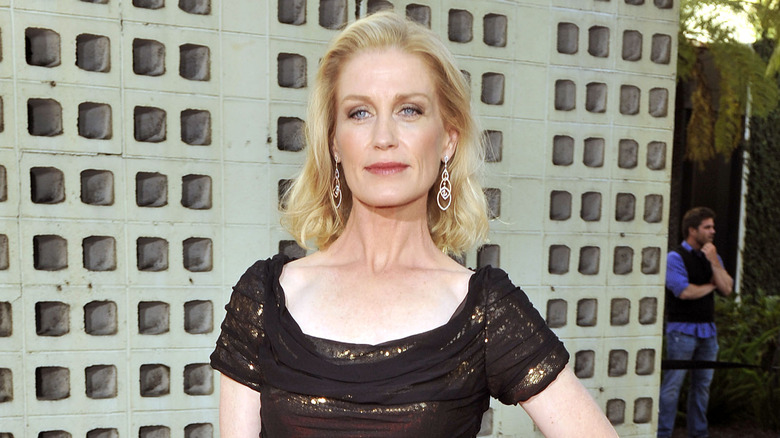 Toby Canham/Getty Images
While Jessica Tuck certainly got people's attention in her "Chicago Med" entry, she has been entertaining soap opera audiences with plenty of drama for decades, lending her superior skill set in this department to a number of some of the genre's heavy hitters. Tuck's work in this field includes 25 episodes of "Days of Our Lives" as Madeline Peterson Woods and 36 episodes of "General Hospital" as Cassandra Pierce. But her most notorious soap opera endeavor has to be her time on "One Life to Live." Tuck played Megan Gordon in 134 episodes of the series, where she was nominated for a Soap Opera Digest award for Outstanding Female Newcomer — Daytime in 1990 and a Daytime Emmy Award for Lead Actress in 1992.
While she had several worthwhile experiences playing the character, the most influential endeavor she arguably pulled off as Megan was her character's death due to complications surrounding several medical issues, including lupus. Despite being a sensitive subject matter for some, Tuck had a good reason for showing the untimely demise onscreen instead of the usual off-camera death. "I knew that I was going to leave the show, and I was not afraid of dying on camera," the actress said in an interview with Soaps in Depth. "I felt like they could use it as an opportunity to inform people about an autoimmune disease that wasn't necessarily understood."
The soap opera star is no stranger to pulling off emotionally driven scenes in medical drama situations, and it seems safe to point out that Tuck rarely disappoints playing a believable patient, whether it be doing so in a long-running soap opera or a popular NBC series like "Chicago Med."