Nicolas Cage's The Surfer - Everything You Need To Know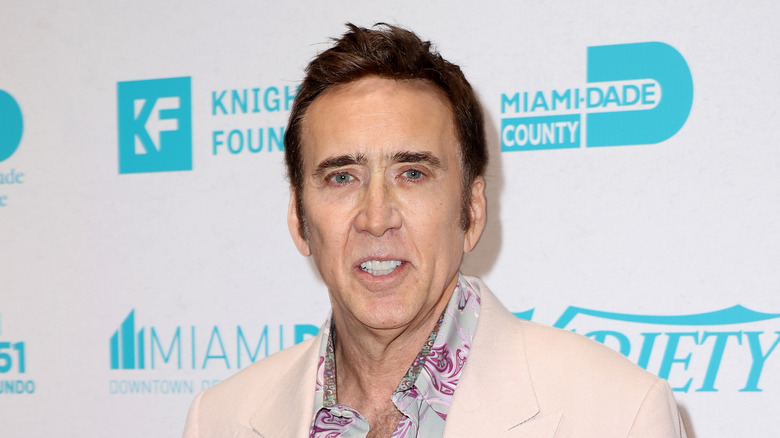 Alexander Tamargo/Getty Images
Nicolas Cage is continuing his string of high-concept action thrillers with one set in the world of surfing, according to The Hollywood Reporter. It's called, simply enough, "The Surfer," and promises to combine an artisanal blend of tubular waves, Cage mega-acting, and revenge.
If "The Surfer" satisfies, it could be the first surfing-adjacent action movie classic since "Point Break," and with Cage in the mix, it certainly seems to be shaping up as a project worth keeping an eye on. It also might be considered part of the subgenre known as "surf noir," established by the literary works of author Kem Nunn, who wrote "Tapping the Source" and "Chance." Notably, Chance was later turned into a Hulu original series starring Hugh Laurie — and which doesn't actually contain any surfing, but surf noir is more about the vibe than the act itself.
That's all speculation, though. Here's everything you actually need to know about "The Surfer" at this point.
When will The Surfer be released?
LaCameraChiara/Shutterstock
"The Surfer" doesn't have a release date as of yet, and filming on the project isn't set to begin until September of this year, on the coast of Australia. Hopefully, there won't be too long a wait after principal photography concludes and a release date is announced. That gives you plenty of time to catch up on some surf classics as well as any Nicolas Cage essentials you might have missed. Although, somewhat surprisingly, The Hollywood Reporter states this is Cage's first time playing a surfer, so there's not any overlap between those two movie categories to speak of — which is just another reason to look forward to "The Surfer."
"The Surfer" will be produced by a corporate partnership of Sculptor Media and Raven known collectively as Mossbank. Other Mossbank titles on the horizon include "Black Files" starring Sean Penn and Tye Sheridan, "Thug" starring Liam Neeson, and "Elevation" starring Anthony Mackie.
What is the plot of The Surfer?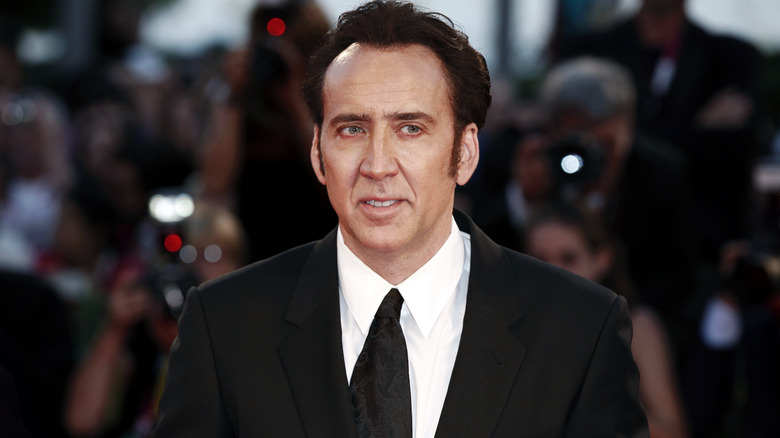 Andrea Raffin/Shutterstock
"The Surfer" is very early in production, but its plot synopsis is pretty intriguing and should prime select fans for more, particularly those who are following the most recent works of Nicolas Cage. Per THR: "In 'The Surfer,' when a man (Cage) returns to his beachside hometown in Australia, many years since building a life for himself in the U.S., he is humiliated in front of his teenage son by a local gang of surfers who claim strict ownership over the secluded beach of his childhood." 
So he decides to go back to his home peaceably and without further conflict. Just kidding! The synopsis goes on: "Wounded, 'The Surfer' decides to remain at the beach, declaring war against those in control of the bay. But as the conflict escalates, the stakes spin wildly out of control, taking 'The Surfer' to the edge of his sanity."
In a just world, the one-line summation "Cage faces off against a violent surfer gang" would be enough for box office success. Time will tell whether that ends up being the case when "The Surfer" arrives in theaters.
Who is starring in The Surfer?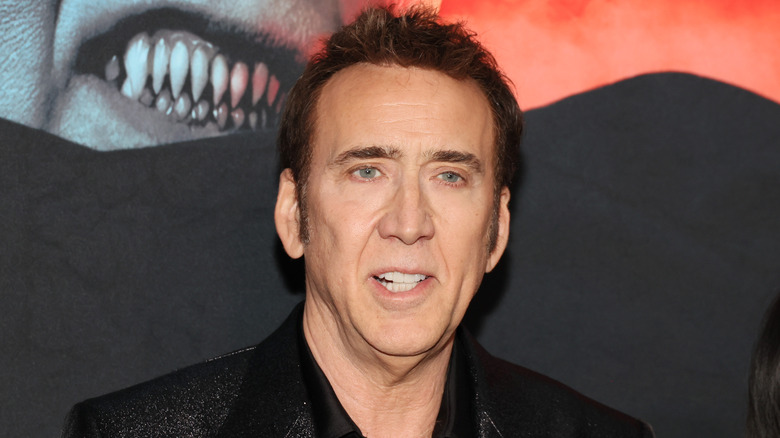 Dia Dipasupil/Getty Images
The Hollywood Reporter has the scoop that Nicolas Cage has signed onto "The Surfer." Cage's starring role in "The Surfer" comes on the heels of his most recent offering, 2023's "Renfield," which found the Academy Award winner playing the iconic vampire, Dracula. While "The Surfer" is quite a departure from that role, it fits in well with Cage's already eclectic filmography. 
As to who else might be joining him in the cast, that remains to be reported. According to the IMDb page for "The Surfer," Cage is the only actor currently listed as starring in the film. With filming set to commence sometime in September, the movie is likely still being cast, so time will tell who else will join Cage on the beaches of Australia.
Who is directing The Surfer?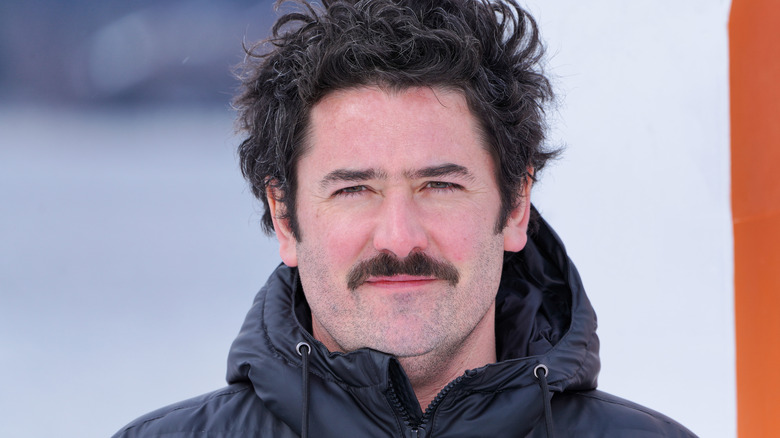 Sylvain Lefevre/Getty Images
"The Surfer" will be directed by Lorcan Finnegan, who most recently directed "Nocebo" starring Eva Green. Other credits in Finnegan's filmography include the horror movie "Without Name" and the twisty mystery/horror, "Vivarium" starring Imogene Poots and Jesse Eisenberg. Given the sinister subject matter of all three movies, it's clear to see "The Surfer" as fitting neatly into Finnegan's filmography. This will be his first time working with Nicolas Cage.
As to how Finnegan will approach the project, we don't have too much information on that yet. But he did take to Twitter for a brief post about the upcoming film, quote-tweeting The Hollywood Reporter's story on Cage's casting with the caption "This will be an adventure," followed by emojis for surfing and the Australian flag. Filming Nic Cage battling Australian surfers for control of a stretch of beach certainly qualifies as an adventure by most standards, and it will be exciting to see how this one turns out. 
Who is writing and producing The Surfer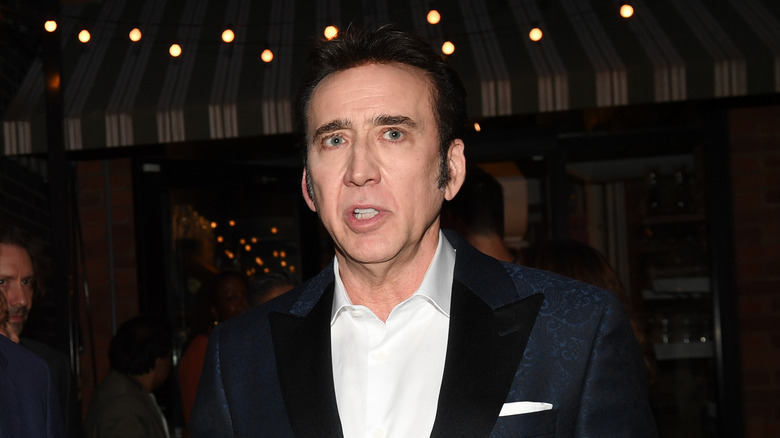 Sonia Recchia/Getty Images
"The Surfer" will be based on a script by a writer named Thomas Martin. Martin's IMDb page shows only one feature film credit: a movie called "White Widow," which hasn't yet been released. But he has a handful of other writing credits, including episodes of TV shows like "Raw," "Ripper Street," and "Tin Star."
In addition to the aforementioned executive producer Sam Hall, "The Surfer" will reportedly also have Robert Connolly of Australian company Arenamedia handling production duties, along with Leonora Darby, James Harris, and Mark Lane of Tea Shop Productions. Nathan Klingher is another producer, and Apur Parikh, Josh Harris, Ford Corbett, and Mark Fasano of Gramercy Park Media will executive produce. Hall is joined on the project as Mossbank by fellow EP Michael Rothstein.
"We're incredibly excited to be working with Lorcan, Thomas, Arenamedia and Tea Shop on such a visceral and unique thriller," said Hall.