Al Ewing Talks What's Coming Next In Heralds Of Apocalypse & X-Men Red - Exclusive Interview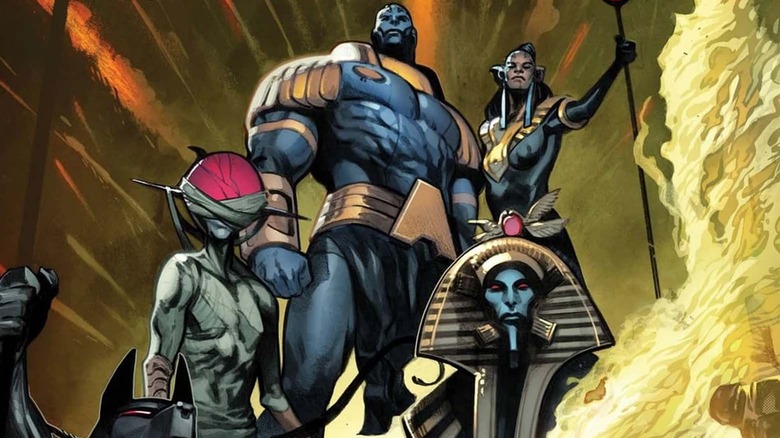 Marvel Comics
Apocalypse is returning to Marvel Comics in a significant way this summer. The longtime X-Men villain (who appeared in live action in "X-Men: Apocalypse") will make his much-anticipated return to the Marvel Universe in the upcoming "X-Men: Before the Fall — Heralds of Apocalypse" one-shot by Al Ewing and Luca Pizzari. 
Spinning out of the events of "X of Swords" and leading into "Fall of X," the story will see Apocalypse make his way back to Krakoa following his imprisonment in the dangerous world of Amenth after he sacrificed himself to save the mutants of Arrako. On Amenth, Apocalypse was reunited with his wife, Genesis, and his children, who were the original Four Horseman. However, they haven't been seen for some time.
"X-Men: Before the Fall — Heralds of Apocalypse" #1 will answer some critical questions about the whereabouts of Apocalypse and his family and how they survived and possibly ruled Amenth, and it will see the mutant return to his homeland. We spoke with Ewing about what readers can expect in the series and how Apocalypse's return will send seismic waves across Krakoa and lead into the "Fall of X" shakeup coming to the X-Men in the Marvel Universe.
Apocalypse is returning to the X-Men Universe with some reinforcements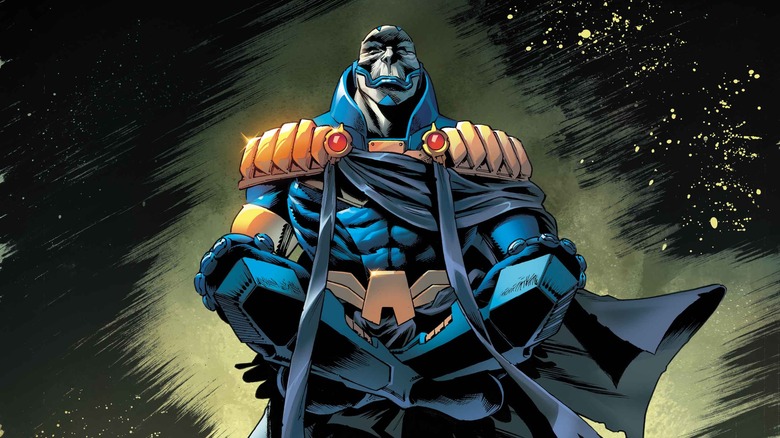 Marvel Comics
Where does this book find Apocalypse and his family since they were last seen in "X of Swords"?
Picking up from there, after some time has passed — in fact, we catch a glimpse of what they've been up to since, which is re-establishing themselves in Amenth. But we also get a look at times before — we get a good look at what Okkara was like before Annihilation, and what Apocalypse and Genesis were like then. We also get a better look at certain events from the earliest days of the war — events that have been held back until now.
Apocalypse refers to himself as a Revelator. What does that mean for his current role in the Marvel Universe and his relationship with Genesis?
The original meaning of Apocalypse is "revelation" — but as language and meaning evolved, the meaning of the word changed. Similarly, Apocalypse's thinking has evolved after his time as part of the Krakoan era and after rescuing Arakko from Amenth and Otherworld. He's fulfilled the original mission that was given to him by Genesis — now he's got a new one. Whether that's a good thing for Planet Arakko, Earth, or mutantkind in general ... well, we'll see. 
As for his relationship with Genesis, we learn a lot more about it over the years, and where it's going now. I will say that they've got a love that's maybe not easily understood from the outside, and not easily survived if they happen to see you across the bar and like your vibe. When you're dealing with mutant power and history on that scale, what might seem like small differences of opinion to them could have world-destroying consequences to the people caught between them.
What has he learned during his time on Amenth?
The "survival of the fittest" doctrine he's been hewing to all these years is no longer enough for him. What does that mean in practice? We'll find out, but it's not going to make him any cuddlier.

How will these events tie into "X-Men Red"? How will Ororo and Apocalypse interact now?
I could walk you through the whole story, but I think you'd rather read it in print. Let's just say that once Apocalypse meets Storm, they've both got plenty to talk about ... and so do the new friends Apocalypse brings to the party with him.
Will the Quiet Council welcome him back? He last promised he would see the mutants on Krakoa again. Are they surprised to see him? What does he make of the changes among the Quiet Council?
I'm going to answer these questions with more questions — where does the White Sword and his Hundred fit in? What about Isca the Unbeaten? What became of the Daemon Hordes until recently under Annihilation's control? Or the golden helm itself — is it adjusting well to life as a staff? And never mind the Quiet Council welcoming Apocalypse — does the Great Ring welcome Genesis? I'm not going to answer those questions either, obviously, but "Heralds of Apocalypse" and ongoing issues of "X-Men: Red" absolutely will.
How Apocalypse's return impacts Marvel's mutants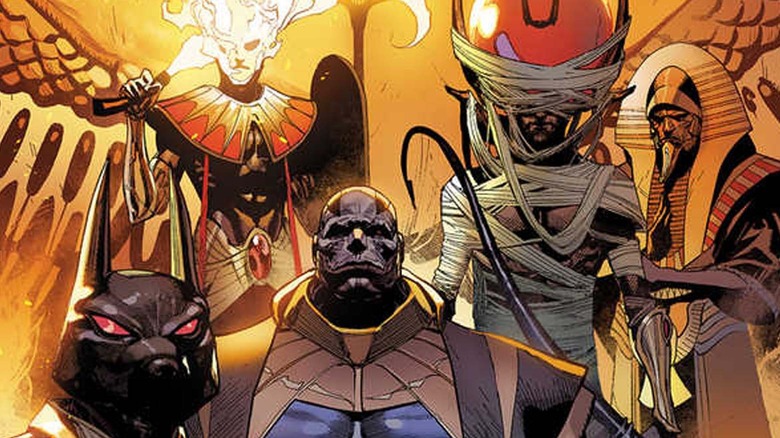 Marvel Comics
Al Ewing will continue to weave the story of Apocalypse, Genesis, and their children's return in "X-Men: Red" #13 with Jacopo Camagnui. The accompanying text solicitation for "X-Men: Red" #13 teases Genesis arriving alongside the mutants on Arakko, who will be scrambling with what to make of her return:
"SHE'S BACK! Genesis once again walks the island she ruled for millennia — with the Annihilation Staff in her hand. But what is in her heart? Is the return of the Mother of Arakko to be celebrated — or feared? As the Fall of X closes in, the Great Ring must decide ... or risk their own fall from grace."
The summary of "X-Men: Red" #14, from Ewing and Yıldıray Çınar, hints at further chaos ahead, with Genesis declaring war for the fate of Arrako, and also will reveal what happened to her sister, Isca the Unbeaten, who was last seen leaving the Great Ring:

"AFTER THE FALL! As the Brotherhood reels from the cataclysmic events of the Hellfire Gala, Genesis takes advantage of the chaos — and declares war! Two vast mutant armies clash, and Arakko's idols fall ... but this is only the beginning of a conflict that will remake the Red Planet. And whatever happened to Isca the Unbeaten?"
Readers will learn what happened to Apocalypse and his family on Amenth when "X-Men: Before the Fall — Heralds of Apocalypse" #1, from Marvel Comics, arrives at comic book stores and online retailers on June 28. Genesis returns to Arakko in "X-Men: Red" #13, which comes out on July 19, while a full-blown war begins in "X-Men: Red" #14 on August 16.