Star Trek: Strange New Worlds Season 2 Blasts Off With New Trailer And Release Date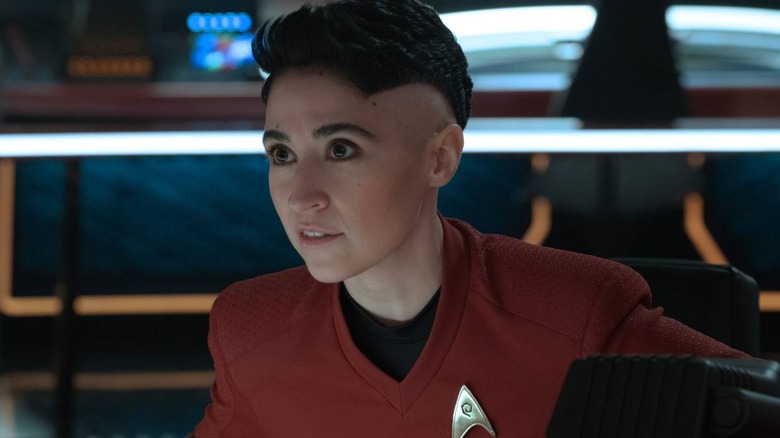 Michael Gibson/Paramount+
Trekkies recently had to say goodbye to "Star Trek: Picard," which ended its run after three seasons. However, as long as Paramount needs content for Paramount+, it's safe to say there will always be a "Star Trek" show or two to tide fans over. Shortly after "Picard" ended, Paramount+ unveiled new information for another series boldly set where few shows have gone before — Season 2 of "Star Trek: Strange New Worlds."
The franchise's Twitter account posted the trailer for the second season of the popular series as well as information on a release date. The post reads, "New worlds. New adventures. New faces. #StarTrek #StrangeNewWorlds Season 2 premieres June 15 on @ParamountPlus!" Paramount+ clearly has a lot of faith in "Strange New Worlds," seeing how the show's already been renewed for a third season. Therefore, fans can rest easy knowing they'll be seeing the continuing adventures of Captain Christopher Pike (Anson Mount) and his crew for some time to come. 
Star Trek: Strange New Worlds Season 2 trailer teases an epic crossover
The trailer for "Star Trek: Strange New Worlds" Season 2 has many great scenes showcasing the kinds of worlds the crew of the USS Enterprise will explore in the forthcoming season. There's also bound to be plenty of tension amidst the crew, as it appears some romances will continue to develop with several couples. However, the one thing viewers are likely to take away from the trailer is the fact we're getting a crossover between "Strange New Worlds" and "Star Trek: Lower Decks" next season.
Fans can see live-action iterations of Beckett (Tawny Newsome) and Boimler (Jack Quaid) as they come aboard the Enterprise. "Lower Decks" is naturally an animated property, but it's nice to see the voice actors behind that series keep on playing their characters within a new medium. And the humor of that show should carry over into "Strange New Worlds," as evidenced by Boimler stumbling to say "Live long and prosper" to Spock (Ethan Peck). 
Season 2 of "Strange New Worlds" premieres on Paramount+ on June 15, with new episodes airing weekly until August 17.