Final Trailer For The Flash Highlights Supergirl, Batman, And Even Alfred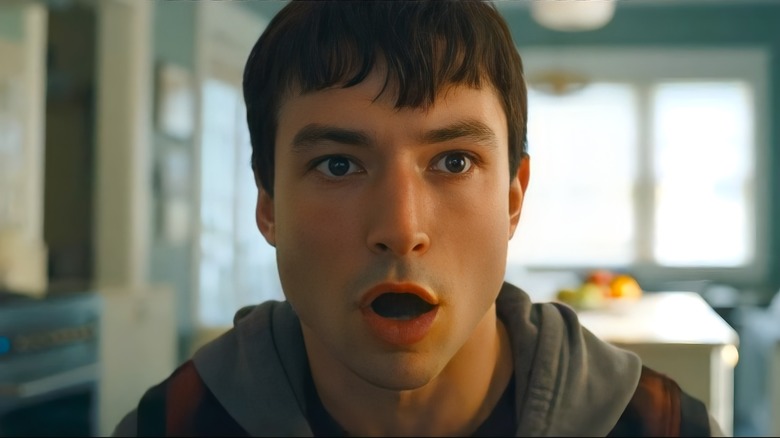 Warner Bros. Discovery/DC/YouTube
It's no secret that the past few live-action DC movies haven't been the strongest. Both "Black Adam" and "Shazam! Fury of the Gods" failed to bring fans into theaters and therefore make much money at the box office, all while contending with less than favorable reviews. Nevertheless, as the old saying goes, the show must go on, and in the wake of these two misses, Warner Bros. Discovery is primed to release director Andy Muschietti's "The Flash," which will supposedly usher in a new era for the DC film and television universe.
As promotional material has shared, "The Flash" sees Barry Allen (Ezra Miller) boldly use his gift of speed to do the unthinkable: travel through time, rescuing his mother from death. While this sounds like a noble cause, his actions absolutely demolish the multiverse, resulting in him having to fix the timelines and team up with Michael Keaton's Batman and Sasha Calle's Supergirl to defeat Michael Shannon's General Zod. All the while, this motley crew is joined by a younger Barry, who gets swept up in the chaos.
With the premiere of "The Flash" right around the corner, the final trailer has arrived — one with good looks at the aforementioned heroes.
The Flash is a multiversal mash-up
The final trailer for "The Flash" doesn't have a whole lot of new stuff to offer, but what's there isn't disappointing by any means. It explains what Barry's intentions are, shows off just how jumbled up his time travel has made everything, and, of course, highlights his companions on this multiversal adventure. There are plenty of action scenes and cool shots of Michael Keaton as Batman and Sasha Calle as Supergirl, in addition to some brief clips of both Barrys fighting off General Zod's troops.
Additionally, the latest "Flash" teaser give some time to two staples of the soon-to-be-defunct DC Extended Universe. Before using his powers to traverse time, we see Barry meet up with Bruce Wayne (Ben Affleck), who warns him about the dangers of time travel and the caliber of calamity he can create. We also get a brief shot of Jeremy Irons' Alfred Pennyworth letting Barry know that he needs to speak with Wayne immediately. This version of Alfred was last seen in the director Zack Snyder cut of "Justice League," which released in 2021.
The multiversal mash-up that is "The Flash" races into cinemas on June 16, 2023.