Who Does Kitty End Up With In XO, Kitty?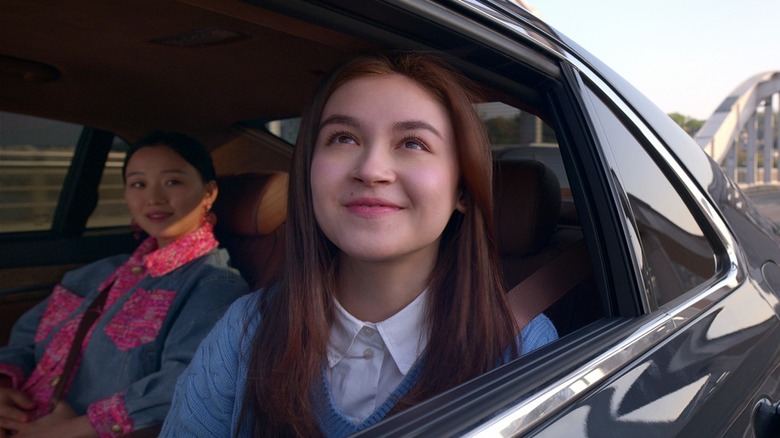 Netflix
The "To All the Boys I Loved Before" universe has always facilitated intelligent conversation about teen romance tropes. Lara Jean Covey's (Lana Condor) story starts with a fake dating romance to make Peter's (Noah Centineo) girlfriend jealous, but that is only a baseline. The two subsequent films in the franchise take this concept and run with it, creating twists to make the story relevant to a modern viewer. The follow-up to the franchise is no different. "XO, Kitty" follows Lara Jean's sister, this time in a multi-episode arc.
Much of Kitty's (Anna Cathcart) romantic trials are to be expected. After traveling to Korea to attend her long-distance boyfriend's prep school, Kitty quickly realizes that moving to another country without telling said boyfriend is not a recipe for success. Taking Lara Jean's story and putting a spin on it, Kitty realizes her boyfriend, Dae (Choi Min-Young) is actually the one in a fake relationship. After thinking he was cheating on her with Yuri (Gia Kim), Kitty discovers there is no truth to the couple. This sends Kitty on a rollercoaster of emotions that ultimately unites her and Dae. But romantic trials are nothing without a final twist. Not only does Kitty not end up with Dae — she doesn't end up with anyone. Kitty's feelings for Dae have wavered, and the two part ways amicably. But that doesn't mean that is the nail in the coffin for Kitty's romantic future.
Kitty is caught in the middle of a love square
Netflix
Young love is a fickle beast, so it is no surprise that Kitty and Dae don't make it work. But the other romantic partners in "XO Kitty" change at a break-neck pace. First and foremost, viewers can see the reasoning behind Kitty and Dae's demise. In a plot development featured in the best episode of "Legend of Korra," Kitty soon realizes that her main squeeze pales in comparison to the woman by his side. Just as Korra and Asami decide their shared boyfriend Mako is not worth their time, Kitty too realizes the object of her affection is her boyfriend's other girlfriend. But teen romance is not without heartbreak, and Kitty never gets the chance to express her feelings. At the end of the season, Yuki gets her happy ending — just not with Kitty. The entire season Yuri has been fake dating Dae to hide her affection for Juliana (Regan Aliyah), and at the conclusion, the two reunite.
So what does that mean for Kitty? Min Ho might have something to say about it. Dae's best friend is the iconic bad boy of the series who couldn't be bothered with Kitty. But things change by the end of the ten-episode arc. Min Ho (Sang Heon Lee) confesses he has feelings for Kitty, throwing another wrench into the drama. With no confirmation if Kitty shares these feelings, fans are in for a ride should "XO, Kitty" be picked up for Season 2.