The Expendables: Sylvester Stallone & Stone Cold Steve Austin's Fight Led To A Dangerous Injury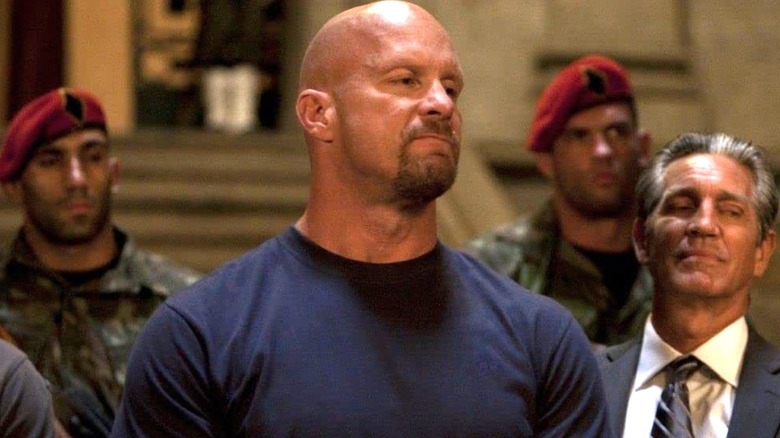 Lionsgate
By the time "The Expendables" hit theaters in 2010, Sylvester Stallone was certainly no stranger to receiving a few punches onscreen. As Rocky Balboa in the six-part "Rocky" franchise, he takes on Apollo Creed (Carl Weathers), Mason "The Line" Dixon (Antonio Tarver), and countless others in the ring. Still, even with such stunt experience, things could go wrong on set.
In a 2012 interview with The Mirror, Stallone revealed that while filming the intense fight scene between his character Barney Ross and Dan Paine ("Stone Cold" Steve Austin) in "The Expendables," he suffered a pretty serious injury. "Actually, my fight with 'Stone Cold' Steve Austin was so vicious that I ended up getting a hairline fracture in my neck," said Stallone. "I'm not joking. I haven't told anyone this, but I had to have a very serious operation afterwards. I now have a metal plate in my neck."
Austin, in an interview with Interview Magazine, stressed that he enjoyed working with Stallone, who served as director and co-writer of "The Expendables." Yet when you have these two, plus Bruce Willis, Arnold Schwarzenegger, Dolph Lundgren, and other powerhouses together, things can quickly escalate. The retired WWE star said, "It was very competitive among the guys, really brutal and really realistic."
Sylvester Stallone has sustained many injuries during his acting career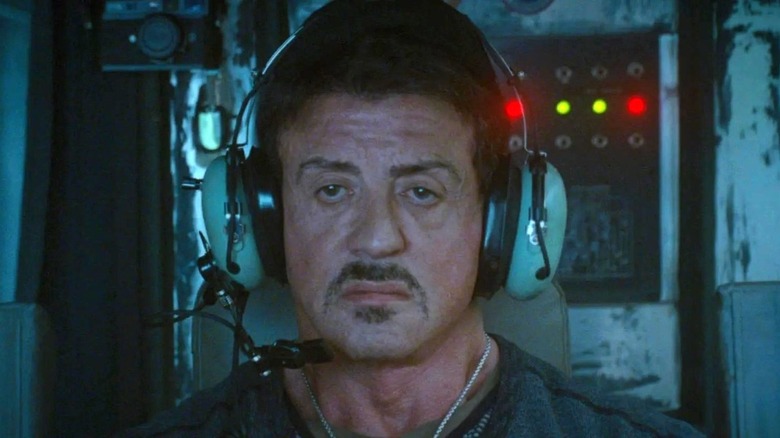 Lionsgate
Sylvester Stallone's hairline fracture in the neck wasn't the only injury he's sustained on a film set. In fact, another "The Expendables" co-star, Dolph Lundgren, sent him to the emergency room during the creation of 1985's "Rocky IV," which sees Rocky Balboa (Stallone) take on Ivan Drago (Lundgren) in the ring.
"I gave him orders to try to knock me out while the cameras were rolling," Stallone told The Mirror. "At one point, he hit me so hard on the top of the head, I felt my spine compress. He then hit me with an almighty uppercut." Once home, Stallone could feel his chest swelling and was flown to the hospital. Turns out, Lundgren's punch to the ribs compressed his heart. "If it had swollen any more, I would have died," said Stallone. "After that, I was like, 'Dolph, it's only a movie, bro ... '"
Another injury occurred while training for 1979's "Rocky II." In a bench pressing competition with Mr. Universe, Franco Columbu, Stallone tore off his pectoral muscle, an incident that resulted in 60 stitches and tattoos to cover up the area. Additional injuries over the years include a pulled calf muscle, dislocated shoulders, and a painful fall on the back, which required the installation of metal. Stallone told Hello! Magazine, " ... so if I'm squeaky, then deal with it. It's not my shoe, it's my back."