How Long Is Disney's Live-Action Remake Of The Little Mermaid?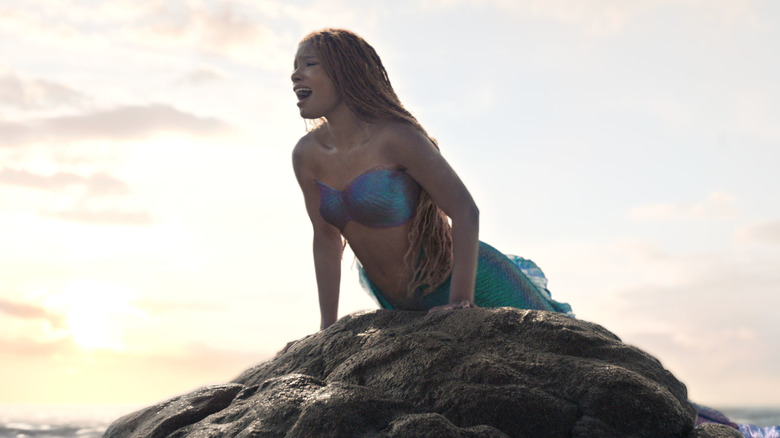 Disney Studios
Disney fans, are you ready to take a dip under the sea? The house of mouse's live-action remake of "The Little Mermaid" is set to hit theaters on May 26, which means parents are likely making early preparations for a Memorial Day weekend trip to the theaters. When you have to juggle a lot of activities and a full long weekend of activities, that means figuring out how many hours you've got to spare for Ariel's (Halle Bailey) antics. Fortunately, it's easy enough to figure out how long "The Little Mermaid" is before you leave the house; Rotten Tomatoes reports that the film runs for two hours and fifteen minutes.
That makes the movie the longest of Disney's live-action animation remakes to date, setting a precedent for the studio and outdoing its next-longest competitor, "Cruella," by a single minute. It also outruns Disney's 1989 animated endeavor by an hour plus of footage. Parents might also want to note that it's rated PG due to some intense action and scary images, which younger children may find disturbing.
It sounds like the movie's set to break some barriers and reestablish what live-action versions of Disney's biggest animated films can do on the big screen. The film is currently pulling in mixed-to-positive reviews, which barely keep the film afloat. So, if your child is squirmy and has a short attention span — or you can't imagine spending two hours cooped up inside with singing CGI crabs, it might be a good idea to wait until this one hits Disney+.
The Little Mermaid joins the list of Disney's longest live-action epics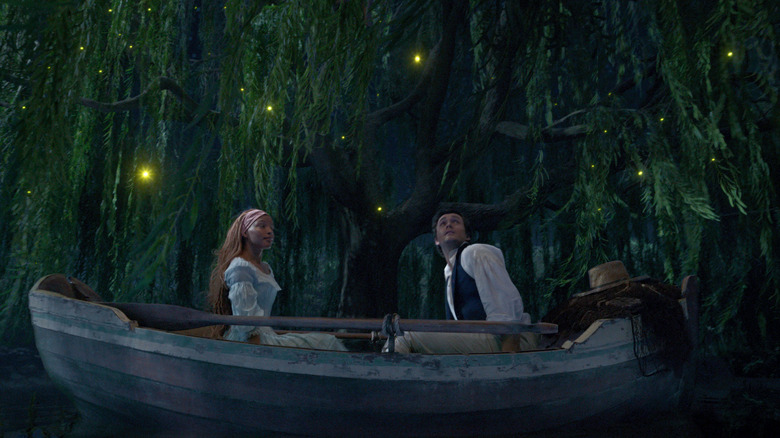 Disney Studios
It's been standard for most of Disney's live-action remakes to run for at least two hours. "Aladdin" and "Beauty and the Beast" expanded outward into two-hour live-action films compared to their trim animated counterparts. Added scenes and new songs definitely pad out runtimes and add extra value to those who have the original movies memorized.
So it is with "The Little Mermaid," which contains brand-new songs co-crafted by Lin Manuel Miranda and Alan Menken, the latter of whom wrote the music for the 1989 film. Per the official soundtrack listing, that will include tracks such as "Wild Uncharted Waters," "For the First Time," and "The Scuttlebutt" — a rap number for Scuttle (Awkwafina) and Sebastian (Daveed Diggs). Notable, for the first time, Prince Eric (Jonah Hauer-King) will have a solo song in a production of "The Little Mermaid." That's definitely adding something brand-new to Ursula's (Melissa McCarthy) bag of tricks.